Asus VivoBook S14 (S433) Review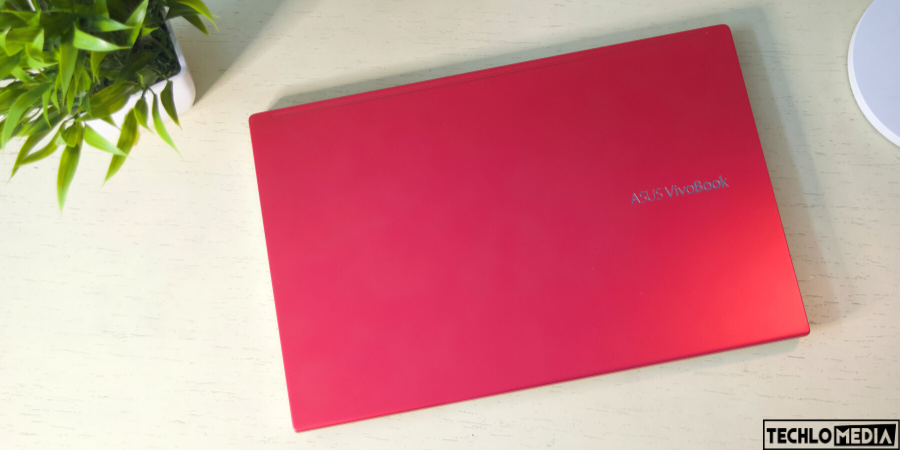 Asus has just launched new laptops under the VivoBook S14 series of laptops India. The series also includes VivoBook S14 (S433) priced at Rs. 78990. I have been using VivoBook S14 (S433) for over 10 days now and here is our detailed review of VivoBook S14 (S433).
Buy Here: Amazon
ASUS VivoBook S14 S433 Specifications
CPU: Intel Core i5-10210U
GPU: NVIDIA GeForce MX250 (2GB)
Display: 14-inch (1920 x 1080p) FHD panel
RAM: 8GB
Storage: 512GB PCIe SSD
Keyboard: Full sized backlit keyboard
Trackpad: Glass touchpad with an integrated fingerprint sensor
Camera: HD 720 web camera
Wireless: Bluetooth 5.0 + Tri-Band Wi-Fi (2.4Ghz, 5.0GHz, and 6GHz)
Battery: 50Whr with fast charging
Weight: 1.4KG
ASUS VivoBook S14 S433
VivoBook S14 (S433) is a mid-level ultrabook that aims to offer good performance and premium design. This is certainly a stylish laptop that easily attracts attention. It comes in four attractive color options including Gaia Green, Resolute Red, Dreamy White, and Indie Black. I have the Resolute Red color variant that looks really beautiful. All color variants have the same silver aluminum interior with the silver keyboard but the Black model has a darker gray interior with a black keyboard. Enter key also get a touch of yellow around.
It has two USB A 2.0 ports, a microSD card slot, and status LEDs at the right side. On the left side, it has a charging port, 1 x HDMI, 1 x USB A 3.2, 1 X USB C 3.2, and a 3.5 mm audio port. The USB-C port is still data only, so it doesn't support charging or video. This is a letdown for me. There's also no Thunderbolt.
The bottom panel has speakers and a ventilation grill. It also has vents in between the lid and the base to throw hotter outside. VivoBook S14 is really compact and weighs just 1.4 kg. It is also just 16 mm thick.
It has a 14-inch Full HD IPS display offering 1920 х 1080 pixels resolution. The display is good and offers wide viewing angles, but brightness could have been better. Due to dim brightness, it isn't suitable to use in outdoors. Asus has also included Tru2Life video technology for good visuals.
The laptop has a standard keyboard with comfortable keys to type on. Keys are responsive and travel is quite good. This is a backlit keyboard but I really hate the way it has been implemented. You will see light leakage around the keys that makes keys it almost unreadable and you will struggle. The dark grey interior with a black keyboard could have been a better choice in all the models to avoid this issue.
The trackpad is good. It provides clicky feedback, smooth scrolling, and gestures. It works great and gliding experience is also fine. There's a fingerprint scanner embedded in the top right corner. This lets you quickly log in and get back into Windows just by putting a finger on it.
The model I used includes Intel Core i7-10510U processor, 16 GB of DDR4 2666 MHz RAM, Samsung PM981 PCIe x4 SSD, embedded Intel UHD, and dedicated Nvidia MX250 2GB DDR5 GPU. The laptop also has 16GB RAM soldered on the motherboard and you can't upgrade it. You will enjoy strong single-core and fine multi-core performance. It is good for normal usage including web browsing with several open tabs, music streaming, video streaming, photo editing, and normal video editing. Don't expect heavy video editing. Performance while running Premiere Pro wasn't smooth.
Even if there's a dedicated graphics card, it is still just an entry-level. So, don't expect anything extraordinary from it in gaming. It just handles casual titles or older games. You can play several games at 1080p but in low or medium graphics settings.
The thermal design of the laptop is fine for normal usage but isn't good for heavy load. There are a long heat pipe and a big heat sink to dissipate the heat. When you put much load on the laptop by playing games or performing heavy video editing, it becomes hot at the bottom side. Benchmark tests also reveal that CPU and GPU quickly reach high temperatures on heavy load. That means you can not play games for a long time in a single session. Limited thermal design is due to the compact form factor. So it is recommended to use a good cooling pad to maximize your framerates while playing games.
The model I tested comes with 512GB PCIe 3.0 M.2 SSD, so you have fast read/write.
The laptop comes with HD webcam located at the top of the screen along with 2 microphones. The camera's quality isn't good and is just fine for video calls.
Asus has added speakers tuned by Harman/Kardon. The sound from speakers is decent, but the sound isn't loud enough. If you think of watching a movie, It is better to connect a Bluetooth speaker or use headphones. You can also optimize audio using ASUS AudioWizard software.
In terms of connectivity, the laptop has latest-get WiFi 6 with an Intel AX201 module. It also has Bluetooth 5.
The laptop packs 50 Wh battery that performs well and you can easily get up to 12 hours of battery life with normal usage. This may be shorter if you are performing intensive tasks. Charging this laptop from 0 to 100% takes around 2 hours. Asus offers a compact 65W charger that has a small brick and a long cable. The USB Type-C port cannot be used for charging.
The laptop also has Charging Modes to enhance battery life. If you use the laptop on Maximum Lifespan mode, it limits the maximum charge to 60% and starts charging at 58%. This mode is recommended if your laptop is always plugged in. But it also ensures minimum charge cycles to ensure better battery life. Balanced mode keeps the charge somewhere between 78% and 80%. This one is recommended for general usage.
ASUS VivoBook S14 S433 is a good productivity laptop that comes with beautiful design and provides snappy experience. The long 12 hours of battery life makes it a full workday laptop. Still, there are a few downsides like you cannot upgrade RAM, no thunderbolt port, and the majority of USB 2.0 ports. This laptop aims students, IT professionals, and people who just want a general-purpose laptop for browsing, videos, or online learning.
Buy Here: Amazon
Asus VivoBook S14 (S433)
"ASUS VivoBook S14 S433 is a good productivity laptop that comes with beautiful design and provides snappy experience. The long 12 hours of battery life makes it a full workday laptop."
The Good
Stylish design
Good performance
Good battery life
Fingerprint Sensor
The Bad
Poor upgradability
No Thunderbolt Port
Breakdown
Design and build 90%

Display 75%

Performance 80%

Battery 85%

Value for money 75%