Asus ExpertBook B9450 Review: Ultra Compact and Powerful
A few days back, I posted my first impressions of the Asus ExpertBook B9450. Since then I am using this laptop as a daily driver. I am a tech blogger who needs a laptop to write articles, access emails, read different articles, watch videos, listen to music. This laptop is really impressive. It is really compact, packs good specs, and offers impressive battery life. In this review, I will talk about Asus ExpertBook B9450 in detail.
Buy Here: Amazon
Asus ExpertBook B9450FA Specs
Processor: Intel Core i7-10510U 4 x 1.8 – 4.8 GHz, Comet Lake-U
Graphics: Intel UHD Graphics 620
Memory: 16384 MB, DDR3-2133, Dual-Channel
Display: 14 inch 16:9, 1920 x 1080 pixel
Storage: Samsung SSD 1024 GB
Operating System: Windows 10
Ports: 2x USB-C/Thunderbolt 3, 1x USB-A 3.1, 1x HDMI 1.4, 1x micro HDMI-to-Ethernet, 1x combo audio
Networking: Intel Wi-Fi 6 AX201 (802.11ax), Bluetooth 5
Weight: 995 grams
This laptop is really compact and there is no compromise in the performance. It is made of magnesium-lithium alloy to offer a solid build. The design is clean. Asus has added several black rubber pads around the processor and other places to make it shockproof. The laptop is also MIL-STD-810G durability certified. The laptop comes with a 14-inch display but has a form factor of a 13-inch laptop. It comes in navy blue color with sparkling metallic flecks. It weighs just 995 grams to make it ultra-portable. Asus also includes a carry cover to carry the laptop and charger.
ExpertBook B9450 is a compact and light laptop, but you can open the lid with a single hand. It has an ErgoLift hinge that raises the keyboard a bit to make a room for ventilation and proper airflow at the base side. The display can be tilted back to a full 180-degree that could be helpful in certain conditions.
There are a variety of ports including 2x Thunderbolt 3 ports, 1x HDMI Port, 1x Mini HDMI, 1x USB 3.2 Type-A port, and an earphone jack. Asus also offers a micro HDMI to LAN adaptor. In case you ever need to connect the laptop using an ethernet cable, use it. Speaker vents are located on the bottom side.
Asus ExpertBook B9450 has a 14-inch Full HD IPS panel offering 1920 x 1080 resolution. Asus also claims a 94 percent screen-to-body ratio. The display is really impressive. It offers good colors and wide viewing angles. The display panel has a good contrast ratio and color accuracy seems good. So, the video viewing experience is really good. You will enjoy watching videos on YouTube and other streaming apps. The only downside could be of low brightness. The anti-glare coating makes it suitable for outdoor environments even if the panel isn't too bright. So you can keep working on the laptop even if you are at a cafe or somewhere outdoor.
It packs a quad-core Intel Core i7-10510U processor with a base clock speed of 1.8GHz. The i7-10510U is slimly slower than Intel Core i7-10510U but can handle most of the CPU intensive tasks. It has 4 cores and 8 threads. Not sure why Asus went with 4-core i7 rather than 6-core i7. In comparison wot IceLake and six-core Comet Lake, it feels a bit weak. It also packs 16 GB LPDDR3-2133 soldered directly onto the motherboard. My usage normally involves web browsing with several Chrome tabs open at a time, accessing my server files, changes in code, emails, and videos. The laptop remains smooth and responsive all the time. I couldn't see a sign of lag. I also tried Filmora for video editing and the experience was good.
It comes with Intel UHD 620 graphics that are pretty basic. So, basically, CPU power matters. I ran Maxon's Cinebench R15 test that performs a stress test on CPU by rendering complex images. The laptop managed to score well. On benchmarks, it ranks below other competitors like LG gram 14 and Dell XPS 13 9300, but has better battery life to compensate that.
The Intel UHD 620 Graphics us suitable for applications with low GPU demands. On 3DMark benchmarks, it managed to do average. That means, you can do photo editing and basic gaming, but not more than that. If you want to game, you have an option to use an eGPU.
The laptop is compact, so I was more interested in checking if the laptop heats on doing CPU intensive tasks. Asus has added a large graphite sheet and a compact fan for heat dissipation. The fan stays idle and runs silently when needed. When the load increases, the fan kicks up but the fan still makes very little noise. Mostly you won't notice. The cooling fan blows hot air right into the screen. The outer surface gets mildly warm in daily uses and temperature at some parts goes beyond 48 degrees after a few minutes of intensive tasks. So, yes It heats.
Expertbook B9450 also packs 1TB M.2 PCIe NVMe SSD offering high-speed read or write. I tested the read/write speed using the CrystalDisk and recorded close to 3500 MBps read and 2400MBps write speed. That's the reason, the laptop quickly boots and loads software quickly.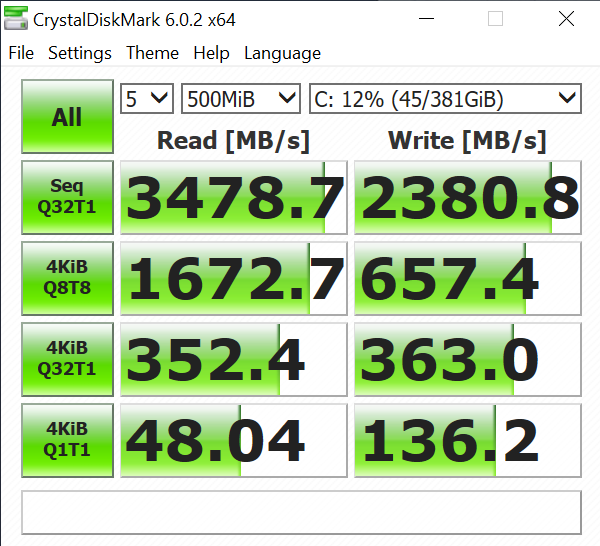 The laptop comes with Windows 10 out of the box. Asus has included several utility apps that let you fine tune performance, display, and battery. The good thing is that Asus has bundled all utilities into a single app MyAsus, so you don't need to deal with bloatwares. I really found these utilities good.
Most notable feature in the MyAsus app is Link to MyAsus. You will have to install the "Link to MyAsus" app that is available to both Android and iOS. Then you can enable phone screen mirroring on the laptop. That means you access your phone from the laptop. You can access apps, calls, messages, and even transfer files between the phone and laptop. This feature boosts productivity. While I have the MacBook Air and iPhone, so moving from my files from phone to laptop and vice versa is really easy using AirDrop. But for Android and Windows, it isn't as smooth. While using this Windows laptop, I didn't miss AirDrop. I then paired the laptop with my Android phone and the experience was equally good. The screen mirroring feature is really impressive and you can even access your laptop on your phone. Isn't this impressive.
You will get each and every phone notification on your laptop. You can enable call access. So, you can directly call from your phone or get access to all incoming calls. You can reply to calls directly from your phone laptop. When you have access to call, messages, and notifications, you don't need your phone to be with you all the time.
You can also use the Screen extender feature to access Windows Laptop on your phone. It mirrors the laptop screen on your phone. So, you can work on your laptop directly from your phone.
You can quickly send or receive files from your phone to a laptop and vice versa. You won't have to use Bluetooth or USB cable to send files.
I could talk a lot about MyAsus app and its usage but I think I have explained enough to tell you how effectively this app makes you productive and saves your time. Something most business users will love.
Asus has included the ErgoLift hinge that raises the keyboard to a good angle. This provides a better typing experience. Black keys with white characters are easy to read. The backlit keyboard also has three levels of brightness. The keyboard has a good pressure point and keys are easy to reach. So, the typing experience is good. The only issue with the keyboard is the placement of the power button. It is just right to the Delete button and just above the backspace. You may accidentally hit the power button while pressing the delete or backspace.
It has a good touchpad with several gestures support. Touchpad also includes a number pad. Just long tap on the number pad icon at the top left corner of the Touchpad to enable the NumberPad. After activating the number pad, it runs its own LED grid number pad that you can use it as a calculator or for number input.
The ASUS ExpertBook B9450 also supports Amazon Alexa and even comes with an Alexa LED light bar below the touchpad to notify you when Alexa is listening to you. It illuminates when you speak to Alexa.
There's an IR camera above the display. This IR camera lets you quickly unlock your laptop using facial recognition even in low-light. This is a 720-Webcam that is good enough for video calls. So, you can comfortably attend video calls. It also has a physical cover to block the camera for privacy reasons. It is a good addition. The laptop has a fingerprint sensor for secure login. It supports TPM 2.0 security for a higher level of data protection.
It has Wi-Fi 6 support, but you need a Wi-Fi 6 router to use its power. The company also includes Bluetooth 5.0. I have already talked about different ports.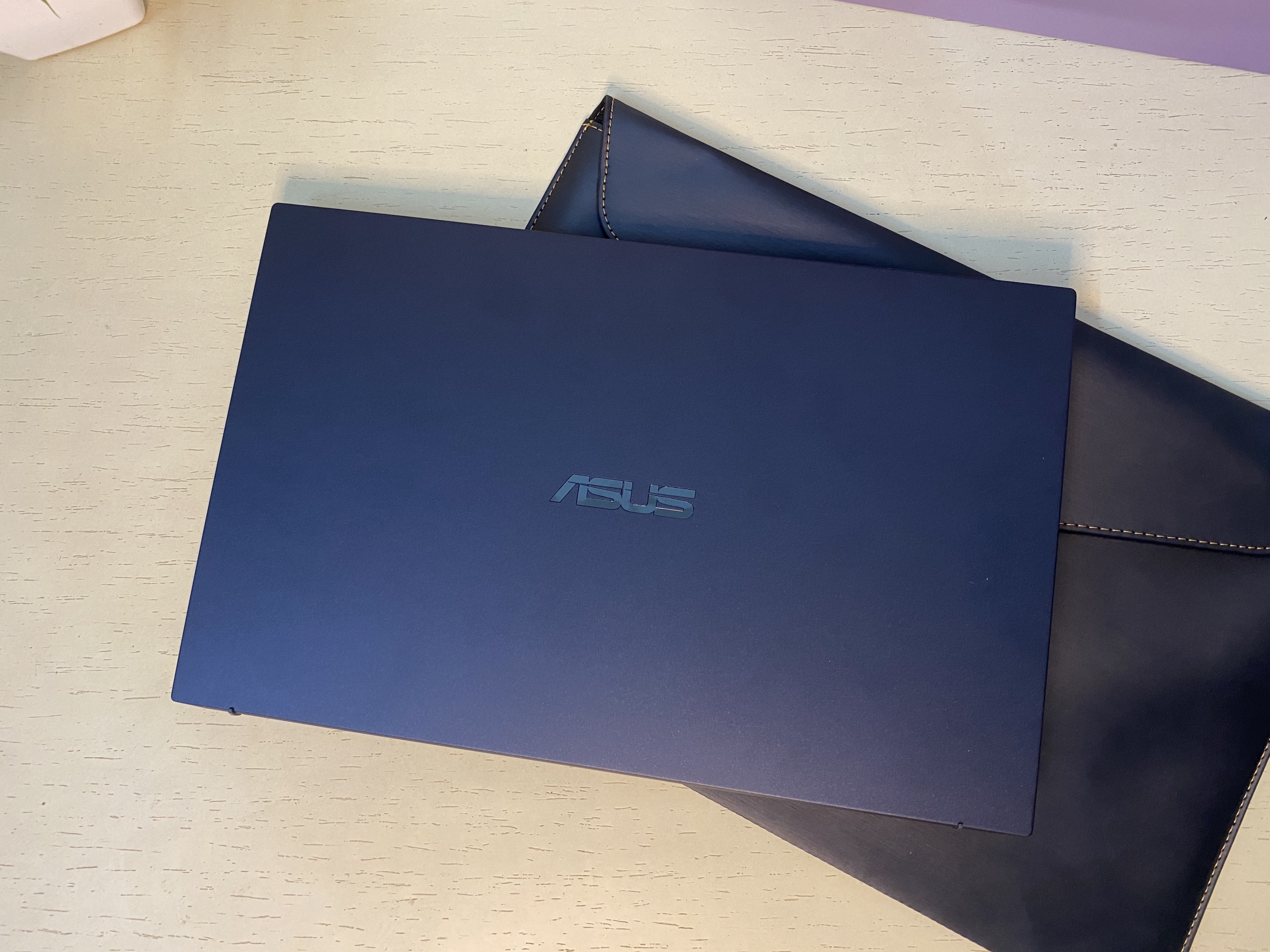 Asus has included speakers by Harman/Kardon that offer good-quality sound but the sound is low. Loudness feels fine until the laptop is on your lap or on the desk in front of you. The audio output over the headphone jack is good.
The laptop packs a 66-Wh battery that can easily last for a full day, I used to begin the work at 10 in the morning keep using throughout the day without connecting it to the power supply. In my usage, it offers around 20 hours of battery life. My usage includes a lot of web browsing, article writing, videos, emails, photo & video editing on Canva, accessing my server, and regular coding work. You can keep using the laptop throughout the day without needing a charger. Asus includes a 65W compact charger. The laptop takes just 40 minutes in charging 60%
Wrap Up
Asus ExpertBook B9450 aims business users who want an ultra-portable laptop and long battery life with no compromise in performance. The laptop has a good display and can handle daily business tasks like web browsing, emails, photo editing, and coding.  It also offers enterprise-grade security ensures your confidential data is kept safe. The dim panel is the only thing that could have been improved. The display is good but better brightness could make it even better.
Asus ExpertBook B9450
"Asus ExpertBook B9450 is an ultra portable business laptop offering good performance and long-lasting battery life."
The Good
Compact but solid build
Weighs less than 1 KG
Good performance
Nice Display
Excellent IO speed
Amazing battery life
The Bad
no SD card reader
Becomes hot on the max-performance profile
Breakdown
Design and build 90%

Display 85%

Performance 80%

Connectivity 80%

Battery 95%

Value for money 85%