Asus Vivobook S14 S431F Review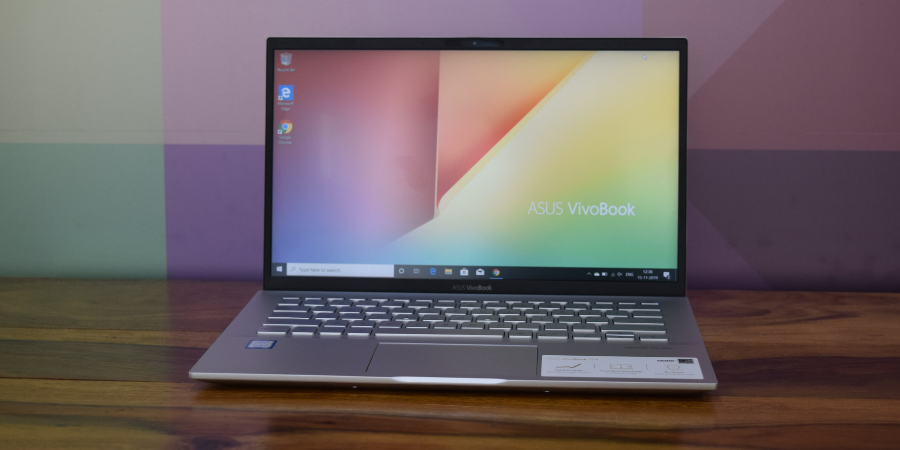 Asus has a wide range of laptops for the Indian market in every price segment. The VivoBook series aims students and professions, so the laptops come with a light build and good specs. Recently I tested Asus VivoBook S14 S431F as my regular laptop. Based on my experience, here is the Asus VivoBook S14 S431F Review.
Buy Here: Amazon
The laptop comes with a lightweight but solid build that also looks premium. The body is made of aluminum and plastic. It has an 18mm thin profile and weighs just 1.4 KG. So, the laptop is portable. You can also open the lid just using a single hand. The lid has
It also features the familiar ErgoLift design that lifts the base panel to make room for proper airflow. This posture also provides a better angle for improving the typing experience.
On the right side, it has an SD card slot, 3.5mm headphone jack, and a USB-A port. The left side has a power jack, an HDMI port, a USB-A port, and a USB-C port. On the base side, it has vents for airflow and speakers.
The overall look and feel of this laptop are really premium. It is light in weight that makes it portable. It also has all the essential ports.
Tech Specs
14-inch LED-backlit Full HD Display
1.6GHz quad-core with Turbo Boost (up to 3.9GHz)
Intel UHD Graphics 620
8GB DDR3 RAM
512GB SSD
Windows 10
Wi-Fi 5, Bluetooth 4.2
47Wh 2-cell battery; Fast Charging
The laptop comes with a 14-inch display. I personally like this screen size because it is suitable for gaming, web browsing, coding, movies and still remains portable. The laptop has narrow bezels on the sides. It has an LED panel producing a huge range of colors. Viewing angles are also good. So you get a pleasant movie experience. If you want to use it for basic video editing, the display will help you a lot.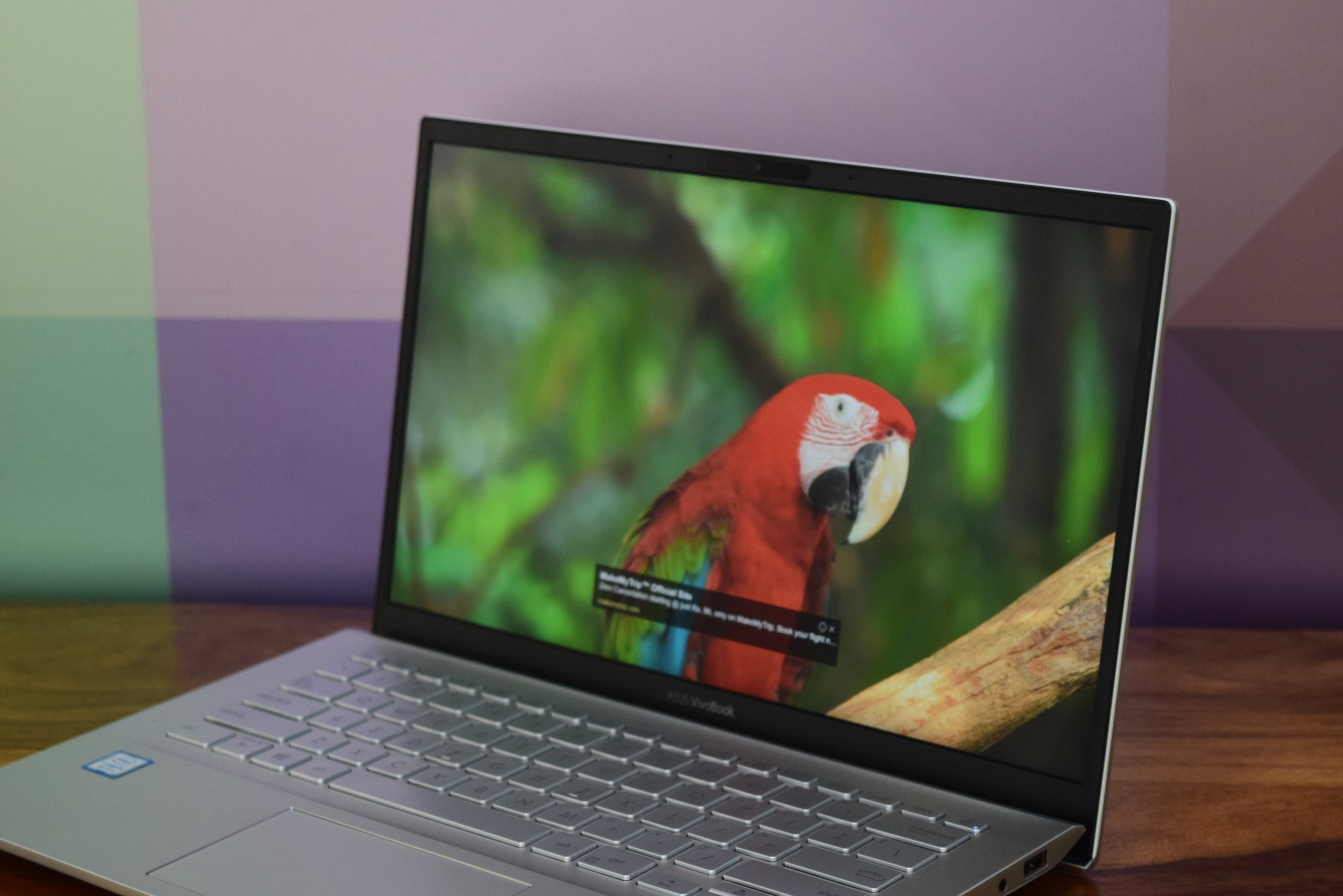 Even if the laptop claims speakers powered by Harman Kardon, I wasn't impressed. It has bottom-firing speakers that produce good quality sound, but the sound could have been louder. If the ceiling fan is switched on, you need can't enjoy the sound straight from the speaker.
The laptop impresses with its performance. It has Quad-core Intel Core 8th gen i5 processor clocked at 1.6GHz and can go to 3.9GHz, thanks to Turbo Boost technology. Asus has also packed 8GB LPDDR3 RAM with 6MB cache and 512GB NVMe SSD storage on this laptop. It has a fast CPU, ample RAM and fast SSD storage that results in a good performance. This laptop can handle casual tasks, basic video editing, and basic gaming. I used Filmora for video editing and experince was smooth.
Here are the benchmark scores on Geekbend and Novabench. Results are good for a laptop of this segment.
It comes with 64-bit Windows 10 Home edition out of the box. It also comes with McAfee antivirus. The only thing that I missed is the fingerprint reader. But the company has added an IR camera that lets you log in to Windows 10 using your face. It also works fine in low-light.
Vivobook S14 S431F comes with a compact backlit keyboard. I really liked the typing experience on this. The trackpad of the laptop is also good. It supports several gestures like scrolling, pinch to zoom, two-finger tap for right-click and more. The trackpad is smooth and offers satisfying click feedback.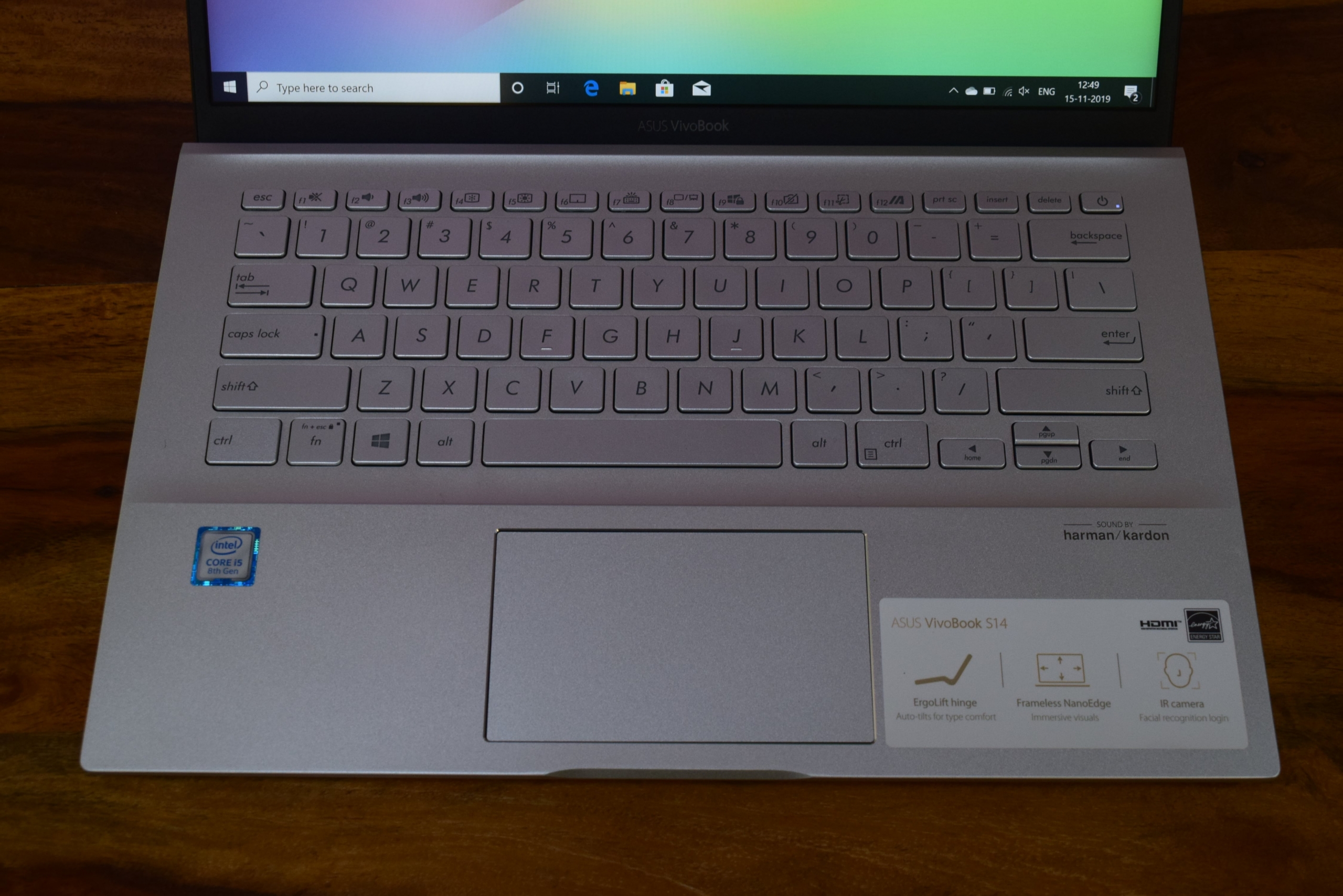 Battery life is good and I was getting over 5 hours of battery backup while using it for web browsing, YouTube, music streaming and light video editing. So, battery backup is fine. Asus bundles a compact power brick with the laptop. The laptop supports fast charging and given power brick charges the laptop up to 60% in an hour.
Asus Vivobook S14 S431F is priced less than Rs. 60000. Considering the price, this laptop impresses. It has a lightweight body, looks premium and performs well. It also has a good battery life, so you can work on the go. This laptop is not for hardcore gaming, but it can handle low-end games well. It is fast, so worth for students and professionals.
Should you buy it?
If you are not looking for a dedicated gaming laptop and you budget is around Rs. 60000, Asus Vivobook S14 is one of the best choices available in this segment. This compact laptop feels really great and performance is superb. Go and get it.
Buy Here: Amazon
Asus Vivobook S14 S431F
"Asus Vivobook S14 S431F is an impressive productivity machine for students and professionals. "
The Good
Sleek premium design
Good display
Good performance
IR camera
Breakdown
Design 80%

Display 85%

Performance 80%

Connectivity 80%

Battery 75%

Value for money 80%