Asus ROG Zephyrus G15 (2022) review
An enormous, lumbering gaming laptop is not what the Asus ROG Zephyrus G15 is. It is one of the most portable 15.6-inch gaming laptops thanks to its understated appearance, thin, and light construction, and all-day battery life. It embodies the traditional meaning of a "wolf in sheep's clothes."
With AMD Ryzen 9 processor 6000 series and Nvidia's GeForce RTX 3070Ti graphics, the laptop comes with powerful specs. it has an MSRP of 2,46,990 INR but is now available at 1,92,000 INR on amazon.in. With my tests, Zephyrus was unable to match the performance of the admittedly larger competitors in straight lines. Even so, the trade-off can be justified, particularly if you're looking for a more sophisticated laptop that doesn't forgo functionality. I have been playing several high-end games on this laptop and also tested it properly. Based on my experience, I am writing a review of the Asus ROG Zephyrus G15.
Design
The Zephyrus G15 lacks any gaudy design elements or external RGB light strips. This 15.6-inch laptop, albeit it belongs to the Asus' Republic of Gamers (ROG) series, moves some of its performance emphasis to mobility and high-quality materials. This one stands out from the crowd, its minimalist design makes it an eye-catcher, and I love this laptop for it.
Zephyrus does not scream "Gaming".
Only the bottom panel of the Moonlight White chassis is made of plastic; the lid and palm rest surround is made of metal. The laptop's construction is made up of sturdy metal. Despite my attempts, none of the chassis' surfaces flexed. This laptop is sturdy and well-made. However, a tiny screen wobble can be observed. All the plastic feels premium and does not hamper the overall aesthetics at all.
Zephyrus is a delight to (my) eyes. Its plain design makes it perfect for business people to give a try. The behinds of the screen are covered with tiny holes which reflect RGB and its pure pleasure.
Also noteworthy is the display hinge. In addition to allowing the lid to tilt back 180 degrees, it also raises the back of the chassis for better ventilation, sloping the keyboard in your direction. It appears to be an ErgoLift hinge, as described by Asus.
The keyboard is the only part of this laptop that had me unsatisfied. I have typed on MacBooks and other windows business series like Dell XPS, but this laptop is far behind them. Sure, It has a better keyboard than its competitors, but it still lacks the excellence, something which a laptop that costs a fortune should have. The keyboard has RGB and it is not bright enough. In my moonlight white, the colors do not stand out.
There is also a 3.3 x 5.1-inch touchpad that offers a good experience.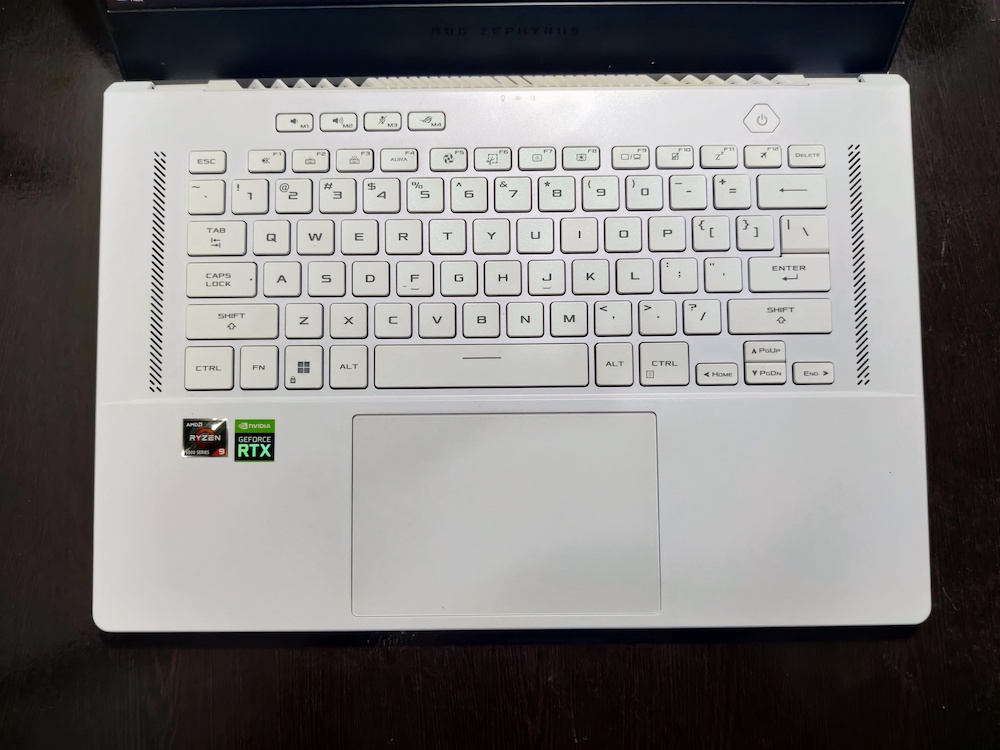 For reference
In comparison to the Alienware m15 R7 (14.02 x 10.73 x 0.94 inches, 5.53 pounds), the MSI Sword 15 (14.13 x 10.20 x 0.98 inches, 4.96 pounds), and especially the Asus ROG Strix G15 (13.94 x 10.2 x 1.07 inches / 6.61 pounds), the Zephyrus G15 is noticeably thinner and lighter at 13.98 x 9.57 x 0.78 inches and 4.19 pounds. The Razer Blade 15 (2022) is a little bit heavier and has a little less depth. (It measures 4.4 pounds and 13.98 x 9.25 x 0.67 inches.)
Ports and Vents
I don't like how these ports are clustered together at the palm rest in the front corner. Users of left-handed mice may experience some issues with plugged-in accessories protruding into their external-mouse area.
A MicroSD card reader, a Kensington lock slot, and one more USB-A 3.2 Gen 2 connection make up the remaining connectivity on the right edge. Even though gaming laptops under this range don't often include USB 4 or Thunderbolt 4 connectors, there are none here. (In particular, AMD models.) I use a cooling pad(for the reasons, I will talk about later in this article), a keyboard, and a mouse (of course) to play games on this device, and I have to resort to a USB hub to connect all the devices, and it sometimes becomes chaotic.
Although the intimidating-looking cooling vents are visible, neither the front nor the back has any ports. These aim air directly at the display hinge, where it then ascends the lid. Last year's models did not have any issues with this design, and I am hoping the same goes for these too.
The Zephyrus' internal MediaTek MT7921 wireless card should provide enough bandwidth even if it only supports Wi-Fi 6 and Bluetooth 5.1, not the more recent Wi-Fi 6E and Bluetooth 5.2 protocols. Overall, the connection on this laptop is flexible and useful.
Display
My Zephyrus G15 has a 15.6-inch IPS screen with a resolution of 2560 x 1440. This display is Pantone-validated. I played many games on this and each one looked beautiful. Star Wars: Squadrons (Thanks to epic games free loot) showed the display's vast color gamut. I enjoyed every minute I looked at this screen. It's crisp and clear. Although peak brightness could help the picture stand out. Even though it didn't quite make up for the lack of brightness, using the Vivid display option in the ROG Armoury Crate software that was included enhanced the contrast and increased the intensity of explosions.
The laptop feels smooth and quick because of its 240Hz display with a 3ms response time. You get two options in display settings: it's either 60hz or 240hz. But if you want to play on 144hz or 165hz, you can do it by manually adding the resolutions.
Performance
The AMD Ryzen 9 6900HS processor, Nvidia GeForce RTX 3070Ti graphics, and 16GB of dual-channel DDR5 RAM are all included in my Asus ROG Zephyrus G15. The RTX 3070Ti includes a 1085MHz boost (1035MHz+50Mhz)clock, 8GB of dedicated GDDR6 memory, and a 120-watt maximum graphics power rating (100W+20W).
I will show you the exact numbers later in this section, but let's talk about the gaming experience first. Why? Because people who'll be buying Zephyrus G15 clearly have different motives than the Legion owners. Zephyrus is meant for portability, not for a pure desktop replacement though it does have potential if you don't mind losing 5-10 frames. Anyways.
All the AAA titles run smoothly @1440p @>60fps. Esports titles run on the highest frames and completely utilizes the 240hz screen. Gaming on this device is indeed, and obviously, as smooth as butter.
Editing on this laptop is, again, peace of mind. You can edit 4K videos with no stutters. I used Blender, After Effects, Premier Pro, and Zephyrus took it like a charm
However, there is an issue.
Thermals
It runs hot. Zephyrus G15 gets unreasonably hot. I have seen it getting crazy hot by just playing Valorant. Even downloading games from steam makes it hot like lava (I am not exaggerating). It gets hot to an extent that you can't keep your hands on the area above the keyboard for more than 5 secs hence, the use of a cooling pad and external keyboard. But then, it does not throttle. I haven't seen it throttling and this is my 3rd week of intensive testing. Just for the sake of it.
I ran GTA5 ( MAX PRESET) and FORZA HORIZON 5 (ULTRA PRESET) together, and surprisingly enough, I did not see any frame drops, both the games ran flawlessly. It was impressive!
The laptop comes with 1TB of internal storage that is really fast in terms of read and write speed. When I ran the speed test of internal storage, it provided some solid results.
Software
Zephyrus comes pre-installed with certain apps and a fresh copy of Windows 11. They are helpful in making the most of this beast's potential. Additionally, they enable effective laptop usage when your battery is running low. It includes ASUS's signature software to help the user configure their devices so they perform at their best, the armoury crate.
The armoury package that Zephyrus delivers is the same as that of every other gaming laptop that comes from the ROG household.
ARMOURY CRATE
This program is effective and fulfills its promises. By default, it has 4 modes: Ultimate, Standard, Eco, and Optimized. You can very much infer what each mode is for from their names.
You may start any game and play at high frame rates while using Standard mode without any problems. Eco mode disables the GPU, which significantly boosts battery life and increases backup. You won't be able to launch any GPU-reliant games when Eco mode is on. As an illustration, Forza Horizon 5 always displays the message "Not enough memory" when I attempt to launch it. Understandable.
Optimized Mode continuously switches between the GPU and the iGPU to ensure that the laptop completes all tasks without the trouble of switching modes. It is not, however, battery efficient.
There is no need to restart while switching between these modes; they operate without issue. Quickly! But whenever I try to set my PC on ultimate mode, my computer has to restart. Although I don't feel the need to set it to "ultimate," if you want to squeeze every last frame possible, this option is for you.
In addition to these settings, a manual mode is an option for geeks. You may change these options to personalize them as you see fit. You get to choose whether to turn your PC into a spacecraft or just a regular automobile.
MyAsus
This program serves as a one-stop shop for all of your servicing and update needs. While I was putting up my Zephyrus, I didn't use it. I enjoy performing it manually.
Myasus provides customer support and frequently has sales on other applications. Additionally, it may assist you in switching from your previous laptop to your brand-new Zephyrus.
Webcam/Speakers/Microphone
One feature which Zephyrus lacked all these years was WEBCAM. Many users frowned at the idea of not having a webcam on their laptops. And, with the latest trends in the world, no webcam is a deal breaker for many. Luckily, this year ASUS installed a 720p webcam in Zephyrus G15, which sits right in the center of the screen and does not attract much attention. I had no expectations with the webcam, and I was right. It works like any other 720p webcam.
Microphones on this device record crisp audio, so your overall online conference call may improve with a mic if not by the webcam.
Zephyrus has one of the best-sounding speakers in the industry. The bass, the treble everything just hits the spot. They are loud and clear. Although speakers don't cover a certain range of sound, the sound is pretty decent. Gamers use a gaming headsets, so decent speakers are good enough. Asus has also included Dolby Atmos and it comes with four configurable presets (Game, Movie, Music, Voice). There is also one automatic preset and three additional custom presets. The automatic preset (Dynamic) is the best one to use. You can also use EQ to customize the sound experience.
Battery Life
I feel the battery life of this laptop is god's send. I am a university student, I spend 8-10 hours in my school, I needed a laptop with this caliber and battery to withstand my daily tasks. And, This is it. Even though I have set my battery's max capacity to 80 percent (to keep my battery healthy). I am always left with 20-30 percent at the end, claiming 2-3 hours of battery life. I use MS Word, Excel, Brave, and Discord. I was getting around 8-9 hours of battery life with normal usage. Zephyrus does not give this kind of battery backup straight out of the box, I set it up. After a few tweaks and tricks, I was in heaven.
Conclusion
ROG Zephyrus G15 is a gaming laptop with powerful specs and good features. It comes with an impressive design, good display, powerful performance, and good battery life. I would recommend this laptop to anyone who loves gaming and is in University. This laptop is the pure definition of class. The only issue with the laptop is that gets too hot. If you can overlook the cons I mentioned, then this laptop is the one.
If you think, I missed any point, or you would like any other segment covered on this laptop. You can leave a comment below, I will surely add it to this article ASAP!
Happy Gaming
Asus ROG Zephyrus G15 (2022)
"ROG Zephyrus G15 (2022) features a good design, powerful performance, and good battery life. I would recommend this laptop to anyone who loves gaming."
The Good
Great design & sturdy build
Portable and light
Good performance
Excellent Battery
Good display
The Bad
Runs hot
Fans are noisy
No fingerprint scanner
Low peak brightness
Breakdown
Design and build 90%

Display 80%

Performance 85%

Features 70%

Battery 85%

Value for money 90%