Asus ROG Zephyrus M GM501GS Review
Powerful gaming laptops are now becoming less bulky and beautiful as compared to gaming laptops of the past. Recently, I tried gaming on ROG Zephyrus M GM501GS that impressed me with its powerful performance in a portable body. Based on my experience, here is the review of Asus ROG Zephyrus M GM501GS
The laptop is all black with a brushed metal chassis. Although the bottom of the laptop is made of plastic, the top and display cover are metal. Unfortunately, the metal surface gets dirty quickly and attracts fingerprints. It has the hatch design that is now durable. I personally don't like the hatch design because the laptop won't be comfortable using it on your lap. But it is a gaming laptop and you will mostly be using it on the desk. When the laptop is open, it lifts by 9mm above the base to allow proper air flow through this gap. The outer edge of the base also has a copper-colored chamfered edge that improves the look. The laptop measures 15.1 x 10.3 x 0.8 inches and weighs 2.2 KG.
It has a full-size RGB keyboard with four lighting zones. The WASD keys have a white border to look different. Keyboard keys respond well and don't wobble much. Keys are not as precise as a mechanical keyboard, but I liked the feel while gaming. Typing on this keyboard also feels good. You can also change the Aura lightning pattern of the keyboard from the ROG AURA Core program. It lets you select the color combinations or use from default available effects.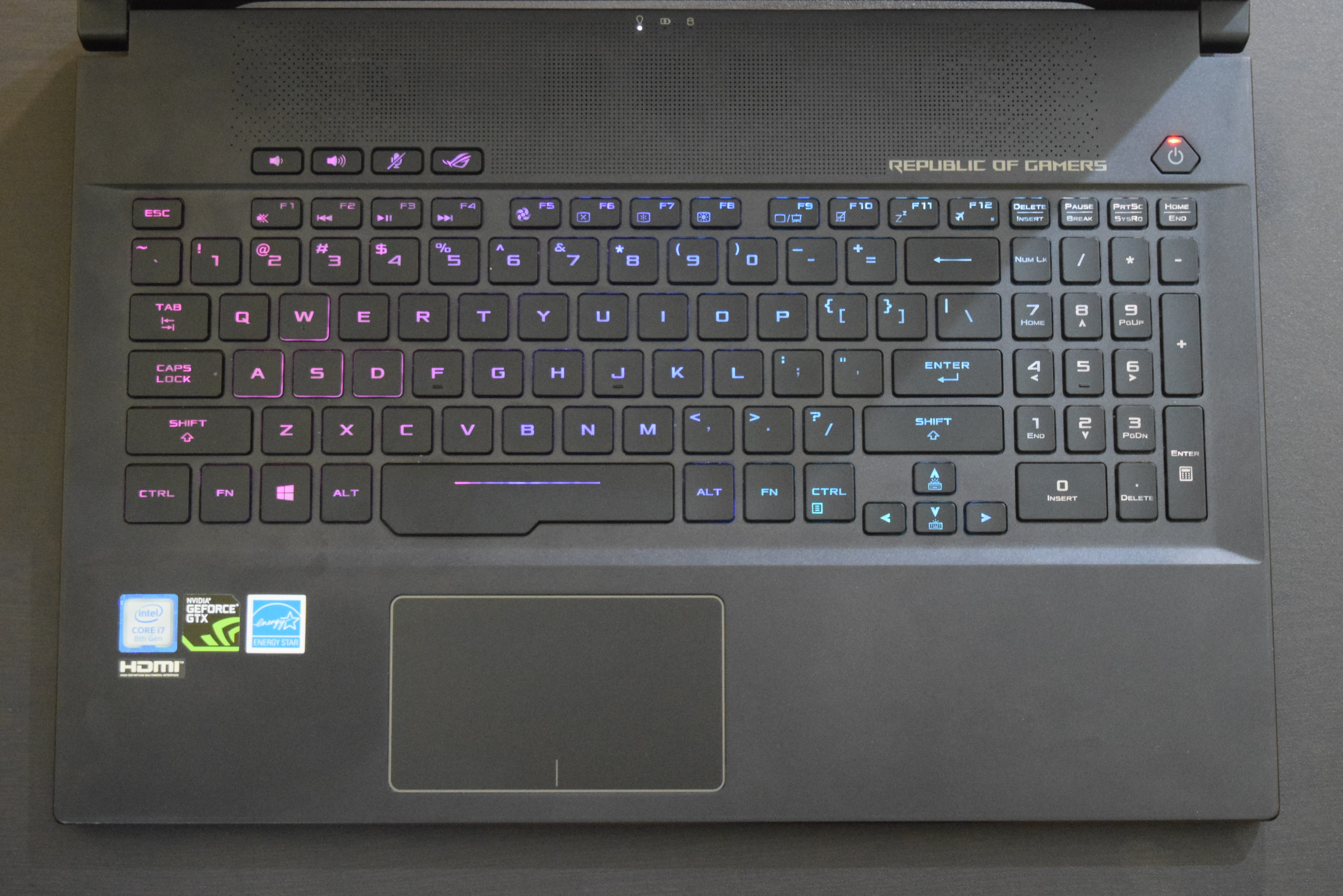 There are also four shortcut keys above the left side of this keyboard. These keys are for volume control micro control and one dedicated button for opening ROG Gaming Center program.
The touchpad is below the keyboard and this is relatively smaller. It is really sensitive and offers a smooth experience. Gestures like a two-finger scroll and three-finger swipes work well.
The webcam sits at the top side of the display. The webcam can capture 720p videos and does a decent job. The status LEDs for power, battery charging, and hard drive activity are at the top edge. These are also visible when the lid is closed.
Since it is a gaming laptop, it features a 15.6-inch 20 x1080 IPS panel with a blazing-fast 144Hz refresh rate. Thanks to Nvidia G-Sync, I didn't face screen tearing. The display produces vibrant colors and sharp details. Graphics of different games look gorgeous and you can see things more clear here. Viewing angles are also really great. Not just for gaming, this display is awesome for videos and movies.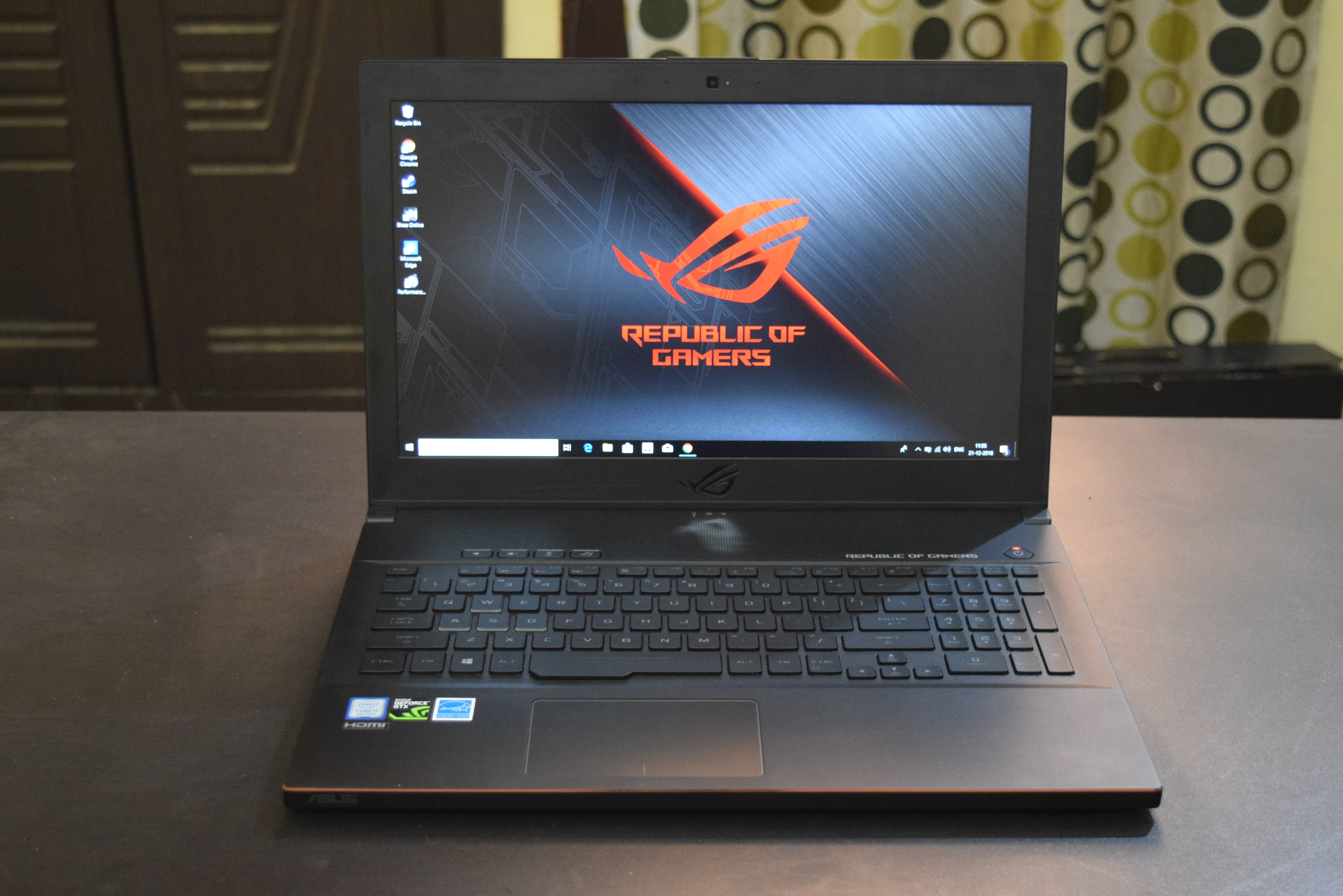 The laptop comes with Windows 10 out of the box. Asus has included the ROG Gaming Center that can be opened by pressing the dedicated key located above the keyboard. This app provided information about the laptop and allows you to create gaming profiles for different games. You can also use this software to control gan speed, change Aura lighting of the keyboard, enable/disable windows key and more. It also comes pre-installed with McAfee that irritates with notifications.
Asus has also included GameVisual for changing the display's color profile, Sonic Radar that lets you use a visual overlay to represent enemy fire and Sonic Studio 3 for setting up audio preferences for individual apps. All these can also be launched from Gaming center.
The laptop packs 8th-generation Intel Core i7 CPU with 16GB of DDR4 memory. It also packs NVIDIA GeForce GTX 1070 with 8GB DDR5VRAM. It has 512GB SSD and 1TB SSHD HDD storage. The NVMe SSD drive is fast to improve game load time and performance. Windows boots quickly and reacts fast. As it sports high-end configurations, it is a really excellent machine for gaming. Played several games and found smooth gameplay. You can play every modern game on this machine. Asus has also done a good job in managing the thermals. It doesn't heat even after hours of gaming. The area just above the keyboard does get hot but not much. Under heavy load, fans kick out some serious noise.
I also tried several other daily use software and found it pretty fast. Chrome with over 20 tabs was also running fine. Heavy video editing software also works fine. It also comes with XSplit GameCaster software pre-installed. So, you can also stream your gaming if you want.
Here are the results of some benchmarking tests.
It has two speaker units located at the bottom side of the laptop. Speakers sound well and offer good bass even without a subwoofer. When you are watching movies, you don't need any headset or external speakers. It can fill a medium size room. Sonic Studio III offers several music profiles that you can change in one click.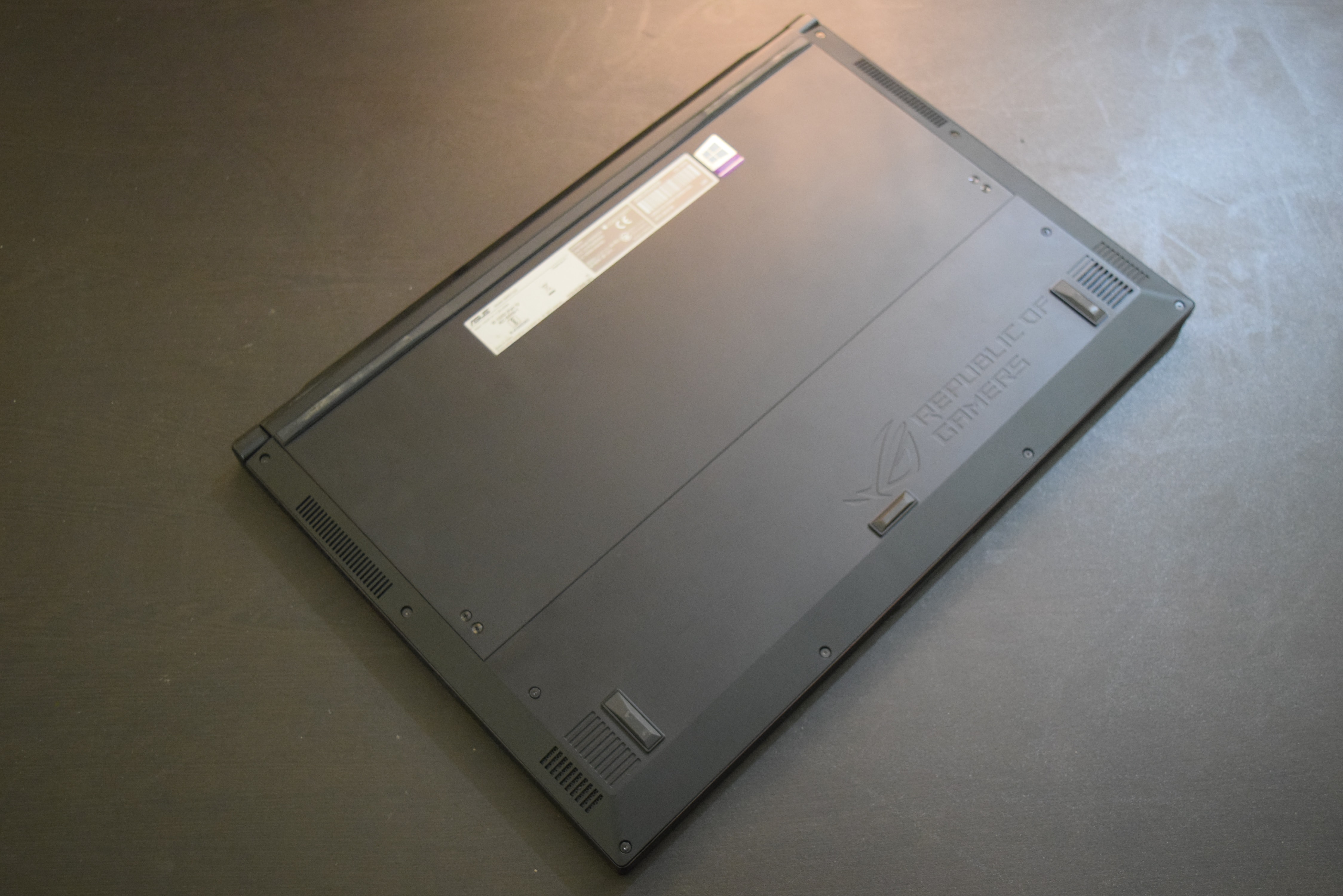 The laptop lacks card reader and RJ45 port. It has four USB ports supporting modern 3.1 Gen 2 standard. It also includes a Thunderbolt 3 port that enables the use of an eGPUs and also supports DisplayPort and USB 3.1 Type C. It has a single combined audio jack, but I believe that separate ports for headphones and microphone would have been better.
It has Intel Chip Wireless-AC 9560 for managing Wireless communication. This chip offers better performance than its predecessor, Wireless-AC 8265 chip.
Battery life of the laptop is not so powerful but that is mostly not expected from a gaming laptop. It has a 55Whr battery and battery backup is average. Even if you have the ability to switch to integrated graphics, battery backup is not as good as you can expect. It offers around 2.5 hours of video playback. You can improve it with balanced usage. You also get 230W power adapter with the laptop to charge it.
Final Words
Asus ROG Zephyrus M GM501GS comes with powerful configuration. It is a good gaming machine offering an ideal gaming performance in a thin form factor. The company has given cooling serious attention here. The only downside is the battery backup, but that is not expected from a gaming machine. Physically, this is also portable.
If you are interested in this gaming machine, you can order it from Amazon.
ROG Zephyrus M GM501GS
"Zephyrus M GM501GS is an impressive gaming laptop that combines beauty and power. It can handle all modern games but you have to pay high as well."
The Good
Excellent performance
Good 144-Hz display
Good audio quality
Slim and high-quality case
Thunderbolt 3
NVMe SSD
The Bad
Lacks card reader and RJ45-LAN port
Short battery life
Breakdown
Design 80%

Display 80%

Performance 85%

Features 75%

Battery 60%

Value for money 70%