Snapdrop.net: Seamless Cross-Platform File Transfer Made Effortless
We have AirDrop for sending files from one Apple device to another Apple device. Near By Share lets people transfer files from Android to Android, Windows to Android, or Android to Windows. But What if you want to send files from iPhone to Android or Android to iPhone? Most people use Google Photos or any messaging service such as WhatsApp. But these services actually compress photos. WhatsApp uses heavy compression in photos and hence, you will notice a big drop in photo quality. For solving this issue, there is a nice service called Snapdrop.net. It is basically an AirDrop alternative that lets you perform a cross-platform transfer using a P2P connection. A lot of people also call it the AirDrop alternative for transferring files from Android to iOS and iOS to Android. Snapdrop simplifies the process of sharing files across different devices without the need for any installations or sign-ups. This review will delve into the various problems Snapdrop solves and determine if it is worth trying while considering its pros and cons.
Snapdrop Review
Snapdrop addresses several common file-sharing challenges. It eliminates the need for data transfer cables or storage devices. The service also streamlines cross-platform transfers and removes compatibility issues that arise when using different operating systems. Moreover, Snapdrop overcomes the limitations imposed by email attachment size restrictions, making it effortless to share large files without any hassle. Snapdrop.net uses WebRTC to establish a P2P connection and perform file transfers directly from one device to another. It doesn't send files to any service, so you don't need to worry about data privacy. WebRTC also encrypts the files in transit.
Snapdrop.net can be accessed through any modern web browser, making it compatible with devices running Windows, macOS, Linux, Android, and iOS. When you open Snapdrop.net, it shows an intuitive interface The website detects nearby devices connected to the same local network, allowing seamless sharing between them.
For sending files from one device to another, Open Snapdrop.net on both devices. Both devices need to be on the same WiFi network. Snapdrop uses WebRTC technology to discover devices within the local network. It creates a visual representation of each device on the screen, in the same way Apple does in Airdrop.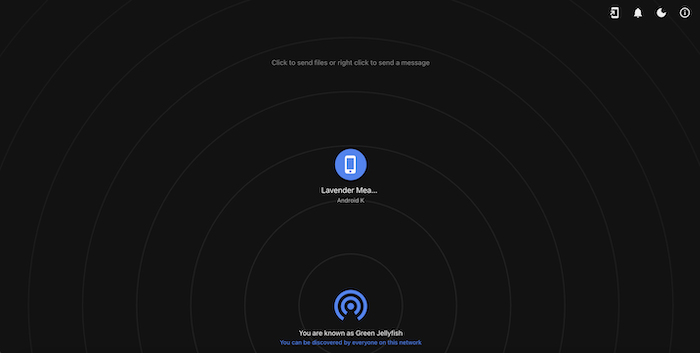 To transfer a file, you simply drag and drop it onto the recipient's device icon. You can also tap on the recipient's device icon, and it will open the File browser to select files to transfer. The file is then transmitted directly from your device to the recipient's device using a secure P2P connection.
Snapdrop's transfer speed is highly dependent on the network conditions and the devices involved. In optimal circumstances, the file transfer is swift, with smaller files often being transmitted almost instantaneously. However, for larger files, the transfer speed may vary depending on factors such as network congestion and device capabilities.
Snapdrop is an open-source platform and source code is also available on GitHub. It also performs P2P file transfer. So, Snapdrop is safe to use.
Snapdrop is undoubtedly worth trying due to its exceptional simplicity, accessibility, and platform compatibility. It provides a convenient solution for transferring files between devices without the need for installations or user registrations. Whether you need to quickly share a document, photo, or even a large video file, Snapdrop streamlines the process with minimal effort.
Pros:
User-Friendly
Cross-Platform Compatibility
No Installation or Sign-Up
Fast and Direct Transfers
Cons:
Network Dependency
Limited Offline Functionality
Snapdrop.net offers a hassle-free and straightforward solution for sharing files across different devices. It successfully addresses common file-sharing problems and provides a user-friendly experience with its intuitive interface. When I have to send files from my iPhone or Macbook to my Android phone, I personally prefer Snapdrop. You should also try Snapdrop and see if it solves your file-sharing problems.