Xiaomi beats Apple to become third-largest smartphone vendor in Q3
Advertisement
According to new data on smartphone sales, Xiaomi has now overtaken Apple to become the third-largest smartphone maker in the world in terms of shipment. Samsung and Huawei are at first and second place while Apple has slipped to fourth place.
All major research firms including Counterpoint Research, IDC, and Canalys claim almost similar numbers. The smartphone market grew exponentially in Q3 2020. Indian market recorded highest-ever shipments in a single quarter as shipments reach over 53 million units in the quarter.
Samsung has regained its top position. Huawei became the top smartphone vendor for the first time three months ago due to stop sales in China. But US ban and other factors affected the sale and it slipped to 2nd spot.
As per the Counterpoint Research report, Xiaomi shipped 46.2 million devices in the third quarter of 2020 while Apple managed to ship only 41.7 million devices during the same quarter. Samsung is at the top with 79.8 million shipments and Huawei shipped 66.8 million units.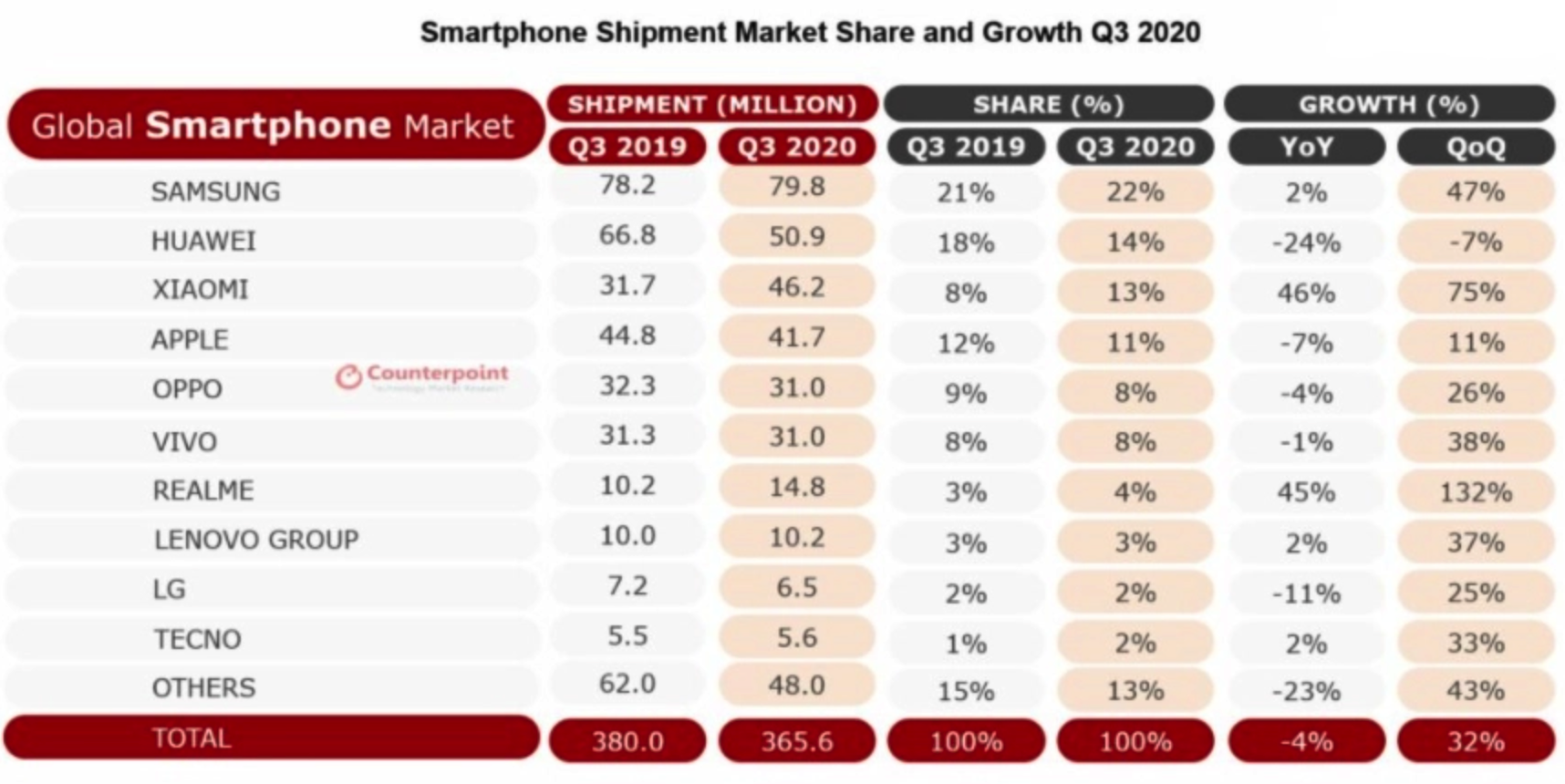 Huawei is continuously reporting negative growth, so we can expect Xiaomi and Apple to overtake Huawei by next year. Xiaomi managed to record 46% year on year growth and 75% quarter on quarter growth.
If we look at IDC, it also claims that Xiaomi shipped 46.5 million smartphones as compared to 41.6 million sales by Apple. Samsung shipped 80.4 million while Huawei shipped 51.9 million smartphones.

Canalys also reported similar numbers. It also claims that Xiaomi is in third place with 47.1 million shipments while Apple has slipped to fourth place with 43.2 million shipments. Samsung and Huawei are at first and second place with 80.2 million and 51.7 million shipments respectively.
BBK brands Oppo, Vivo, and Realme are at fifth, sixth, and seventh spots in Counterpoint Research report. IDC and Canalys put Vivo at the fifth place. If see BBK Electronics as a single form and combine sales of its subsidiaries, it will reach close to Samsung for the 2nd sport.
If we look at just Indian smartphone market data, Counterpoint Research claims that Samsung is back to the top position while Xiaomi has slipped to 2nd spot. It claims 24% and 23% market share for Samsung and Xiaomi respectively. Canalys still put Xiaomi at the top place with 26.1% makes share and claims 20.4% market share for Samsung.
Source: Counterpoint Research (1,2), Canalys (1,2), IDC