Google Duo increases group video calling limit to 12 participants
COVID-19 pandemic has forced people to work from home. So, there's a sudden rise in the number of video calls around the globe. Now video calls are being used for team meetings and people are also using them to keep in touch with friends. So, Google Duo has also increased the group video call participant limit from 8 to 12.
Google's Senior Director of Product and Design tweeted to confirm this change. She also claims that there's more to come. So, we can expect more features on Duo in the coming days.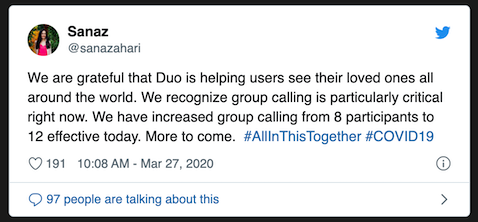 There's no need to update the app to get this upgraded limit. It has been achieved through a server-side switch. So, you can now add up to 12 people in group video calls.
Also see: Best Video Calling Apps for Android
Although Duo is not much popular, so Google wants to attract users by offering more participants in a group video call. Now when a lot of people are stuck at home, video conferencing has become a part of daily life. The Duo is a good app to try, even if it couldn't get popularity in front of WhatsApp and Skype.