7 Best Video Calling Apps For Android
After the 4G revolution in India, cheap 4G data is now available to most of the people. This is the reason, video consumption and video calls are now popular. Video call is, of course, a better way to connect people because you can see them and feel their expressions. There are lots of video calling apps for Android. You may have already been using one or few. We are also listing a few best video calling apps for Android.
Also see: Best Messaging app for Android
Best Video Calling Apps For Android
1. Google Duo
Google Duo is one of the best video calling apps for Android. Google launched it as a dedicated video calling app with a simple interface and straightforward options. It is easy to use and you just need to verify your number for creating an account.
Its "Knock Knok" feature makes it notable as it shows a live preview of the caller before you receive the call.
If you call your friend who couldn't receive your call, you can also leave a video message. So, you can still share the moments who wanted to share in video call even if you call was not picked.
Also see: Best dating apps in India
2. Skype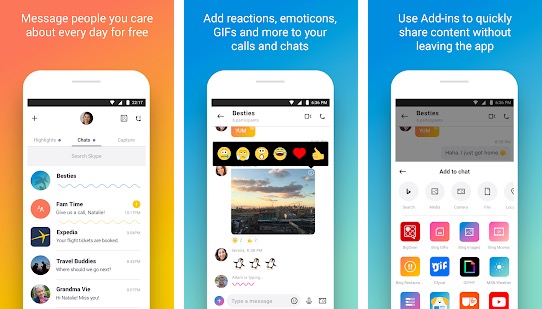 Skype is still one of the most popular calling apps that offer both voice and video call option. As the service is old, lots of people know about it and still use it actively. It offers good quality video calls. You can also make group video calls and even share video messages. Along with video calls, it also offers text messaging and voice calls. It is available on most of the platforms including desktop, that gives it extra points to be in the list. It is also available for PlayStation and major browsers as an extension.
3. WhatsApp
WhatsApp is the most popular messaging app and also offers video calling option. So, people now prefer it over other apps because they do not need to download a separate app for video calls. It also offers good video calling experience. While the quality is not as good as in Duo or Skype, you can still have a good video conversation with friends.
WhatsApp not just allows text messaging and video calls, but you can also share photos, files, location, contacts and voice messages. Now the app is also working to add payments service.
4. Messenger
Facebook is the biggest social network where you are already connected to your friends. So, having video calls on Facebook Messenger makes sense. Not just normal video calls, it also offers several video filters to enhance video calling experience. Not just one to one calls, but you can also have group video calls.
Along with video calls, there are also several other options including share files, photos, send location and share live location. You can also talk to businesses to check order status and get real-time customer service.
5. Hangouts
Even if Google has Duo, Hangouts is still one of the best video calling app for Android. It comes with pre-installed in many Android devices and you only need to connect your Google ID. The app offers excellent video calling quality like Skype. Along with video calls, you can send messages, emojis, animated GIFs, videos, photos, and location. Hangouts is available for both mobile and computer.
6. imo
The imo is also a notable app for Android for video calls. It offers high-quality video calls over 2G, 3G, 4G* or Wi-Fi. Along with one to one video calls, you can also enjoy group video calls. You can have a group video call of up to 6 people. It also lets you share photos and videos. There are hundreds of free stickers to use while conversation. It is free but ad support.
7. JusTalk
JusTalk is not so popular but good for making videos on Android. It also allow you to record your video calls directly from within the app. It also has doodle feature allows you create doodles on your face, or anything else on the screen while you are ona video call. There are also options for Texts messages, photo sharing and video sharing.
Final Words
All of these apps allow you to have good quality video calls along with other features. You can use any of these depending on how you are comfortable. WhatsApp is a must-have app, so you can use that and avoid installing any other app for video calls. But Duo and Skype are still better for video calls.