Amazon Delivery Fraud is real and you can be the next victim
India's one of the biggest online retailers, Amazon had been in news many times for several wrong reasons. Most of the time, they put the blame on the seller but no one knows if customers who got scammed actually found help from the company. This time I was the victim and I will explain to you how flawed Amazon's delivery system is.
Update: I also shared the issue with the Amazon PR team before writing the article. So, finally, on Sunday, I got a call from Amazon customer care executive who promised a refund. In a few hours, the refund was initiated.
Not sure how common Amazon users could get help in such cases.
There are multiple issues I faced on a single order. I have been a loyal Amazon customer who does most of the online shopping from Amazon, has Prime account and even the Amazon Pay ICICI card.
I ordered Amazon's Echo Dot 3rd gen for my roommate. It was a prime order and was scheduled to reach me by February 10th. I needed that on the 13th and had trust in their prime delivery. On 10th, I was in Bareilly to attend the marriage of my friend. There was no-one in the flat to receive the product.
In the morning, I received a message saying the product was out for delivery and SMS had an OTP. After a few hours, I got a notification in the App saying the product was delivered. I was surprised because there was no one there to receive the order. But I called my neighbour to ask and found that the product wasn't delivered to them.
I called Amazon and escalated the issue. Their reply was more surprising.
"Sometimes the courier agent erroneously updates the tracking as 'Delivered', while the package might actually be still on its way. Hence we suggest that you wait until 12 February 2020 as we expect the package to be delivered by then."
So, they knew the delivery boy does this wrong thing. But they didn't do anything to stop.
The OTP in my SMS was useless.
They suggested me to wait till 12th, so I did. I also told them that this order was to gift someone, so I will ask for a refund if you deliver it after the 13th. Nothing happened from their side. So, I called again and asked for help on Twitter. Amazon asked 48 hours to investigate the matter but nothing was done. I asked again on 14th, 16th, and 19th for the status and my order.
Here are the snapshots of their replies.
On the 19th, their final reply was that order was delivered properly and they cannot help. They didn't tell me to whom they delivered and denied any further help.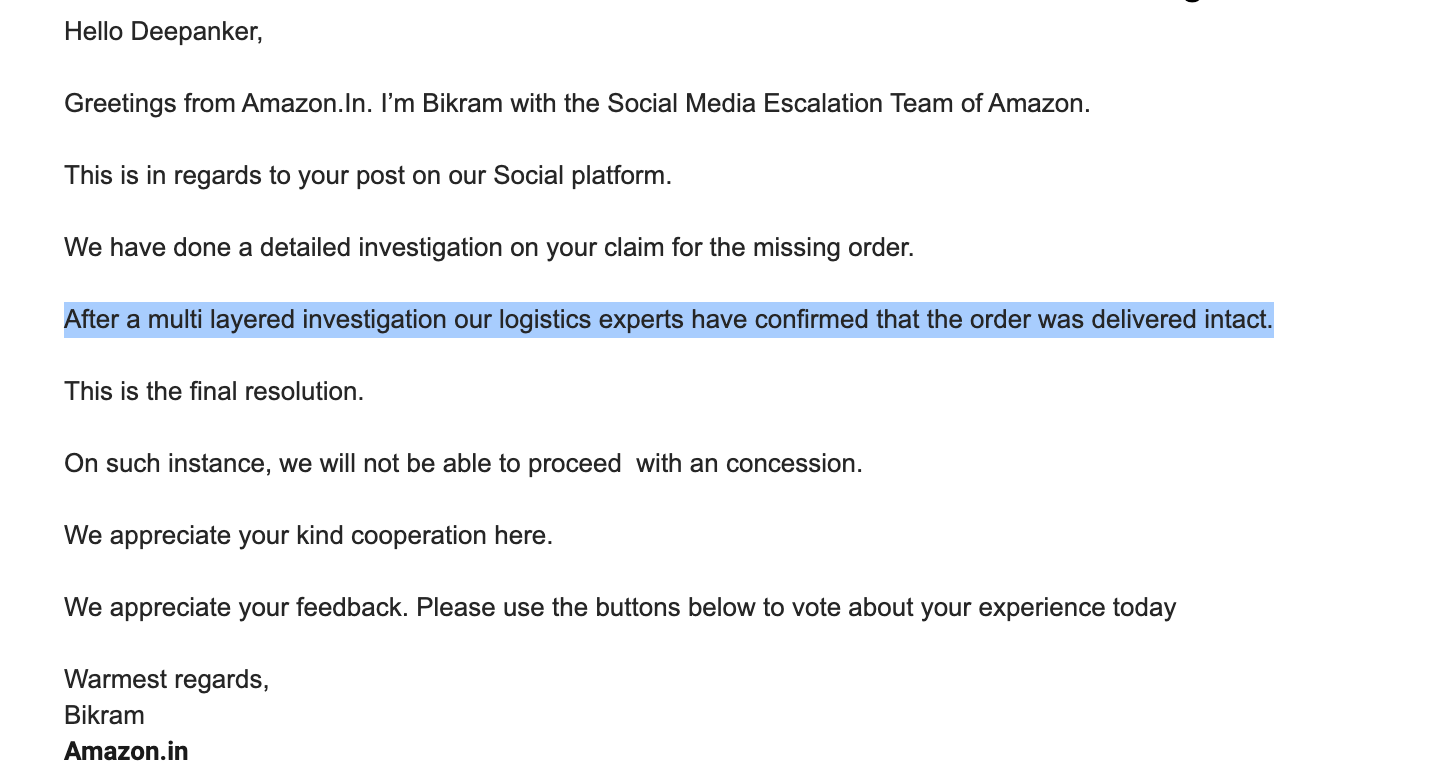 I further asked them to connect me with the delivery agent. Maybe he could help me by telling to whom he delivered. But Amazon denied the request. So, finally, I lost my money and didn't get anything.
The kind of help they did highlight several series issues.
What is the use of OTP when the delivery guy can mark the product as delivered without knowing the OTP? Amazon people know this as said in a reply to me but they didn't fix it.
There is no delivery guarantee in prime. If they are late, they can mark it delivered and you are helpless.
They have no details of delivery and could tell what investigation they did.
Prepaid orders are not safe. Your order will be marked as delivered by a delivery agent and you won't get any help.
Amazon people know that one won't go to a legal way for just Rs. 3500. But think about the total amount of fraud Amazon customers are facing. Most people don't know what to do in such cases. You could end up putting your frustration online on social media, but you won't get your hard-earned money.
After I discussed the issue with a few people, I found that Amazon's delivery people are doing this occasionally. In many cases, Amazon agrees to provide a refund. But I wasn't lucky enough and lost my hard-earned money because Amazon thinks their delivery agents provided them the right status.
I decided to write about the issue only after I was denied help from Amazon. I have been satisfied Amazon customers for years and I never expected such scam from them. Think about a person who orders an iPhone 11 Pro Max get into a situation I am in.
As I said, I am not alone, here are a few snapshots of similar Amazon Delivery Frauds I found on social media.
So beware if you are using Amazon. Stop doing prepaid orders to be on the safer side.
Please share this story on social media with #AmazonDeliveryFraud and let other people know about this. Also comment if you also faced this kind of issue.