Why is Microsoft 70-486 Exam Popular?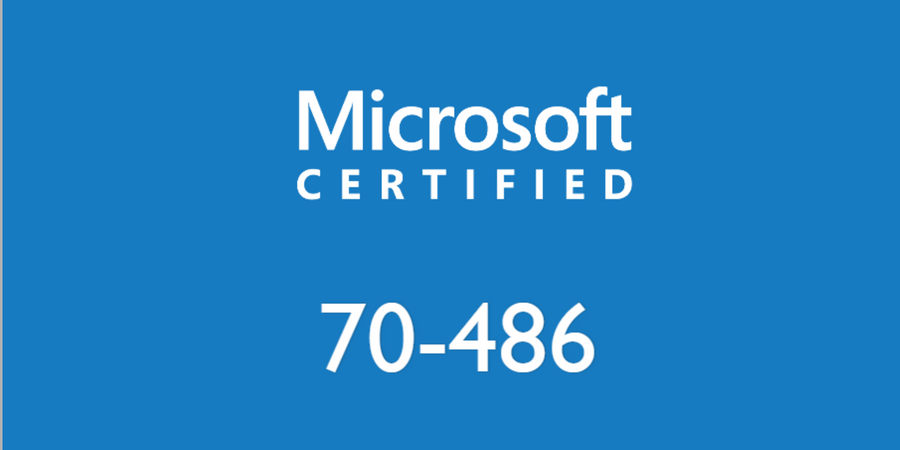 For those of you who are planning to takeMicrosoft 70-486 Exam: Developing ASP.NET MVC Web Applications, you might be clouded with thoughts on how to pass the test. But before that, let's talk about the popularity of this Microsoft exam among IT professionals around the world. So, here are the reasons why Microsoft 70-486 Exam is one of the most sought-after exams in the field of information technology.  
Tough Yet Fulfilling Exam
To begin with, Microsoft 70-486 Exam: Developing ASP.NET MVC Web Applications is a genuinely challenging test that might just be one of the toughest exams you'll take. You seriously need to allocate a lot of time preparing for the exam, especially if your experience is quite limited. Well, the extensive real-world experience is a significant factor because it assists you to take a good grasp of the objectives as well as pass the test easily. Microsoft 70-486 may be a tough validation of your knowledge and skills, but it's certainly a fulfilling one to take.
Discount of Rs. 9000 on Canon EOS 1300D 18MP Digital SLR Camera
Discount of Rs. 9000 on Canon EOS 1300D 18MP Digital SLR Camera
In-depth Objectives
As always, the exam objectives are the most important guideline that tells you what you need to study. Take note, there is not much point in a study resource that is of no relevance. So, study efficiently and effectively. Microsoft 70-486 Exam features six objectives related to Developing ASP.NET MVC Web Applications. Because of the extensive and in-depth objectives, candidates will surely have a deeper understanding of the exam during the preparation stage. Here are the six important objectives: designing the application architecture (15-20%), designing the build and deployment architecture (10-15%), designing the user experience (15-20%) developing the user experience (15-20%), troubleshooting and debugging web applications (20-25%) and designing and implementing security (15-20%).
A Combination of Different Tests Types
Once you know what the objectives are, getting a hint of the exam format and the test types is the next step. For this Microsoft exam, you'll get a combination of different test types, from multiple choices to case study series and drag and drop questions. The case study questions are largely based on real-world scenarios with business technicalities, so significant experience in real-life is definitely a plus factor. To be able to get a little preview of the exam, there are various website that provide 70-486 practice test, which are quite similar to the real exam. You can also follow different 70-486 forums and communities so that you'll get valuable ideas and tips from exam passers.
Specific IT Career
With the tech industry evolving at fast pace and employers getting stricter in terms of qualifications, you should know how to play the game. Unfortunately, the 'jack of all trades, master of none' mantra will do you no good. Accordingly, you need to hone a particular field in IT, where you want to practice and expand your knowledge and skills. And if you have decided to polish your understanding and experience in developing ASP. NET MVC Web Applications, then Microsoft 70-486 is the right exam for you.
Suitable for Particular IT Developers
If you are a professional developer with a thorough background in Microsoft Visual Studio 2017 as well as ASP.NET, then you'll fall in love with this exam in a heartbeat. Candidates with knowledge in Microsoft Azure Web Apps and at least three to five years of experience in designing and developing ASP.NET MVC–based web applications are the right individuals for the exam. Preparing for this test allows you to hone your skills in planning and implementing different web solutions related to Microsoft ASP.NET MVC and Azure.
Useful Study Resources
Since you'll need plenty of preparations for this exam, you will certainly expand your comprehension in no time. There will be several study resources that you need to take into account, especially books and online references. The most popular study material is the Exam Ref 70-486: Developing ASP.NET MVC 4 Web Applications by Microsoft, which covers each exam objective equally. There's also the Professional ASP.NET MVC 4
by IT experts Jon Galloway, Phil Haack, Brad Wilson, Scott Allen and Scott Hanselman. To complete the set of valuable study resources are the Pluralsight online video series, instructor-led training, Microsoft Virtual Academy online videos and practice tests. All these references are specifically tailored for the exam and cover all the objectives.
Long-term Investment
Unlike other exams that are unfortunately being retired shortly after few years, Microsoft 70-486 exam is still in-demand, which means it is very functional in the years to come. The exam will, of course, be updated but it will not be retired just yet. So with this feature, candidates choose Microsoft 70-486 exam over other tests because of its long-term usage, which will add benefit to your profile as an IT professional. Not only that, this particular exam is part of the ASP.NET Core, giving you more advantage in terms of knowledge. Thus, this Microsoft exam is such a great bargain.
A Good Microsoft Validation
Since you'll be taking an exam from a famed multinational technology company, then you're in good hands. Really, Microsoft has always been one of the leading IT entities in the world that have continuously carved a bright and reputable name in the industry. These Microsoft exams and certifications push you forward in your profession, especially that most employers are more attracted with those with extracurricular add-ons on their profiles. And one ideal Microsoft validation is this particular exam related to developing ASP.NET MVC web applications.
Are You Ready to Take Microsoft 70-486 Exam?
Now, that you know why Microsoft 70-486 Exam is quite popular, then it's time to get you prepared for the real exam! Remember, the only way to pass the coveted exam is by hard work and perseverance. You may need to sacrifice lots of things, particular your time. Learn all the fundamentals and practice your skills. Don't just rely on brain dumps because this does not justify anything but an unreliable success. There are plenty of study resources you can rely on that is a real aid for preparation for the exam. Study at your own pace but make sure that you cover everything.
Disclosure: This is a sponsored article written by sponsor.