SEO Powersuit Review – A complete SEO software package
SEO is the key thing to make an online business success. So, you should also focus on doing SEO of your online business. Online market is now very competitive, so you must use smart tools to make SEO strategy. If you ask me the best SEO tools, I will suggest you to go with SEO Powersuit which is the collection of SEO Tools by Link assistant. It comes with all those tools which you will ever need while doing SEO for any website. SEO Powersuit is the complete SEO software package.
In this package, you will get 4 different tools. These tools are:
Rank Tracker
WebSite Auditor
SEO SpyGlass
Link Assistant
By using these tools, you can start doing SEO and making the strategy to improve the organic traffic of a website. In this post, I am going to write the review of all these tools in detail.
You can download these tools for free but I recommend you to buy premium subscriptions to enjoy the power of the tool. If you are website owner and manage your own website, you can go with professional version which costs $299. If you own a company which also offers SEO services, you must buy enterprise version which costs $699. Before you buy this tool, you should know about this tool in detail. So, in this post, I am writing about all tools available in SEO Powersuit.
Note: I blurred my ranking data from screenshots
Rank Tracker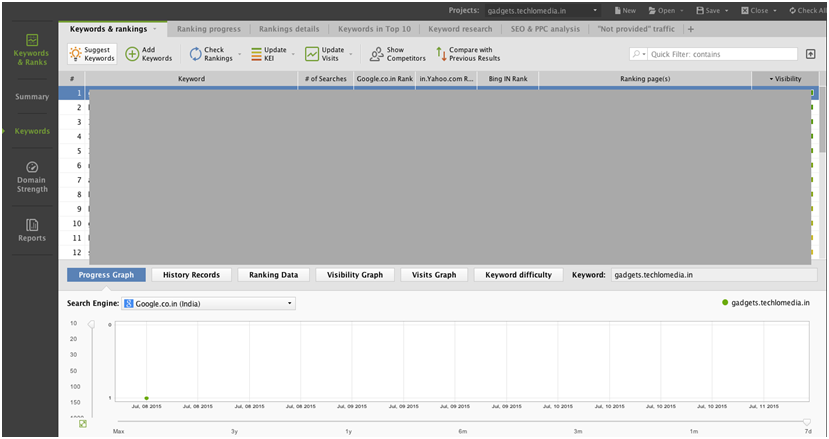 As the name suggests, Rank Tracker tool helps you in tracking the search engine ranking of your website for a specific keyword. If you are targeting your website for a keyword, you can track the rank of your website in Google or other search engines. It will tell you change in the ranking daily and you can measure how much you grew in past few days, weeks or months. You can track the rank for multiple keywords.
Good thing is that the tool is very easy to use. Just create new project and follow the steps.
You need to authorize Google analytics account to let this tool access your analytics data. It will also ask to get access to Google Adwords account. If you use Adwords, you can authorize this tool to access Adwords too. Then, it will fetch your current ranking keywords. If you also want to add few more keywords for which you want to track your ranks, you can add those keywords in the list. Then, select the search engines in which you want to track the ranking. After this step, let it check the rank and prepare a report for you.
It will show you the keywords, number of searches, rank in search engines you selected, ranking pages on your website for that keyword and visibility. There are multiple tabs for checking ranking progress, ranking details, keywords in top 10, keyword research, SEO and PPC analysis and traffic from not provided keywords in analytics.
Basically, it scrapes search results to grab the data. So, it also comes with search safety features. You can add proxy settings in preferences.
This tool comes with everything you would like to see in your rank tracker tool. You can track your keywords, see which are keywords are doing well and find high profitable keywords. It seems there is no limit for keywords. You can track unlimited number of keywords in almost all search engines available. This tool can open the door of traffic, if you use it properly.
Website Auditor
Website Auditor is another awesome tool of this suit. It crawls the given website and scans for finding on-page SEO errors and errors in website structure.
Just create new project with the website you want to audit.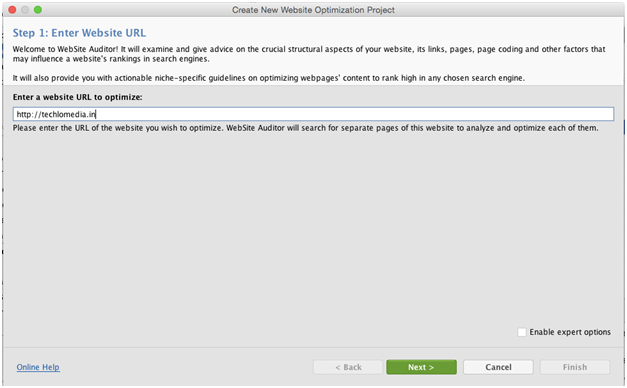 Then it will start scanning the given website for finding errors. This process will take time depending on the number of URLs in your website. If your website has large number of URLs, you will have to wait for long.
See the sample report below which this tool creates after scanning all your website. It will show you pages with errors, duplicate canonical page errors, duplicate titles, duplicate meta descriptions, empty title pages, pages with long title, pages with frames, pages with W3C errors and other factors which affects on page SEO.
You can also analyze individual pages to number of internal links, and status code. You can also check if the page is properly optimized for a keyword in the content analysis section.
See below page for the report of content analysis.
Now just keyword analysis, you can also see the social media sharing of individual pages and traffic coming to those pages.
In the preferences menu, there are various options which you can use to change various things in the tool. This tool can be your best companion as an on-page optimization tool. You can also create report for the main domain or individual pages. If you are using the enterprise version, you can also create white label report.
SEO SpyGlass
In SEO, optimizing your website is not the only the part of SEO. You should also keep an eye on your competitors. This tool lets you track links, check historical link tracking and prepare white label reporting. You can not only use this on your competitors, but also on your own website to see links.
People ask why we should check the keywords and backlinks of competitors. There is the simple reason for this. If you analyze the keywords of your competitors, you will know the possible websites from where you can get links. You can also guess how many links will help you to beat your competitors.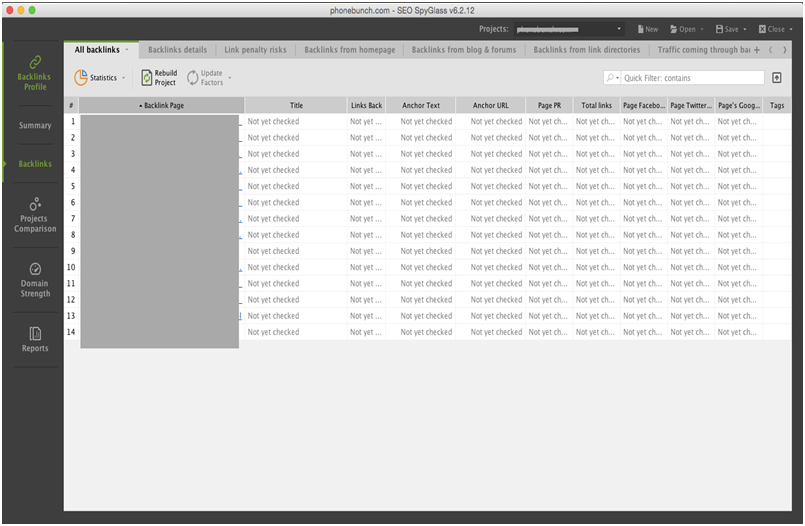 SEO SpyGlass basically checks around 500 search engines to find the backlink. Proxy feature is also there search engine safety to minimize search engine block. It also collects backlink qualities to let you know what backlink may harm your website.
Create a new project and enter the URL to analyze. Then it will start checking the backlinks of the website. See the basic report below. You can see that there are various options like backlink details, link penalty risk, backlinks from home pages of different websites, backlinks from blog and forums, backlinks from different directories and traffic from these backlinks. So, these will help you in analyzing the backlink strategy of your competitor.
Statistics section of the tool lets you explore more about backlinks. Like other tools in the package, you can also create w white label report with this tool to send to your client. You can also create custom report, manage multiple projects and save data.
Link Assistant
This tool is really awesome for link building purpose. it is all in one link building tool with surprising features. It comes with all those things which you need to have while link building for your website.
Link Assistant helps you in finding the link partner by searching for websites similar to your website. Not just link, it also finds out the contact information of website owners. You can use these contact info to send emails and ask the website owners to find possible link building opportunity. And this tool has also a built-in mechanism to send mail to them and track your link building campaign progress.
You have multiple options to find link partners for backlink campaigns.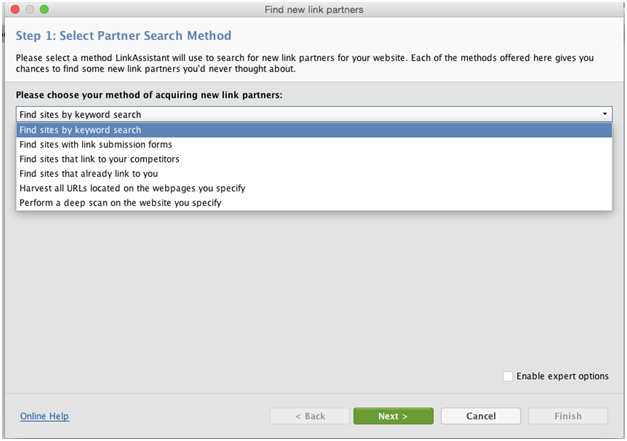 Use of sites by keyword search seems the best to find relevant websites for link building. It will take time depending on the keywords given by you.
Once it gathered data of possible link partners, you will get the list. You can select one or more websites to start with. Select all or few websites and then click next to start the link building campaign.
Here, you send the link request mail directly from this tool. While sending the email, you can either use the default email template provided by this tool or create your own email template. At the top right side, you can select from available templates.
This tool also has a separate email section to manage your received or sent emails for the history of the whole communication.
You can also explore different options of the tool. If you are planning to start link building campaign for your blog, this tool will make the whole process very easy. You only need to take actions on the data prepared by this tool
Conclusion:
All 4 tools in the SEO Powersuit are really awesome and do great job. These are the only tool you need to have to do the SEO of your website. From keyword research to link building, you can manage everything without adding much effort. I recommend this tool for your SEO campaign. Buying enterprise license will let you create white label reports for your clients.