Bing Search Brings Best-Sellers Carousel For Books
Recently founder of Facebook, Mark Zuckerberg invited everyone to read books with him as a New Year resolution. A page has also been created for this. So, if you are a book readings lover, then you can also join this. But, how do you get to know the best-selling books? If you have this question, then do not worry. Bing brings you the features of listing out the best selling books known as Best-Sellers Carousel.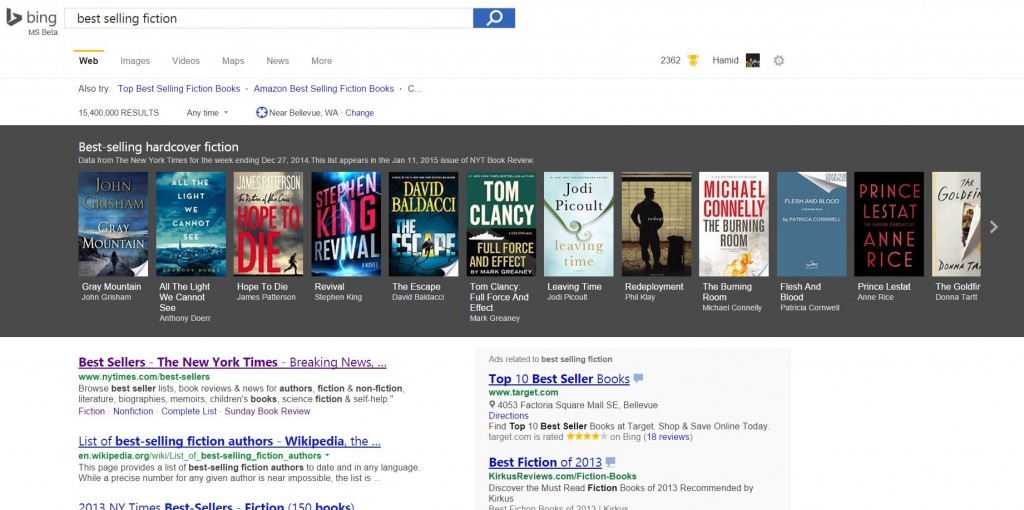 As said by Patricia A Mckillip "The odd thing about people who had many books was how they always wanted more." Books reading lovers have more and more books and they want more books. For them, you can use Best-Sellers Carousel to find best-selling books as listed by The New York Times.
This list was based on the best-selling books on monthly and weekly basis of The New York Times. This list gets refreshed when the list changes on The New York Times. So, you will be shown a new list when you search every week. Bing supports best selling fictions books, kids books, non-fiction books and more.
As suggested by Bing, you can use these sample searches,
best-selling fiction
nonfiction best-sellers
best-selling kids' books
current times best business books
These sample searches will give you the list of best-selling books. Click on the individual title of the book, to know more details about that particular book. This has been not rolled out to everyone and it is on it's way for others.
Source: Bing Blog