Google Hangout Finally Replaces Gmail Video Chat For Indian Users
Google has rolled out its popular video chat bas Google+ feature called Hangout for Gmail Indian users. Now Gmail users will see Hangout in place of video chat. Few people were lucky enough to get this feature few days back including me. But now it is available for all Gmail users in India.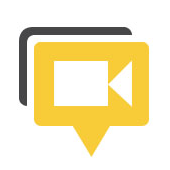 Google Hangout brings many features along with just video chatting. It allows users to add more people to hangout and enjoy video chatting with multiple people up to 9 people at once. While older video chat was only 1 to 1 chat. People having hangout with this feature can also watch videos with YouTube along with chat.
They can also enjoy games by adding more apps. If you want to do some office work, use Google Docs. You can also schedule a chat with Google Calender.
To use this feature, you need a good internet connection other wise chat will never be smooth. But people using slow dialup connections can opt for ultra low bandwidth mode which will run the whole conversation process without glitches.
This is one more way to push people on Google+ which is struggling in India. USers will have to activate Google+ account before using this feature. It will surely increase active users on Google+ because people actively use Gmail video chat. But I have doubt this increase the usage of Google+.
Do you think this new feature is better that older video chat? Share your Google+ hangout experience with us via comments.