If you are into videography and use DSLR for that, you also need a good microphone to record good audio. It is because the audio quality is also equally important. The default microphone of DSLR is not capable enough to cancel noise and record good audio. So, you need an external microphone for capturing good quality audio.
Shotgun is the name because it has a slotted tube in front of the microphone that looks like a shotgun. This tune helps in rejecting the sound coming from more than about 30 degrees off to the sides. So, it basically focuses on the sound coming from the front.
Also see: Best Microphones for YouTube videos
If you are not sure what shotgun microphone to buy, here is the list of the best budget shotgun mic. Here, I am not adding the premium shotgun microphones. The more you pay, the better audio quality you will get. But most people cannot afford those premium microphones. So, check this list of best shotgun mic under Rs. 10000.
Best Shotgun Microphones For DSLR Under Rs. 10000
| | | |
| --- | --- | --- |
| Microphone | Price | Buy Here |
| Rode VideoMic Directional | Rs. 8799 | Buy Here |
| Audio-Technica ATR-6550x | Rs. 5999 | Buy Here |
| Rode VMGO Video Mic GO | Rs. 5799 | Buy Here |
| Maono AU-CM10s | Rs. 4399 | Buy Here |
| BOYA by-MM1 Shotgun Microphone | Rs. 1699 | Buy Here |
Here is the list of best Shotgun Microphones For DSLR Under Rs. 10000:
1. Rode VideoMic Directional Video Condenser Microphone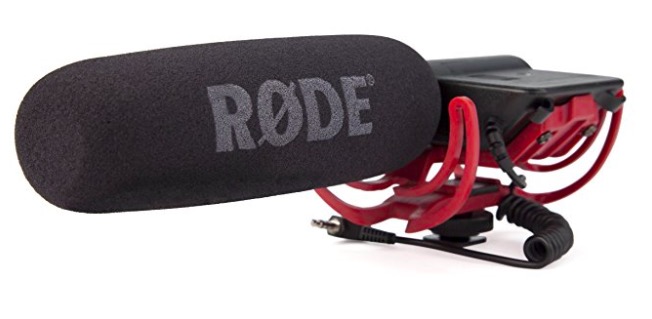 This one is the best and hence costliest on the list. It is rugged so good for outdoor usage. It has Two step high-pass filter and comes with an integrated cold shoe mount. It records good audio with almost negligible noise. It is also compact and light in weight. So, it is good for vloggers or videographers for recording movies without adding any setup for audio.
Frequency Range: 40Hz – 20kHz

Output Impedance: 200Ω

Maximum SPL: 134dB SPL (@ 1kHz, 1% THD into 1KΩ load)

Sensitivity: -38.0dB re 1 Volt/Pascal (12.60mV @ 94 dB SPL) +/- 2 dB @ 1kHz

Equivalent Noise Level (A-weighted): 20dB-A

Power Options: 9v battery powered

Weight: 176.00gm
Buy Here: Amazon | Reliance Digital | Flipkart
2. Audio-Technica ATR-6550x Shotgun Microphone
Audio-Technica is a known brand for microphone and audio accessories. This shotgun microphone is excellent for recording high-quality audios while shooting videos using DSLR. It offers two range settings. One is normal for close distance and the other is Tele for long-distance. It also comes with a camera mount, clams, and foam windscreen. It requires an external battery.
Element: Condenser
Polar Pattern: Normal: Cardioid; Tele: Supercardioid
Frequency Response: 70 – 18,000 Hz
Open Circuit Sensitivity: Normal: -56 dB; Tele: -45 dB
Impedance: Normal: 1,000 ohms; Tele: 2,200 ohms
Weight: 113 g (4 oz)
Buy Here: Amazon
3. Rode VMGO Video Mic GO
Rode brand is very popular in making mics. This video mic shotgun does not require batteries to operate and has no external control. Just plug it in the DSLR and start using it. It uses a 3.55 mm port to connect with DSLR and can even with smartphones. It also has Rugged reinforced ABS construction and the Windshield is included in the package.
Frequency Range: 100Hz – 16kHz

Maximum SPL: 120dB SPL (@ 1kHz, 1% THD into 1KΩ load)

Sensitivity: -35.0dB re 1 Volt/Pascal (17.80mV @ 94 dB SPL) +/- 2 dB @ 1kHz

Equivalent Noise Level (A-weighted): 34dB-A

Weight: 73.00gm
Buy Here: Amazon
4. Maono AU-CM10S Video Shotgun Microphone Kit
This Maono AU-CM10s is a clear recording shotgun mic that reduces surrounding sounds and makes your subject isolated from background noise and delivers crisp and clear audio. It can work with DSLR cameras, such as Canon Nikon, camcorder, iPhone, iPad, Android Smart Phone, tablets, PC, Laptop, and Mac. It has compact to go in monopod model.
The whole package includes a mini tripod and phone mount to take video. This shotgun has a durable body with an aluminum case. No need to install any battery for power as it has a battery-free design. You can use it anytime anywhere
Super-Cardioid mic 

Frequency Response: 20Hz~12KHz

Sensitivity: -23dB+/-3dB(0dB=1V/Pa, 1kHz

Signal to Noise Radio: 70dB

Plug and play: no other setup needed

Universal compatibility

Professional wind foam included

Durable metal construction

Battery-free design
Buy Here: Amazon
5. BOYA by-MM1 Universal Cardiod Shotgun Microphone
This one is the cheapest video mic shotgun on this list but good. BOYA by-MM1 Cardiod Shotgun Microphone has universal compatibility that is perfect for smartphones, DSLR Camera Camcorder, and recorders. It weighs only 86g that makes it lightweight and compact. It comes with a Portable Leather Case which makes it easy to carry anywhere.
Rugged metal construction, windproof shield, and anti-shock mount effectively reduce unwanted vibration, cable, and handling noise. It does not need the battery to run. Just use it directly with your smartphones or DSLR cameras.
Universal compatibility

No battery Required

Compact and Light Weight

Frequency Response:35-18KHz +/-3dB;

Sensitivity:-42dB +/- 1dB / 0dB=1V/Pa, 1kHz;

Signal to Noise Ratio: 76dB SPL

Rugged metal construction

anti-shock mount
Buy Here: Amazon
Read More, Best SD Cards for DSLR
Final Words
As the list talks about best shotgun microphones for DSLRs in the budget of Rs. 10000, all these listed in the articles are budget shotgun mics for DSLRs. If you are serious about a movie shooting, you need to go with a better one. This list is for those who are beginners and want a good microphone for their YouTube videos.
I hope this list helps. If you need more buying suggestions, you can always contact us.