Best Microphones for YouTube under Rs. 2000
If you are planning to start a YouTube channel but do not want to invest big in the complete setup, you can use your smartphone for recording videos. Nowadays, mid-range smartphones can also record good-quality videos. The only issue people face is with the audio quality. Smartphones record good videos but also capture good environmental noise. If you have an entry-level DSLR, you need an external mic for recording quality audio. If you search on Amazon, you will see microphones starting from Rs. 5000 to Rs. 70000. If you want to record good audio for your videos, you need to invest in a good mic. You can get a good mic without having a big budget. In this article, I am listing the best microphones for YouTube under Rs. 2000.
Best Microphones for YouTube under ₹ 2000 in India
Shotgun Mic
A Shotgun Mic is a type of microphone that records directional audio. It picks sound from a specific direction while filtering background noise. If you own a DSLR or a mirrorless camera and want an entry-level shotgun mic, you have a good option.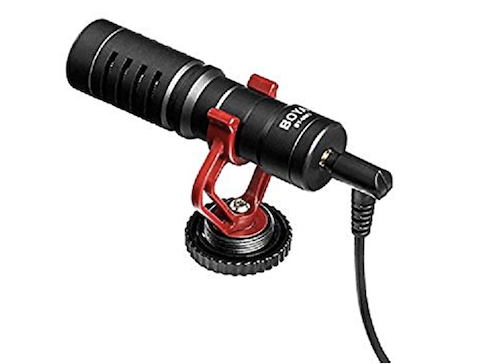 Boya by-MM1 is a shotgun mic that can be used with a DSLR camera, mirrorless camera, camcorder, PC, and smartphone. It is compact and comes with a portable leader case. The mic features a rugged metal construction and an anti-shock mount to reduce unwanted vibration. The company also includes a furry windshield with the mic. This mic records good-quality mic and is ideal for beginner bloggers
Specifications
Transducer: Electret Condenser
Polar pattern: Cardioid
Frequency Response: 35-18KHz +/-3dB
Sensitivity: -42dB +/- 1dB / 0dB=1V/Pa, 1kHz
Signal to Noise Ratio: 76dB SPL
Plug: 3.5mm TRS and TRRS connector
Dimensions: Φ22*81mm
Net Weight: 86g/0.19 lb
Price: Rs. 1599
Buy Here: Boya by-MM1
A Wireless Microphone for smartphones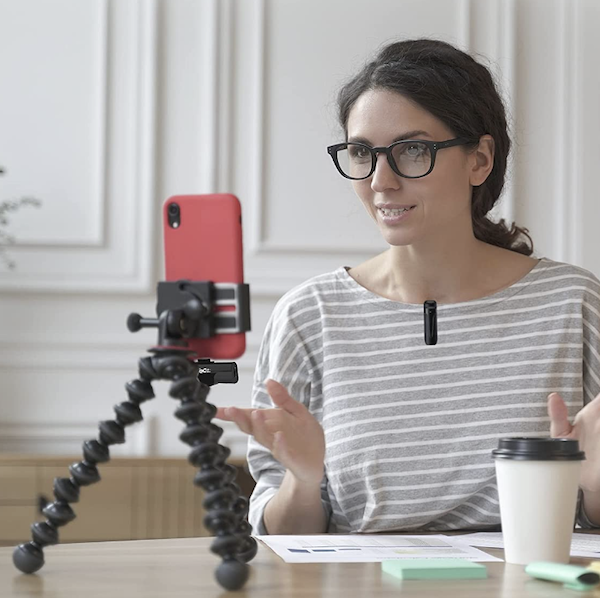 If you want a wireless mic for your smartphone for making YouTube videos, Digital has a good product for you. The company has Digitek (DWM-001) for Android phones and Digitek (DWM-002) for iPhones. Digitek (DWM-001) supports only Android phones with Type-C ports. Digitek (DWM-002) comes with a receiver that features a lightening jack for iPhone. Plug the receiver on your phone and microphone into your shirt's collar. The mic packs a 50m mAh battery and can record 4 hours of audio on a fully charged battery. This mic is ideal for vlogging, streaming, and podcasting.
Buy Here:
Digitek (DWM-001) – Rs. 999
Digitek (DWM-002) – Rs. 1199
Lavalier Universal Microphone
JBL Commercial CSLM30B
JBL Commercial CSLM30B is another good lavalier microphone for capturing good audio in videos. This is a clip-on omnidirectional lavalier microphone for creators. It offers clear sound and 360-degree omnidirectional audio pick-up. The mic also features a gain switch that will help you switch between -10 to 0 db as per your need. This microphone is compatible with most smartphones, DSLR cameras, tablets, and mixer amplifiers. This microphone is ideal for vlogging, voiceovers, and content creation.
Price: Rs. 995
Buy Here: JBL CSLM30B
Boya by-M1
If you want a low-cost Lavalier Microphone for a camera, camcorder, or smartphone, get a Boya by-M1. This is s wired Lavalier Microphone that comes with a long 6-meter cable. It can be added to a smartphone, laptop, or camera for recording quality audio. It is for beginners. Considering the price, this microphone does a good job. The microphone features a custom omnidirectional signal capsule and can capture broadcast-quality sound from a 360-degree range. It also has a switch to turn the mic on or off.
Price: Rs. 995
Buy Here: Boya by M1
Wrap Up
This was the list of best microphones for YouTube under Rs. 2000. I have considered all the available options and added only the items worth buying. I added all kinds of mics including lavalier, shotgun, and wireless. Wireless mics are only for smartphones. Lavalier and shotgun mics can be used with smartphones, cameras, and PC.