5 Best SD Cards for DSLR -2019
Finding right SD card is always necessary for using it in mobile phone or digital camera. You always need to consider capacity and read/write speed while buying an SD card. Slow write speed can slow down your shot and recording. Capacity is important depending on your usage. People use SD cards for their DSLR or any other Digital Camera.
If you are looking to buy an SD Card for DSLR, you need to do proper research and check for its read-write speed and cross check from various places. To make your research easy, we have compiled the list of best SD cards for DSLR to buy. In this list, we have included for every price segment.
Also see: Best Wifi Sd Cards for Your Camera
Before I start let me tell you why you shouldn't use any random SD card on your camera. If your camera can record ultra HD videos with high bitrate, you need an SD card that supports high read/write. For example, Sony a9's burst mode of 20 frames per second needs read and write speeds for saving photos to the card. If your card doesn't support that, your camera performance will suffer.
SD versus SDHC versus SDXC
Now come to another confusion, that you might face. SD versus SDHC versus SDXC. While searching for SD cards, you will see these names. The difference is actually the capacity of cards. SD cards have a maximum capacity of 2GB while the SDHC cards max out at 32GB. The SDXC cards can support up to 2TB. But you shouldn't assume that the SDXC is faster than SDHC.
If you see UHS classification on the card, then you are looking at the right one. UHS is the Ultra High-Speed Classification. Still, you need to check the speed claimed by the manufacturer. UHS-I cards can have a maximum theoretical speed of 104 MB/s, while UHS-II cards can have a maximum transfer speed of 312 MB/s.
Best SD Cards for DSLR
If you are not sure what to buy, here is the list of the best SD cards based on type and purpose.
1. SanDisk Extreme Pro UHS-II SDHC Memory Card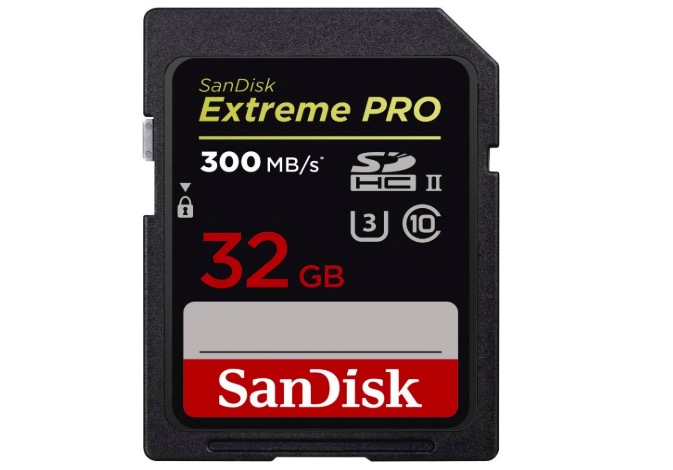 This is the SDHC memory card and belongs to UHS-II class. Sandisk claims that the card can offer speed of up to 300 MBps. On testing, the benchmark speed can reach close to claimed speed. It was 240+ MBps read and 200+ MBps write speed. That makes it the best SD card you can buy. It can meet the requirements of your high-end camera as well.
The high speed read/write doesn't come for cheap. So, the card sots Rs. 5598 for a 32GB storage option.
Price: Rs. 5598
Buy Here: Amazon
2. Toshiba Exceria Pro – N501 SD Memory Card UHS-II U3 Class 10
Toshiba Exceria Pro comes for 16GB to 128GB storage option and is available in both SDHC and SDXC card types. This SD card belongs to UHS-II category and offers high read/write speed. So, this is also a good SD card to use in DSLR cameras. It claims up to 270MBps speed. On benchmark, it was offering 261.295 MB/s read and 229.900 MB/s sequential speeds. This card is good for 4K and Full HD Video recording cameras.
Price: Rs. 7999
Buy Here: Amazon
3. Sony 64GB UHS-II Class 10 SD Memory Card
This one is also a fast performing SD card for the camera. It is waterproof and dustproof, so you can use it in most of the environments. Other notable things are UV guard, X-ray proof, magnet proof and anti-static. Its claimed Read speeds are up to 260mbps UHS-II and Write speeds is up to 100mbps UHS-II. So, it also has fast read-write speed and can be used for 4K recordings.
Price: Rs. 5100
Buy Here: Amazon
4. Lexar UHS-II SDHC Memory Card
This SDHC card belongs to UHS-II category and offers good read-write. This is the reason, I have added it in this list. Max read speed is up to 150MBps and write speed of up to 90MBps. It is rated for 1080p full-HD, 3D, and 4K video with a DSLR camera, HD camcorder, or 3D camera. It comes in up to 256GB of storage option. So, select one depending on your usage.
Price: Rs. 6948
Buy Here: Amazon
5. Polaroid Extreme
Polaroid Extreme is not as fast as other cards in this list, but it is for those who want a cheap option. It can reach up to 95MB/s Read Speed & 90MB/s Write Speed. So, it is also suitable for Full HD and 4K Ultra HD video recording. The card works fine in most of the cameras and camcorders. It is Waterproof, Temperature Proof, Shockproof & X-Ray Proof for Total Versatility. If you do not want to spend much, you can consider this SD card.
Price: Rs. 6948
Buy Here: Amazon
Final Words
The primary difference between the microSD card and the SD card is the size. You can always use microSD card with SD card adapters to use in place of SD cards. I have included the SD cards on the list but 1 is the microSD card with adapter.
There are lots of SD cards in the market and many good are actually not available in India. I tried my best to include the best one offering good speed, reliability and value for money.