Best DSLR Cameras Under Rs. 30000 – DSLRs for Beginners
The photography field is booming very fast due to smartphones. Now, there are many smartphones in the market that claims to have an almost equal quality of images as of DSLR. After Dual Camera smartphones, portrait photography is becoming a new craze among photo lovers. Even if smartphones are now coming with a very good camera, the demands of DSLR cameras are also growing. If you love to click photographs and you are now master of smartphone photography then this is the time to buy the best entry-level DSLR.
I said entry-level DSLR because you are a beginner in the photography field plus you want a DSLR that is easy to use and easy to handle. Entry-level DSLRs in this list are basically DSLR under Rs. 30000. So, I am focusing on that price range only. Once you will become the master of DSLR photography, you can sell this one and buy a new and best DSLR for yourself.
Also see: Essential Accessories For Your DSLR Camera
DSLR stands for the digital single-lens reflex camera which combines optics and the mechanisms of a single-lens reflex camera with a digital imaging sensor. As opposed to point to shoot cameras, DSLR cameras give better control over photography. 
We have done research on every budget DSLR and every user's review for making this list. Also, We have used some of these DSLRs before writing this post. We know the value of your money. Therefore, we also want you to invest it in a perfect and best entry-level DSLR for photography. Therefore, this list of Best DSLR Camera for Beginners is for you. Choose as per your needs.
To avoid any confusion, I want to make it clear that the body only option means the camera will come without any lens. But an 18-55mm lens is offered in the package. We have added the links to the camera with a basic 18-55 mm lens option. In case, you found some other listing in cheaper option, do take care of the body the only option. Check this list of best cameras under Rs. 30000 and see what you want to buy. 
Also see: DSLR vs Mirrorless Camera
Best DSLR Camera for Beginners
This is the list of the best DSLR cameras for beginners or you can say best budget DSLR priced under 30000 INR. These DSLRs are easy to use and specially made for beginners. We have also listed essential accessories for your DSLR camera.
Note: The price listed here may vary from the online retailer site.
Here are some Simple tricks to click brilliant photographs from your smartphones and DSLR.
Below is the list of Best DSLR Camera for Beginners in the budget As the list is for beginners, I am adding the best DSLR under 30000 INR in India. You can choose any of them as per your needs.
1. Nikon D3500:
The Nikon D3500 is one of the best DSLR cameras for beginners. It is as easy to use as a point to shoot camera. This camera has an APS-C CMOS sensor with 24.2MP. It can record 1080p at 60p (Full HD) video with full manual control and selectable frame rates for precision and high-quality video work. There are 11 autofocus points are spread across the frame for the perfect capture of a fast-moving object. The fulltime AF locks onto a subject and keeps it in focus while capturing amazing shot after shot.
If you are a Nikon fan and also a beginner in photography then go for this Nikon D3500. It is the best for the beginner with DSLR.
Features:
APS-C CMOS Sensor with 24.2 MP

ISO: 100-25600 sensitivity range

Expeed 4 with 11 autofocus points

Full HD video

WiFi, NFC and Bluetooth built-in

Nikon F lens mount

Viewfinder type: Optical

Included Free Memory Card: 16 GB
Price: Rs. 26,700
2. Canon EOS 1500D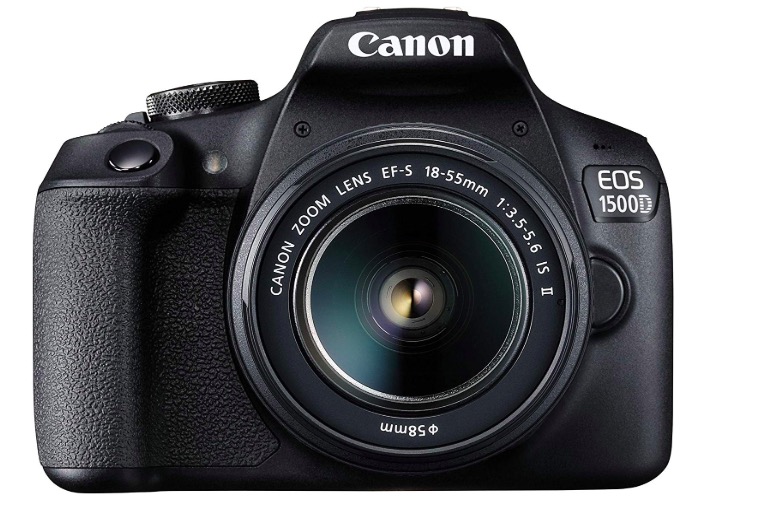 If you prefer Canon, Canon EOS 1500D should be your choice. This DSLR camera under Rs. 30000 comes with 24.1MP APS-C CMOS sensor and DIGIC 4+ image processor. It also has 9 autofocus points along with 1 cross point. The standard ISO range is 100 – 6400 that is also expandable up to 12800.
It features a 3.0-inch LCD screen along with a precise viewfinder. It also features Wi-Fi and NFC. So, you can quickly connect the camera to your phone and transfer photos for sharing on social media or controlling phone remotely.
Features:
24.1MP
Sensor Type: CMOS
DIGIC 4+ image processor
3.0-inch LCD screen
Standard ISO 100 – 6400 (expandable to 12800)
Face Detection
HD, Full HD
9-point AF with 1 centre cross-type AF point
Built-in Monaural Microphone
Wi-Fi / NFC supported
Price: Rs. 29,990
Here is the list of 9 Best Lenses For Portrait Photography.
3. Nikon D3400:
The Nikon D3400 is the predecessor of Nikon D3500. It can automatically synchronize its time and location Information. The lens of this DSLR is of 24.2MP. There are few Special Effects available in this DSLR to creatively refine the look of imagery in-camera like Night Vision, Super Vivid, Pop, Photo Illustration, Toy Camera Effect, Miniature Effect, Selective Color, and Silhouette. The D3400 also features SnapBridge that utilizes Bluetooth connectivity. It is for wireless sharing of images to your mobile device, including automatic sharing of 2MP images between the camera and your mobile device. 
Features:
Effective Pixels: 24.2
Sensor Type: CMOS
HD, Full HD
Face Detection
ISO Rating: ISO 100 – 25600 (Auto)
Shutter speed: 30 – 1/4000 sec
Scene Modes: Portrait, Landscape, Child, Sports, Close-Up, Night Portrait

SnapBridge that utilizes Bluetooth connectivity

Red Eye Reduction

Built-in Monaural Microphone
Price: Rs. 28,990
Also Read, Best Mirrorless Camera under Rs. 50000
4. Canon EOS 3000D DSLR Camera
Canon EOS 3000D is the Entry-level Canon DSLR Camera with Amazing Image Quality. It is the best budget DSLR in the market that captures detailed images as it has a large 18.0 Megapixel APS-C CMOS sensor which is 25 times larger than a typical Smartphone sensor. It records Full HD Video Recording at 1080 p on 30fps. With Wi-Fi and the Canon Camera Connect app, you can quickly and easily transfer images. It is also compatible with smartphones and tablets.
Canon EOS 3000D is cheap and Best DSLR Camera for Beginners. It is the best DSLR under Rs. 30000 in India.
Features:
18MP CMOS Image Sensor

6.85 cm (2.7) LCD monitor
ISO: 100 to 6400, expandable by up to 12800

Wi-Fi supported

Lens Mount: Canon EF mount

Food mode
Captures 3 frames of fast-moving objects in a second
Ports: Type C, Mini HDMI
Price: Rs. 23,999
Buy Now: Flipkart
If you want to share your photographs directly on your system or social media, you can use wifi SD cards.
There are very few options available in DLSR under 30000 INR. If you don't want to buy above DSLR you can go with Fujifilm X Series X-A5 which is a Mirrorless Camera under Rs. 30000. The mirrorless cameras are lighter, more compact, faster and better for video.
Fujifilm X Series X-A5 Mirrorless Camera
The Fujifilm X Series X-A5  is a mirrorless camera with 24.2-megapixel APS-C sensor. It can connect with smartphones, laptops, and tablets via Bluetooth for quick, easy and automatic transfer of still images and videos using the free Fujifilm camera remote app.
If you want a good Mirrorless camera and you are a beginner in photography then choose this one.
Features: 
24.2 megapixel APS-C sensor

Bluetooth

Large rear LCD monitor (rotate 180 degrees)

High resolution and high definition 4K video recording

ISO: Auto, 200 – 12800
Also see: Best Wifi Sd Cards for Your Camera
Final Words
These are the best DSLR under 30000 INR for photography in the budget. There are fewer options in DSLR in this price range but all the DSLRs listed here are a cheap and best DSLR camera. You can buy any of them as per your need and choice as these are available at an economical price and also are the best DSLR in the price range under 30000. If you know any other DSLR that is more powerful than these in the category of entry-level DSLR, do tell us. We will do research and update this list of Best DSLR Camera for Beginners,  with credits.