5 Best Lyrics Apps for Android and iOS
Are you looking for some good Lyrics Apps? Let's have a look at the list of best lyrics apps available for Android and iPhone. Lyrics help a lot in understanding the true meaning of songs. There are countless songs that we misunderstood as a kid and later realized that we have been singing it wrong for years. So, it is important to check the lyrics. I have compiled a list of the best lyrics apps for Android and iOS.
Also see: Best Free Android Music Player Apps
Best Lyrics Apps
Here's the list of best lyrics apps for Android and iOS. Install any of these lyrics apps to check real wordings of a song and understand its meaning.
Musixmatch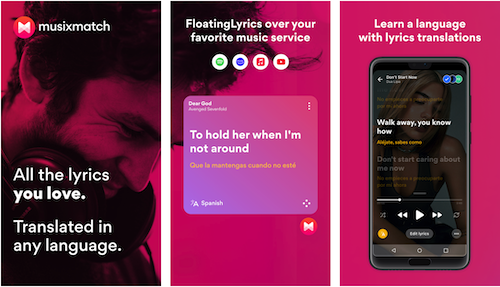 Musixmatch is the best lyrics app that boasts to feature the world's largest collection of song lyrics. You can also get lyrics while you enjoy music on Spotify, Youtube, Pandora, Apple Music, SoundCloud, Google Play Music, and other music streaming services. It keeps showing floating lyrics widgets while you are listening to music. You can search for the lyrics by title, artist, or entering lines of the song. If you want to contribute, you can join the community and submit all your favorite lyrics.
The app also comes with a built-in music player to play songs stored on your device. It also has a song identification feature.  The app also gives song info and cover art for your songs.
Musixmatch is available for Android and iOS. The app is also available on Android Wear devices. So, you can read the lyrics on your smartwatch.
2. Genius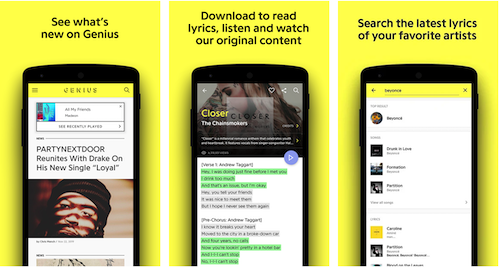 Genius is another excellent lyrics app that comes with a lyrics database of over 1.7 million songs. So, you can easily find lyrics for all your favorite songs. You can search the lyrics of a song and it also shows you the video of the song.
The app also features a song recognition feature powered by ACRCloud. You just need to tap the soundwave button and it tells you the song with lyrics.
Genius lyrics app is available for Android and iOS. It can be downloaded for free but contains ads.
3. Lyrics Mania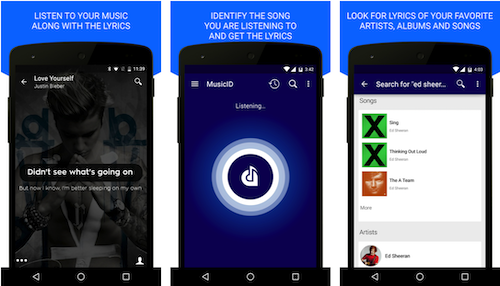 Lyrics Mania is also a good lyrics app with millions of songs in its lyrics database. If you are listening to the song on an external music player, it will show lyrics in a real-time notification.
4. Lyrix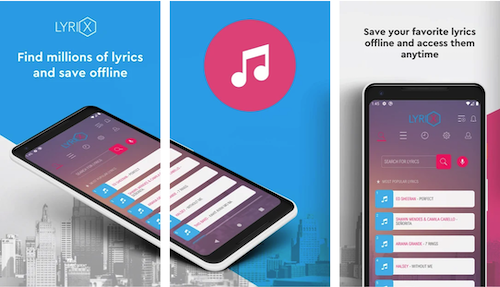 Lyrix is only for available Android devices. This app also lets you access lyrics offline. This is the reason most people like this app. If you are listening to music on your favorite music app such as Spotify, it shows the lyrics of the currently playing song. You can also search for lyrics by artists and genders. This is a global app and feature lyrics from worldwide in different languages such as English, Spanish, French, Arabic, Hindu, and more. The app lets you customize font size as per your comfort. It also supports voice search to search for the song.
Download: Android
5. QuickLyric
QuickLyric is also one of the best lyrics apps for Android devices. The app is not available for iOS. So, iPhone users should look at other options added to this list. This app brings lyrics to your favorite songs. It also brings offline lyrics and can synchronized lyrics with the songs currently playing on your phone. You can download lyrics for your whole library of songs saved in your favorite music app.
This app also supports song identification using the microphone. Just play the song and the app will identify it to show you the lyrics.
Download: Android