5 Best Online Logo Maker Websites
Whether you own a blog, a company, or a YouTube channel, you need a good logo to represent your brand. A good logo certainly attracts customers. Now if you are not into graphics designing, you need to contact a good design agency or a freelancer to create your logo. But what if you do not want to spend much and are planning to do it by yourself. If you contact an agency or a freelancer, you will have to pay a good amount for the logo. Certainly, a good graphic designer will be costly. And that's the charge for the efforts. If your budget is low or you want a logo for free, you can try several good online logo maker platforms.
What is a logo maker?
Logo maker is a software or platform that lets you create a logo for your brand. Logo makers can be downloadable software or an online platform. You get different editing tools, symbols, clip arts, and text options to add to your logo.
Reasons why you need a good logo for your brand
A good logo not just easily grabs people's attention, it also creates a strong first impression. A professional and attractive logo also puts you separate from your competition and makes your brand more memorable. So, you should always prefer having a good logo. That's why you need a good logo designer or a logo designer tool.
Best online logo maker websites
1. Smashing Logo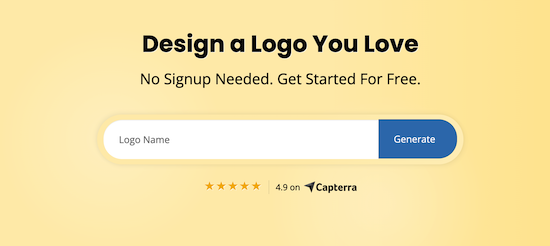 I personally used Smashing Logo to get the Techlomedia Logo. The current logo of our blog was made using Smashing Logo. This is an impressive platform where you don't have to do much but select from available logo designs. There are thousands of designs for the logo. This is a simple and easy-to-use platform. You also don't need to signup.
When you open the website, it asks for the logo name. Enter the logo name and then click generate button. In a few seconds, will start showing sample logos. You can add slogans, brand industry, icons, and more for further customization. Keep scrolling and it will keep showing you more designs. You can later purchase the design you liked. In case you want slight customization in the logo you selected, you can contact for the design change.
This platform offers three different pricing plans. Select the plan as per your need. I recommend the Business plan to all my readers.
2. Design Evo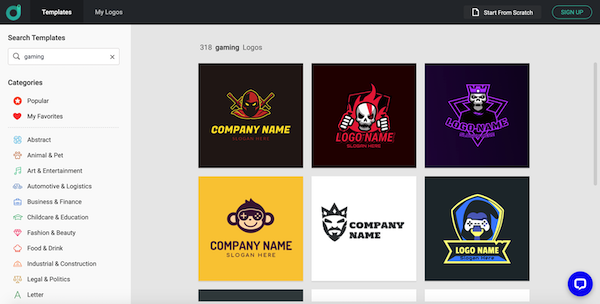 Design Evo is another good platform where you can discover 10000+ professional logo designs for your brand. First, search for templates based on the industry your brand will be operating. Select a template and then start customizing it. You can add text, change text font, add clip art, shape, and background. Once you are done, you can download the logo. The offers fully customizable logo templates along with several fonts and icons.
This is also a paid platform where you need to select from two available pricing plans. If you want to own the copyright of the logo, you will have to go with the Plus plan. The website also lets you download the free logo but only in low-resolution. So, you need to go with a premium plan for a better resolution logo.
3. Canva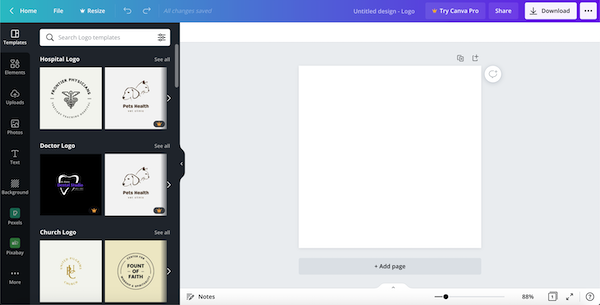 If you have been following my blog, you know how much I love Canva. I use this tool for most of my graphic design needs. Canva also offers logo designing where you can select from available templates and start customizing them. You can add text, icons, and other elements to your logo to make it more interesting.
Canva is free and you need to pay only if you are using a paid icon, or paid element. If you want a transparent design you need to get a Canva subscription. In subscription, you can also collaborate with a team and do a lot more.
4. Designhill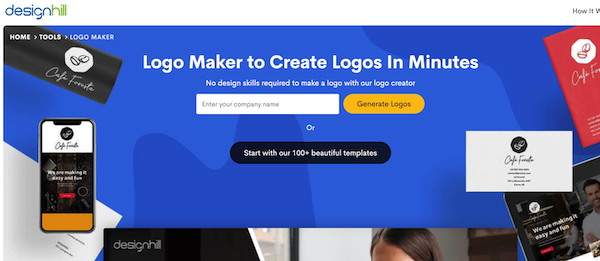 Designhill is also a good graphics design platform where you can make logos. There are 100+ customizable templates to choose from. Enter the company name and it will generate several logos. Then you can select 5 or more designs, colors, industry, and budget. The system will start recommending your designs based on the designs you selected.
I really found this logo designing tool interesting. It works really well. The tool pairs icons with creative typography and mixes them with good color schemes. So, you will surely get an interesting logo for your brand.
5. Looka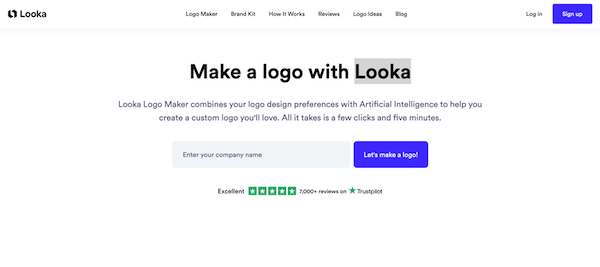 Looka is also a good logo design. Looka is also a good logo design tool that uses artificial intelligence to help you create a custom logo. It just needs a few clicks and five minutes. Enter the text, select industry and then the tool starts showing you some logos. Select a few and then color some colors you like. After this, it asks you to there your company name. After this step, the website shows several logo designs. Looka is an easy-to-use logo where you select logo styles, colors, symbols, and text to add to your logo. This tool delivers the logo as transparent logo and SVG files. You get high-resolution logos. Looka comes with different packages and subscriptions. Select one based on your need.
Wrap Up
There are several online logo makers. Some logo makers even claim to be free but free logo makers offer low-resolution logos and also these free logos are not impressive. That's the reason I am putting in these tools. These tools are paid but you get value for money service. I have already told you that I used Smashing Logo for the Techlomedia logo. Canva is my favorite graphic design tool. You can also explore logo maker tools and see what tool could be of your use.