5 Best Trading Apps in India for Beginners
Stock market investment can be part-time or even full-time money making sources. There are thousands of people who are making a good income by making smart investments in different stocks. Now there are several platforms where you can make an account, verify your identity and start stock trading. Stock trading is buying and selling of shares in a particular company. Stock market investment is risky but can be a good way of growing your funds.
In India, there are two stock exchanges to invest in. These are the Bombay Stock Exchange(BSE) and National Stock Exchange(NSE). You need to register with brokerage firms or Depository Participants(DPs) to gain access to these exchanges. It is important to choose the right DP for a seamless experience. Now when everything can be done via smartphone apps, you have several good trading apps where you can register, do eKYC, and start investing. All the apps require important documents such as PAN, Aadhar, and address proof to verify you. They open a Demat account for you, so you stay investing and trading. If you are looking for some good trading apps in India where you can start investment and trading, keep reading. In this article, I am listing the best trading apps in India. All these apps can be used by beginners who have no or little idea about investment.
If you are new to stock investment and trading, I recommend you do a little research on how trading and investment works. You should learn about trading and investing, learn how to research companies for investment and how to build a diverse portfolio. Always put money in a stock that you can afford to lose. Stock market investment and trading are risky. Sometimes you earn and sometimes you lose. Understand this before installing any trading app.
Also see: Money Management Apps for Android and iOS
Best Trading Apps in India
1. Kite by Zerodha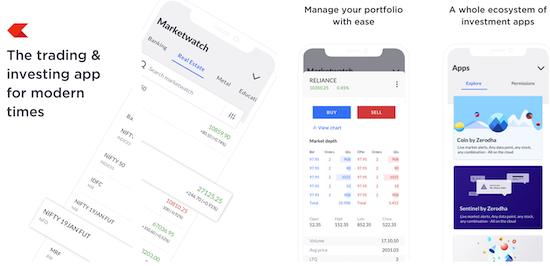 Kite is Zerodha's trading and investment app. The app comes with a clean interface that makes everything clear. It provides secure authentication and also lets you enable Biometric login and 2-factor authentication to keep your trading account safe. Even if you are new to the stock market, trading and investment, you can start using the app. After initial verification, the app opens a Demat account for you. The Demat account can be accessed and managed using the app. You can add funds to your Demat account before you start investing. The app shows advanced charts and Chart IQ to offer you real-time data on trends and price movements. You can also apply several technical indicators on real-time charts. The kite app also lets you create an unlimited number of personalized watchlists. The app is free to download and use. It charges a flat Rs. 20 brokerage for intraday and F&O trading.
2. 5Paisa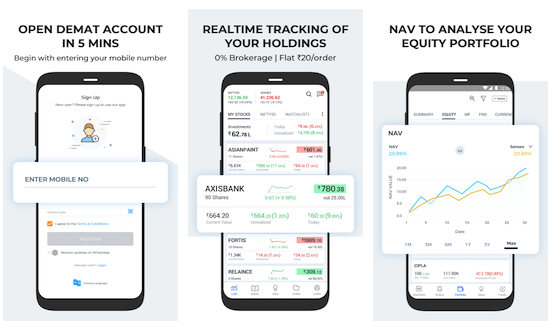 5Paisa is also a good trading app Indian people can use. It is an easy-to-use app for opening a Demat account and trading. You get love stock market quotes from. NSE & BSE. You can also invest in top mutual funds. The app offers charting tools with advanced studies, analyze stock market trends, and trade on-the-go. If you are new, the app also has learning videos where you can learn about share market investments. It charges a flat fee of just Rs.20 for all your orders. There is no brokerage fee. You can transfer funds from your bank to the app and vice versa easily. It supports internet banking and UPI for payment. It has one-click order placement and the option to create watchlists. Your data will also be synced across devices.
One feature that makes it different from others is the guest login feature. One can check the app and limited features without opening an account. If you like the app, you can proceed with opening an account.
3. Groww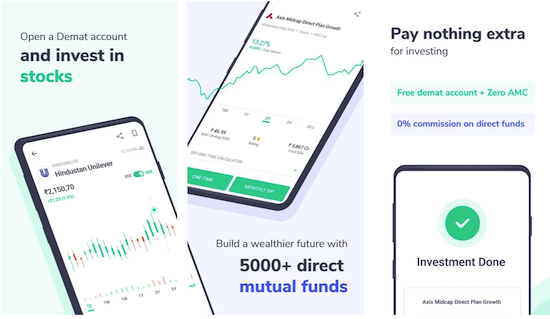 Groww was a mutual funds investment app that recently enabled stock market investment and trading. If you are looking for a good and easy-to-use app for stock trading, Groww can also be a good option. The app offers signup and eKYC. It opens a free Demat account and lets you trade BSE, NSE listed stocks. You can buy and sell shares in a single clock. It charges Rs 20 per executed order or 0.05% whichever is lower. The app also shows price movements, historical performance, and other informative data in charges. It also uses 128 bit SSL Encryption to keep your transactions safe. You also get the daily list of top gainers, top losers & top by market capitalization.
Groww apps for Android and iOS are highly rated with 4.5+ ratings. It shows that most of the users are also satisfied with the Groww app.
4. Angel Broking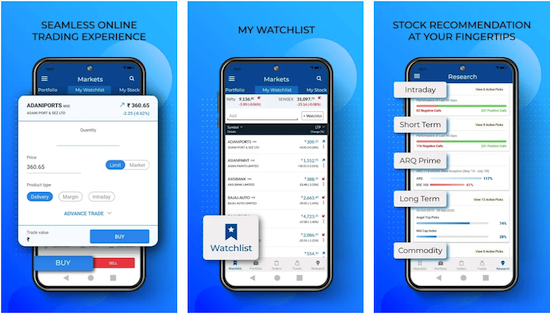 Angel Broking app is from the company Angel Broking that is into stock broking since 1989. This is the reason most people trust the app. You can use the app for opening a Demat trading account to buy and sell stocks. The app has zero brokerage on equity delivery trading but you have to pay Rs. 20 per order brokerage for Intraday, F&O, Currencies, and Commodity. On this app, you get access to all market segments of BSE, NSE, MCX, MSEI, and NCDEX. The app shows reports from expert analysts to give you an idea of what is happening in the stock market. The app is simple and easy to use. It has a secure payment gateway to deposit funds.
5. Upstox
Upstox is also a similar stock borking app in India. It claims to be the 2nd largest discount stock broker. Upstox is offering stock broking service since 2009 and is a registered member of SEBI, BSE, NSE, MCX, NSDL, and CDSL. This app also promises completely FREE equity investments & only ₹20 per order for Intraday transactions. This app is similar to other apps. It lets track and analyze stocks on-the-go. You can create an unlimited number of customized watchlists or set an unlimited number of price alerts. You get reports and charges for making decisions. The app also lets you apply 100+ technical indicators on real-time charts It also shows historic data for the last 10 years. You can open a Demat account in the app for free.
The reason why I am keeping this app at the last position of this list is because of really bad ratings on the Play Store and App Store.