10 Best General Knowledge Apps for Android
Advertisement
The smartphone is now also used for learning purposes. We use it to access the internet, search for information, learn new things and take online classes. There are several language learning apps, dictionary apps, Maths Apps and general knowledge apps to learn things. General knowledge apps help you in getting knowledge about current affairs and evaluate your knowledge. In this article, I am listing the best general knowledge apps to learn new things. You can install one or more apps in this list and gain knowledge in free time.
Also see: Best Educational Apps for Android and iOS
General Knowledge Apps for Android
We have prepared a list of best general knowledge apps for Android devices. You can use these apps to learn current affairs, improve your general knowledge and take quizzes to rate you.
1. World GK
World GK is also a good general knowledge app for students and professionals who want to learn new things or are preparing for competitive exams. The app brings current affairs from several categories including world, technology, science and many more. The app includes 15000 GK Questions and more are added on a regular basis. The app is also available in 25 different languages and helps you improve your general knowledge.
2. Current Affairs 2020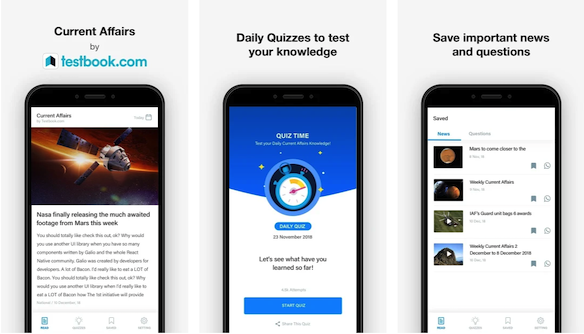 This app is one of the best to learn Current Affairs and general knowledge. If you are preparing for Bank, SSC, Railways, Civil Services, or MBA exams, this app is good. You get information in both Hindi and English. Along with HL and current affairs, the app also offers daily quizzes and daily news. You can bookmark important articles to lead later. The app is useful for several government exams.
3. QuizUp
QuizUp is a useful general knowledge app for Android that also comes with quiz games. You can use the app to learn more things. There are thousands of topics to choose from. You can also play quizzes with millions of other players. You can also challenge your friends and have a quiz game together. So, overall it is a fun and learning.
4. Wikipedia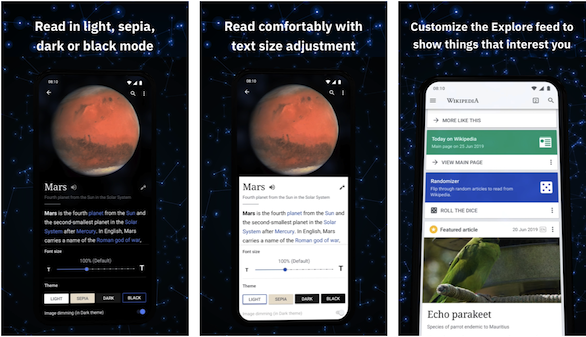 Wikipedia is not exactly a general knowledge app but you can use this app to search specific topics to learn more about it. The app is available in nearly 300 languages. The app brings the online encyclopedia to your phone and you get access to 40 million articles of the website. You can also save your favorite articles to read offline.
5. GK & Current Affairs
This is also a good app to learn general knowledge and current affairs. You can use this app for offline learning as well. The app loads new data once you get an internet connection. You get current affairs, GK tricks, Math Tricks, and General Knowledge from 29 Categories. This app also includes Exam Target Questions, All India Mock Test with Result Analysis and NCERT Books & Solution.
6. General Knowledge Quiz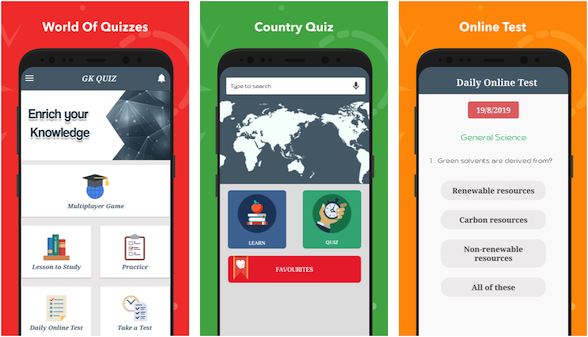 This is a quiz app for general knowledge about India and the world. The app helps you in learning new things to use during the competitive exam. The app contains 30+ streams of general knowledge questions. You can take the test freely to refresh your gk, attend Quiz in the form of online test or practice quiz questions in offline mode.
7. General Knowledge Trivia
General Knowledge Trivia is also one of the best General Knowledge apps for Android. The app comes with free Multiple choice questions for students to enhance their general knowledge from several categories. So, the app is helpful for competitive entrance examinations. It helpful for those who are doing preparation for civil services exams, SSC or similar exams where they ask general knowledge.
8. Aptitude Test and Preparation
This is a good aptitude app with questions and solutions. You also get to learn short tricks to enhance your aptitude skills. The app has 600+ Questions and answers from 35+ categories. You also get a detailed solution for each question. There are daily online tests, Puzzles, Practice Test and more.
9. General Knowledge 2020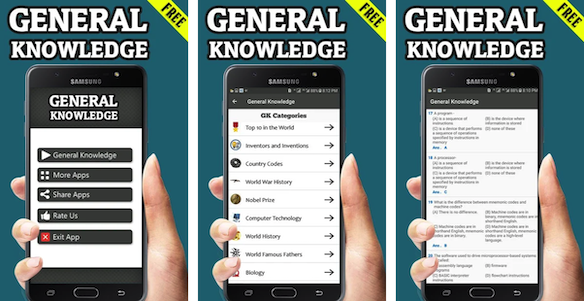 General Knowledge 2020 is also an amazing general knowledge app for learning purposes. You can use this app to increase your general knowledge on a daily basis. The app aims to serve students & professionals who are preparing for competitive exams. You can use this app to learn about animals, birds, politics, science, computer, books and more. It has more than 15,000 World GK questions in various categories. The app also keeps updating its database.
10. Quora
Quora is basically a Q&A app where you can ask anything and get responses from people. This app is also one of the best to learn new things. There are millions of general knowledge related questions answered by scholars. People are active here and responses come within a few minutes. You can ask if you want to know about anything.
Wrap Up
This was the list of best general knowledge apps. You can download one or more apps on your phone to improve your general knowledge. Not just reading but taking quizzes is also equally important. So, you should also install a good quiz app to evaluate you and learn new things. All these apps are good to learn new things. So, go and start learning.