10 Best Educational Apps for Android and iOS
Mobile technology has revolutionized the entire world. It's one of the most amazing productivity tools of all time, but it doesn't end here. It has also affected the way we learn. You can use your smartphones and tablets to learn new skills and gain knowledge about new things.
There are few good apps that provide educational content and courses on different things. So, you can learn almost anything by reading articles or watching videos using these apps. In this article, we are listing the best education apps for Android and iOS. You can try all these apps and start learning.
Best Online Learning Apps
Here is the list of the best educational apps that you can use to study online. These online Learning Apps are best in their respective fields. Whether you want to study material for school, college, language learning, or IIT JEE preparation, you will get learning apps for everything.
1. Khan Academy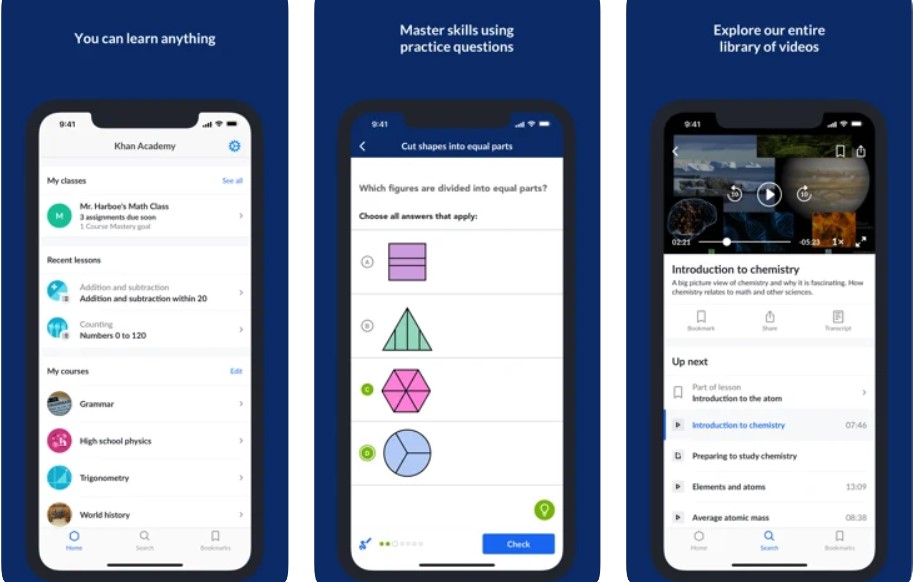 Khan Academy has to be in the first place when we talk about the best educational apps; it is free of cost and has a great user interface that can help you strengthen your subjects. Download this app from Google Play Store or iTunes to lay hands on the foundation of various topics including sciences, geography, math, and politics amongst many others.
Since it helps you strengthen and work upon your basics, khan academy just might be the key to your educational success. With impeccable techniques and various topics to browse through, this application will help you clear your basics and lay a strong foundation for your subjects in no time.
2. edX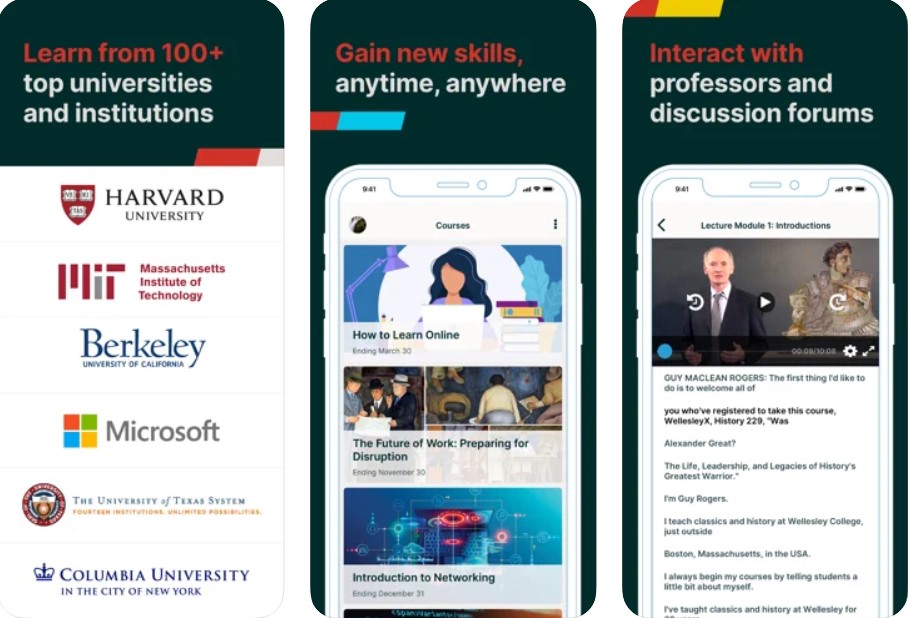 This unique and amazing educational application can be downloaded for your iOS and Android devices for free. It particularly offers courses which are mostly taken up in college. EdX has a well-curated curriculum which paves a way to gather knowledge about the courses taught at well-known institutes like Harvard, MIT, Berkeley, IBM, and Stanford. From engineering to psychology, EdX will help you enhance your knowledge in various fields. Statistics, social sciences, nutrition, and computer languages, you just have to name it. They also stream online classes for data science, blockchain, Python, and more. The grading system of this application is extremely detailed, it offers a plethora of online assignments and quizzes for you to take.
This "must-have" educational app helps millions of students every year in exhaustive learning and signup for higher education in the abovementioned courses.
3. BYJU'S The Learning App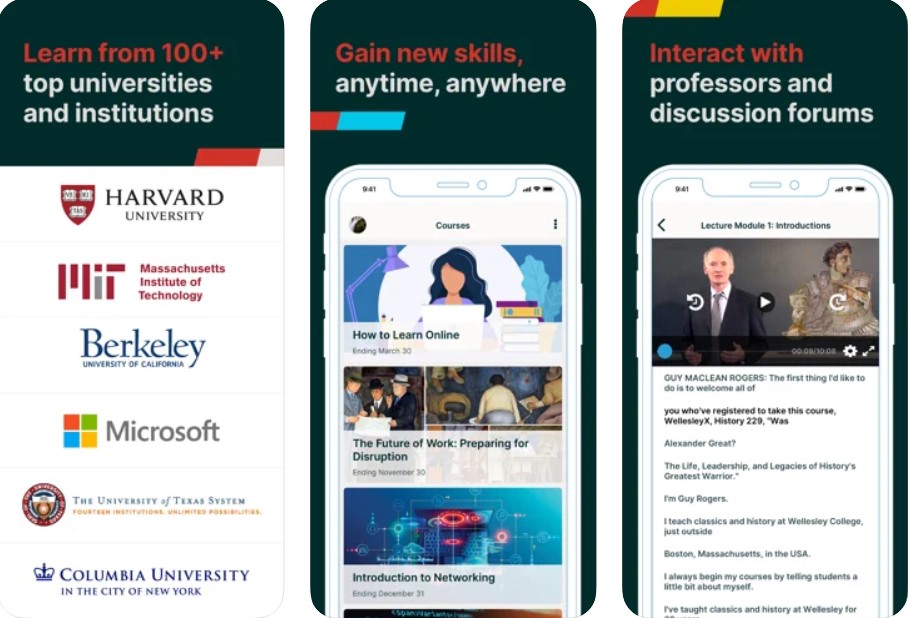 This educational app is now India's largest online learning program that offers learning programs in Math and Science for students between classes 4th-12th. They also recently introduced Social Studies for classes 6th–8th. It also offers test preparation courses for competitive exams like CAT, NEET & JEE, IAS, GRE & GMAT, etc. There are video lectures and animations to clear complex things and making learning fun.
They have adaptive exercises that ensure a complete understanding of concepts. You can also revise the courses by tests and practice sheets in the app. You can analyse progress, strengths, and areas of improvement through real-time reports
4. Duolingo
This highly acclaimed translation application will help you translate your content into the language you choose; be it French, German, Italian, or Spanish. Not only that, but you can also translate web pages of different languages into your chosen language. In fact, if you want any other language then you can avail courses which will help you attain proficiency.
5. Quizlet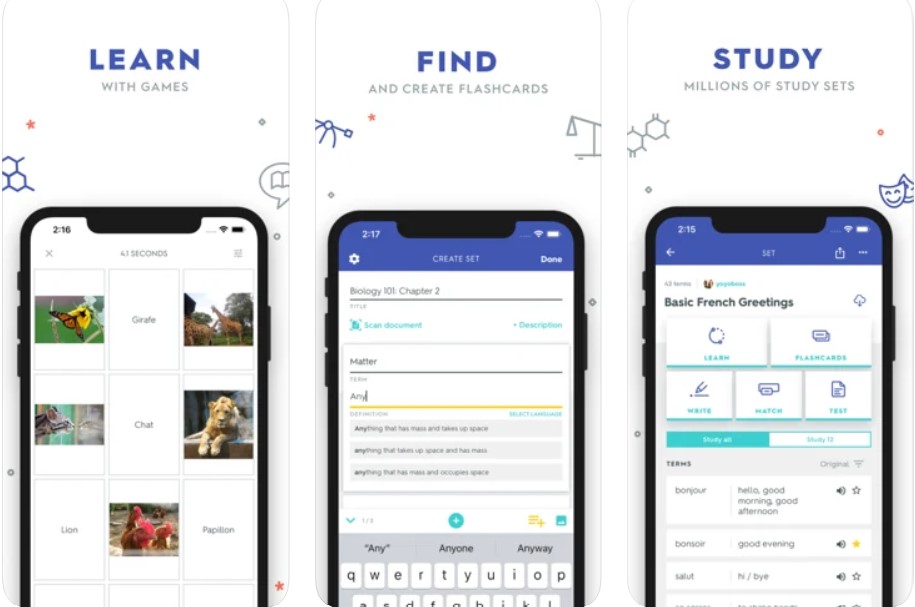 This application can be used for any topic which pops into your brain. Arguably the best flashcards app out there, Quizlet lets you memorize words, practice terms, and more. It also consists of foreign language support, audio and images, and you can share flashcards with friends. However we do have a limitation, the free version of this application gives you a limited number of flashcard sets to use, and to overcome that you will have to install the pro version of Quizlet.
6. Coursera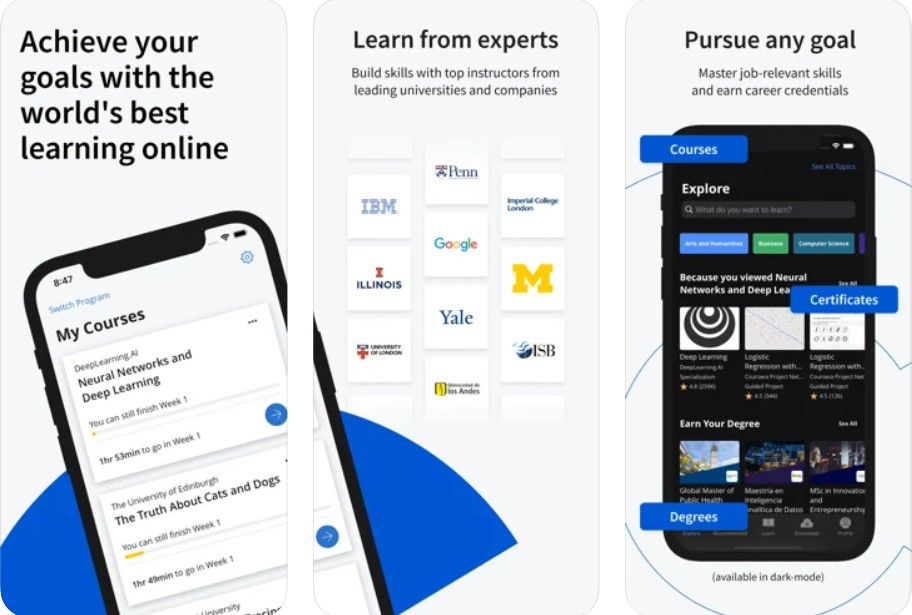 This application can be compared to an online school and has a plethora of classes and lessons that one can take. It has about over one thousand courses ranging from science to English and even technology. These online classes have proper lectures, video content, and assignments. You also earn a certificate on finishing a course. Some of the courses are free and some aren't. It's a dynamic mix of modern learning and old school teaching. It's one of the best learning apps and is definitely worth checking out.
7. Udemy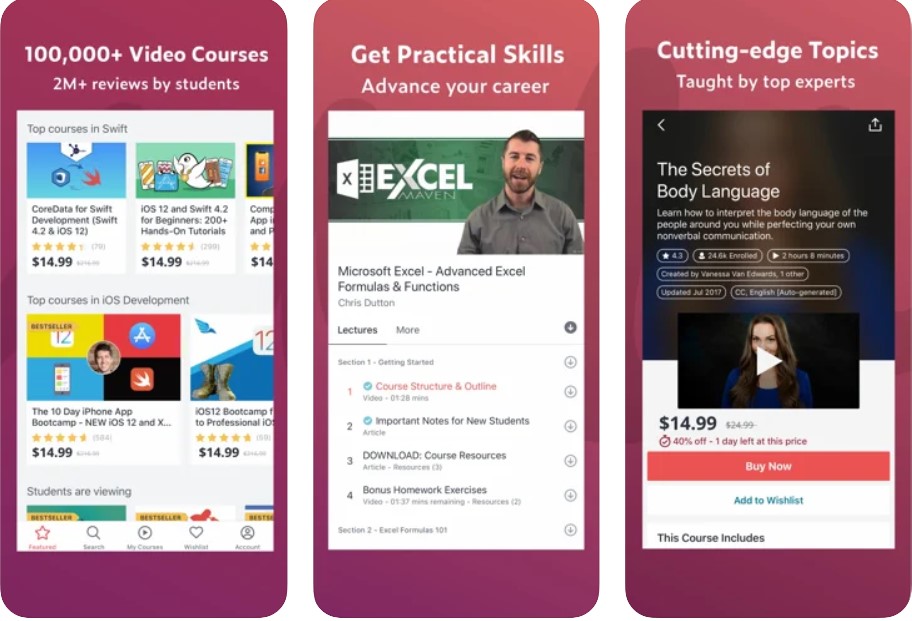 Udemy is one of the most popular course-style learning apps which focuses on skill-based learning. It has courses in fields like Microsoft apps, Adobe apps, and if these are not your fields then you can even learn things like cooking, public speaking, and other stuff. There are many courses for free or you can pay and get enrolled in some of the more in-depth ones. The courses usually take place over video lectures with video examples. Thus, the app lets you watch them at your convenience. Some of them could use a little work here and there, but all in all, it's a good experience.
8. YouTube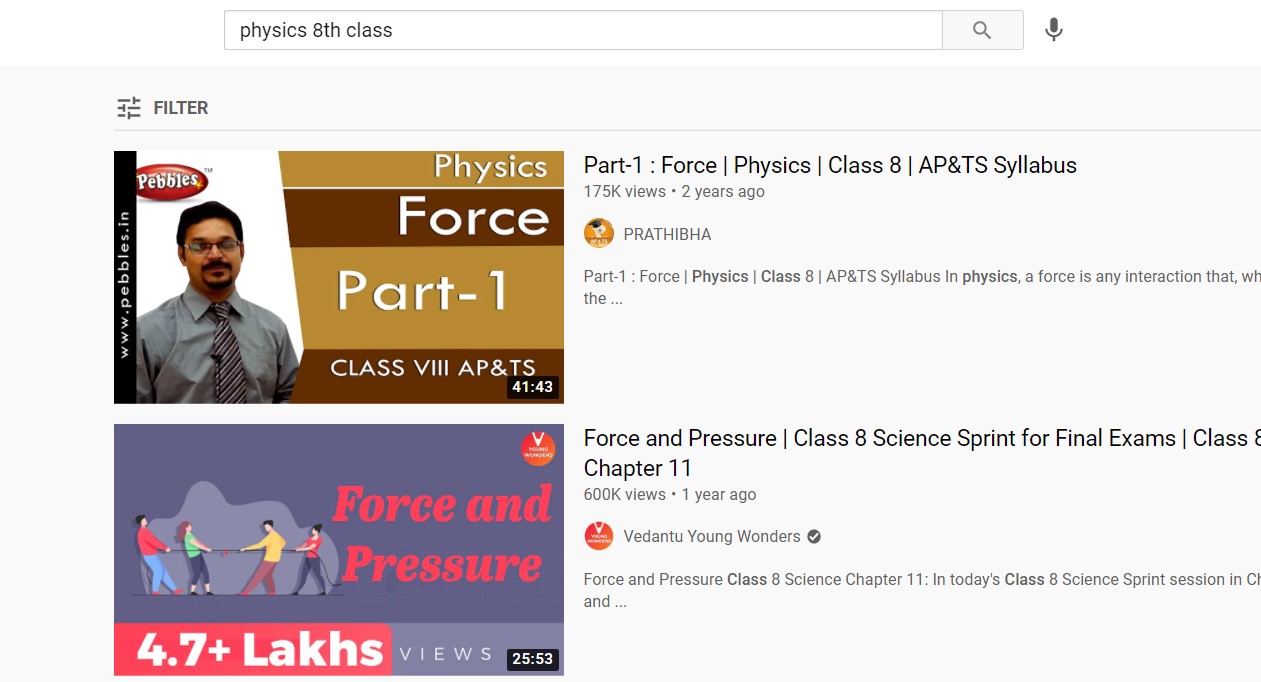 YouTube is also one of the best educational apps to learn new things. If you are using an Android phone, you already have this app installed but iOS users will have to download it. There are so many YouTube channels offering educational content on different topics. So, you are most likely to get what you are looking for. You can learn anything from coding to cooking.
9. Simplilearn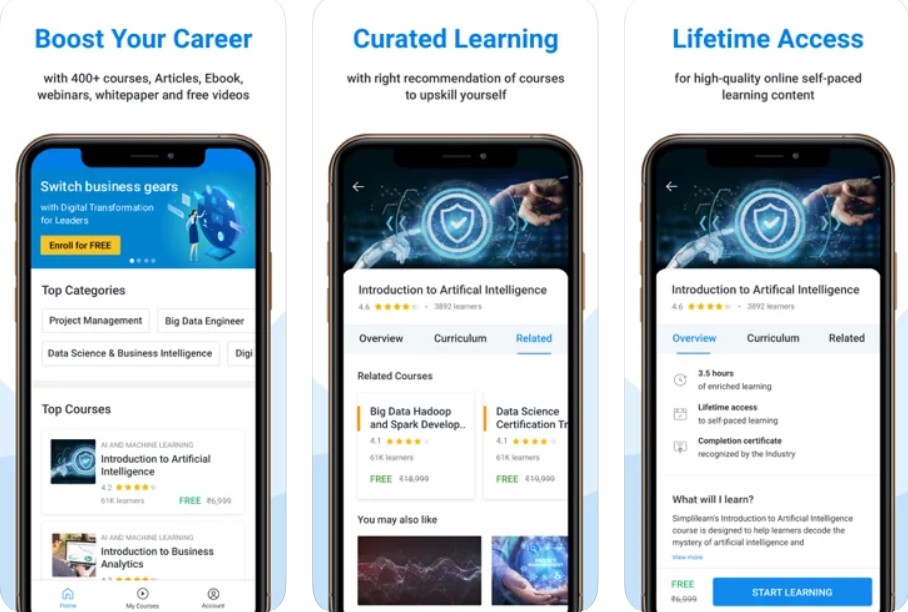 Simplilearn is also a good educational app that offers high-quality online courses where you can learn so many topics to boost your career. There are over 400 courses including PMP, Big Data, Hadoop, Digital Marketing, Cloud, Scrum Master, Analytics, and more. For every completed course, you also get a certificate. You can just the app, search for courses, and start learning.
10. Toppr – Learning App for Class 5 – 12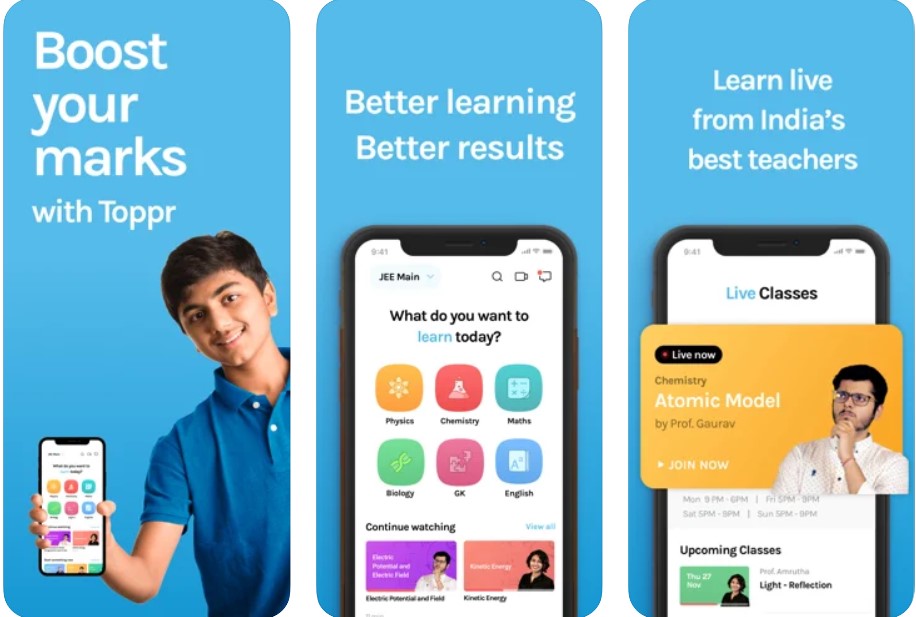 Toppr is an online learning app that is built by IIT graduates and is India's most awarded EdTech platform. It covers a wide range of syllabus from 22 Boards including CBSE, ICSE, and State Boards. It also has JEE Main, JEE Advanced, NEET, AIIMS, and 50+ other competitive exams with Adaptive Practice and Mock Tests. This app makes the online study experience smooth and effective. Students can learn by attending live classes, video lectures, and stories.  The best thing is that all Lectures are available in Hindi and English language.
Read More, Best Free Language Learning Apps for Android and iOS
Final Words
So here were some of the highly acclaimed educational apps of all time. Each one of them is worth a try without any doubts. These apps offer everything starting from basic things to professional level courses. Professional courses are not free, but the cost is not as much as some institutes charge. So, you are also getting high-quality study material at an affordable cost.