10 Best and Free Online Photo Editors
No Doubt, photoshop is the best photo editing tool available but using photoshop is not everyone's cup of tea. Learning photoshop is a little bit tough and that tool is also a paid one. The cost is also not affordable for all. This doesn't mean that you can not edit a photo. There are also several other online photo editor or photo editing tools that offer nice features.
If you are looking for good photo editing tools for basic requirements, I will recommend you to try online photo editing tools. These are not just easy to use, but you can access these tools from anywhere. You also don't need to download and install anything.
With the available online tools, you can easily make professional posters and images for sharing on Facebook, Twitter, Flickr, and other social media platforms. In this article, I am sharing the list of the best free online photo editing tools or online photo editors. Try these best image editors and see if you get help in editing photos for your social media presence.
Also see: Best Online Video Editors
Best and Free Online Photo Editors
1. Pixlr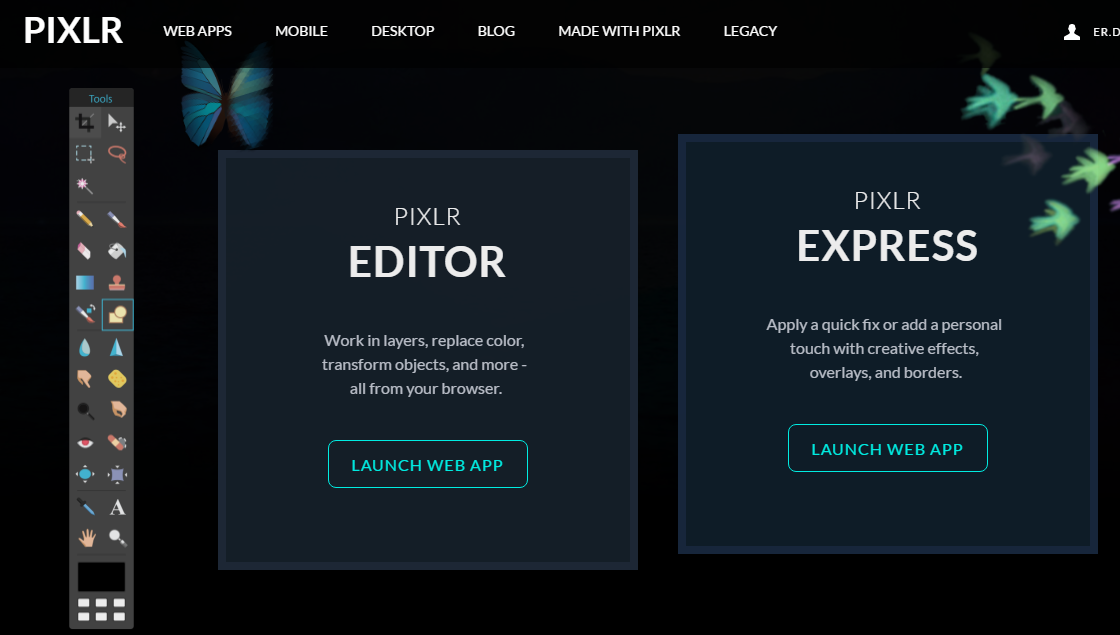 Pixlr is a cloud-based photo editor tool founded by Ola Sevandersson in 2008. It can be seen as the best Photoshop alternative online. It comes with lots of photo editing features and allows you to do layers editing.
You can use Pixlr to quickly edit images, create logos, banners, and posters. You can also add texts, apply filters and effects. It also comes with the selection tool, blur tool, and more.
If you want to do some complex photo editing tasks, you must check this online photo editing tool. Not, just a website, Pixlr is now also available on mobile platforms with apps.
The tool is available in more than 25 languages.
2. Photopea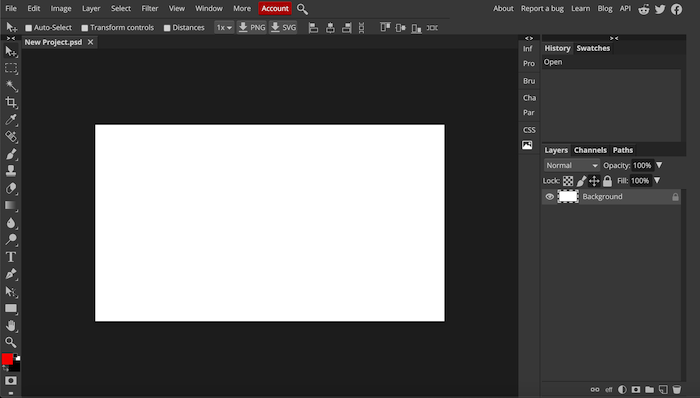 Photopea is an advanced photo editing tool that runs on a browser. This is also an excellent photoshop alternative that supports PSD, XD, XCF, and RAW formats. This advanced photo editing tool gives you the platform to work on layers and masks. It lets you crop photos, remove an object by making a selection, use bruises, add text, creates or edit shapes, edits colors, changes color temperature, etc. You can use it anywhere and anytime with a good system and active internet.
Photopea is a free Online Photo Editor with ads. You can purchase the premium version that costs $9 per month for a single user if you do not want to see ads. You can also get 60 steps in History in the premium version while the free version is limited to 30 steps in History.
3. Sumopaint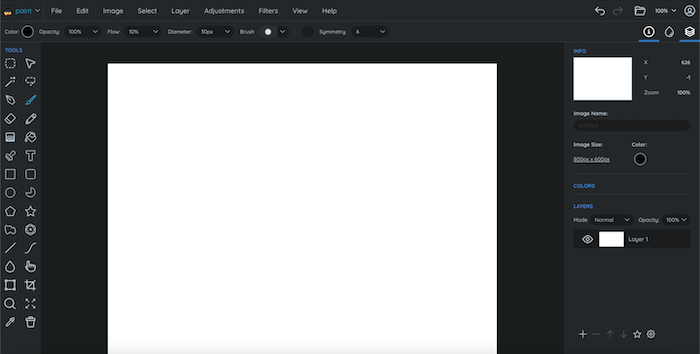 Sumopaint is basically an advanced version of the Paintbrush tool that comes with several filters, text elements, shapes, effects, and burgess for performing photo editing. It is a basic tool that doesn't have as many options but can work for those who do not need many advanced editing options.
Sumopaint supports layers editing. You can also do color adjustments by changing brightness, contrast, color temperature, hue, and more. This tool is free with ads. The Pro version of this tool gives an ads-free experience and advanced features. The pro version costs $2/day, $5/week, $9/month, or $48/year a year.
4. Lunapic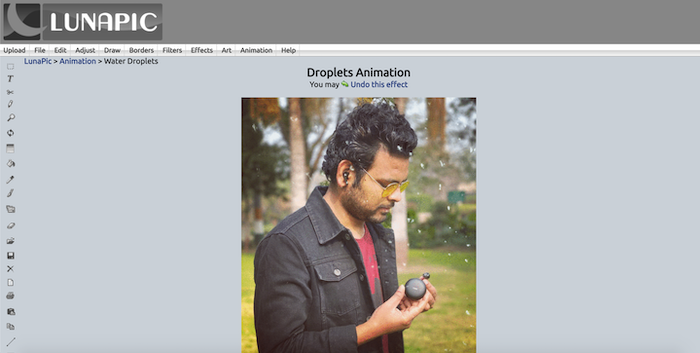 Lunapic is an online photo editor tool that lets you edit photos online. This tool is simple to use. You just need to either upload a photo or import it from a URL and start editing the image by cropping, rotating, removing the background, adding objects, removing objects, adjusting light levels, changing color saturation, adjusting focus, replacing color, and performing the advanced level of editing. There are also several Photo filters, art filters, animations, and Effects in this photo editing tool.
It is a completely free photo editing tool with several interesting features. It supports several image formats including GIF, JPG, BMP, PNG, etc.
5. Canva: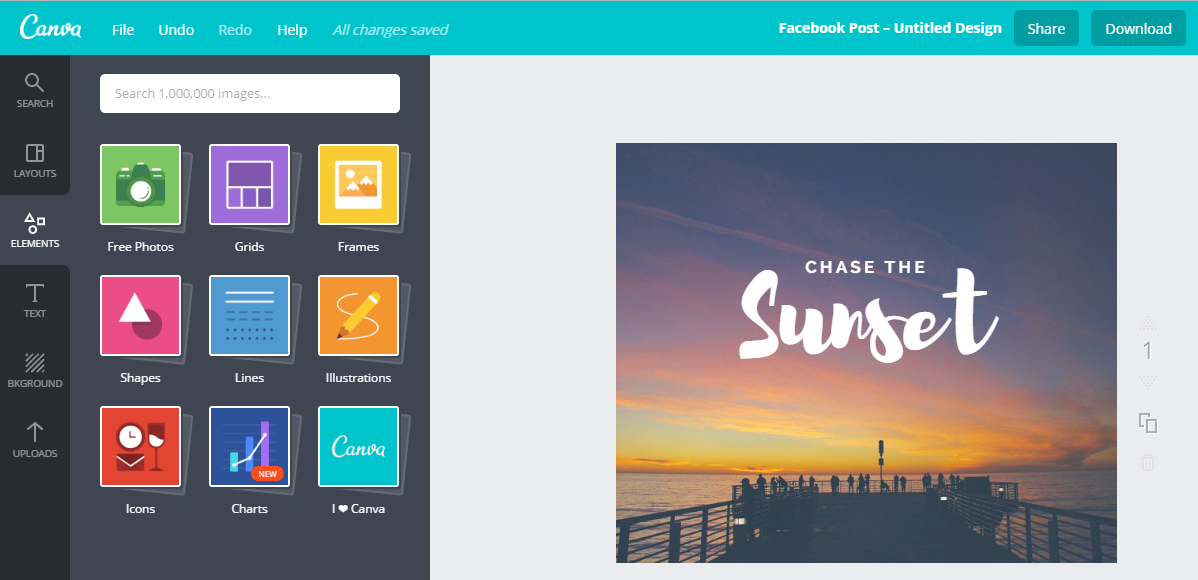 Canva is a popular online photo editor with lots of features. Canva is a very nice tool with an easy-to-use interface, lots of features, and an easy sharing option. You get the drag-and-drop interface to drop images, text, and other elements on the canvas.  It also provides easy access to millions of photos, graphics, icons, charts, and fonts. You can easily design any presentations, graphics, banners, posters, and videos.
The best thing about Canva is that it offers you pre-designed templates ready to edit and customize. You can search for graphics and add them to the photo. You can also add templates for the blog post, Facebook cover, YouTube channel art, Twitter background, and much more. Also, You can design ad banners. So, you do not need to remember the size requirements for these kinds of images
Canva is also available on Android and iOS platforms. You can download the app for editing on the go. All the projects you made on the Canva website will also be available on apps to access. Everything is synchronized across the platforms.
6. Picsart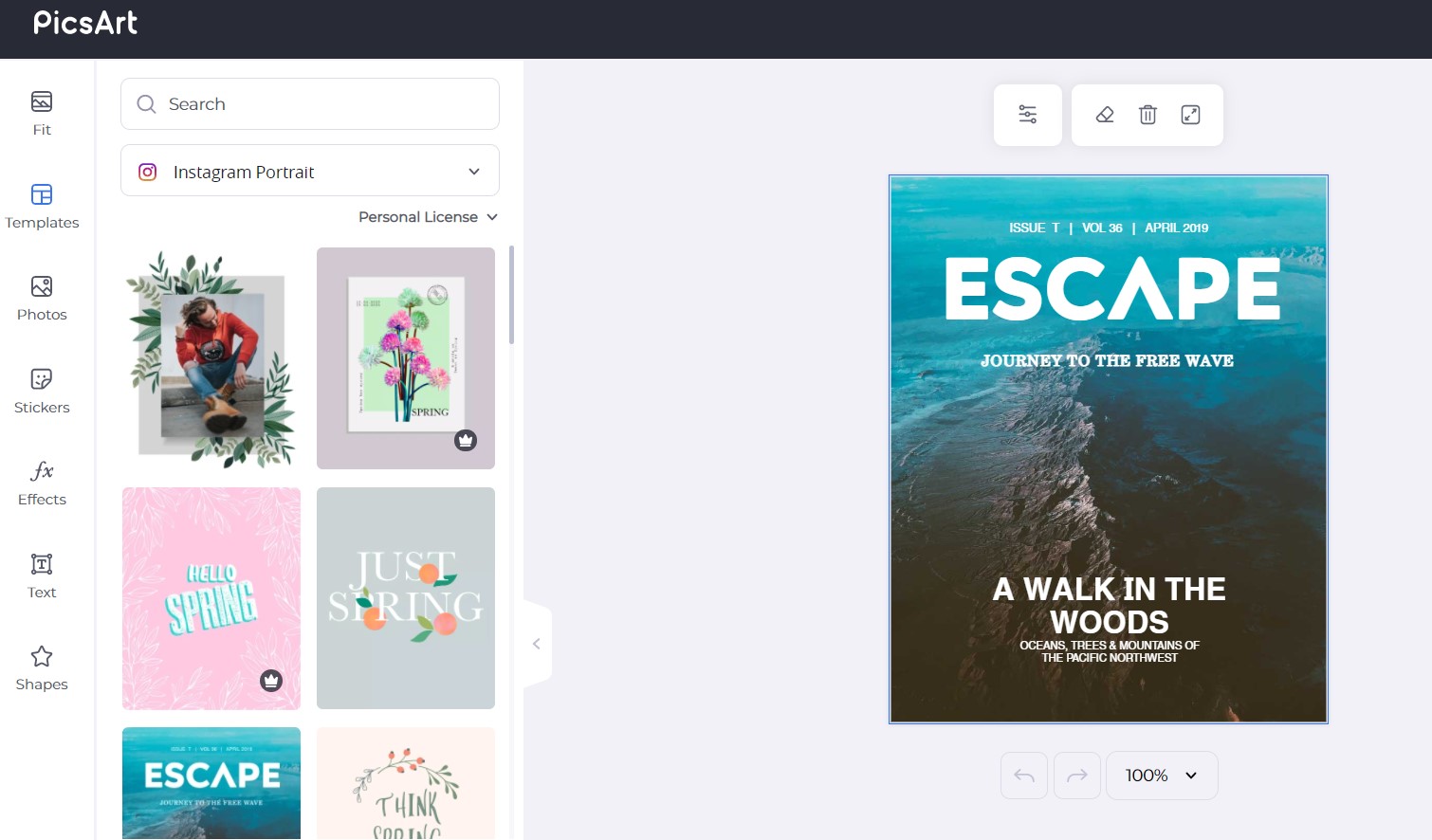 Picsart is also just like Canva and one of the best Online Photo Editors. It has a template editor that creates and edits images for Instagram, Facebook, and other social media platform quickly and easily. You can also change or remove the background behind any photo instantly or increase the resolution of your image in one click with the help of Picsart.
Picsart gives you an online editing platform where you can create professional-looking photos in minutes. It has millions of photos, stickers, templates, and other content to use. You can also combine video, images, and transitions to create stunning slideshows.
This photo editing tool is free with limited features. You can pay $4.67/monthly or $55.99 annually for accessing all the features.
7. Fotor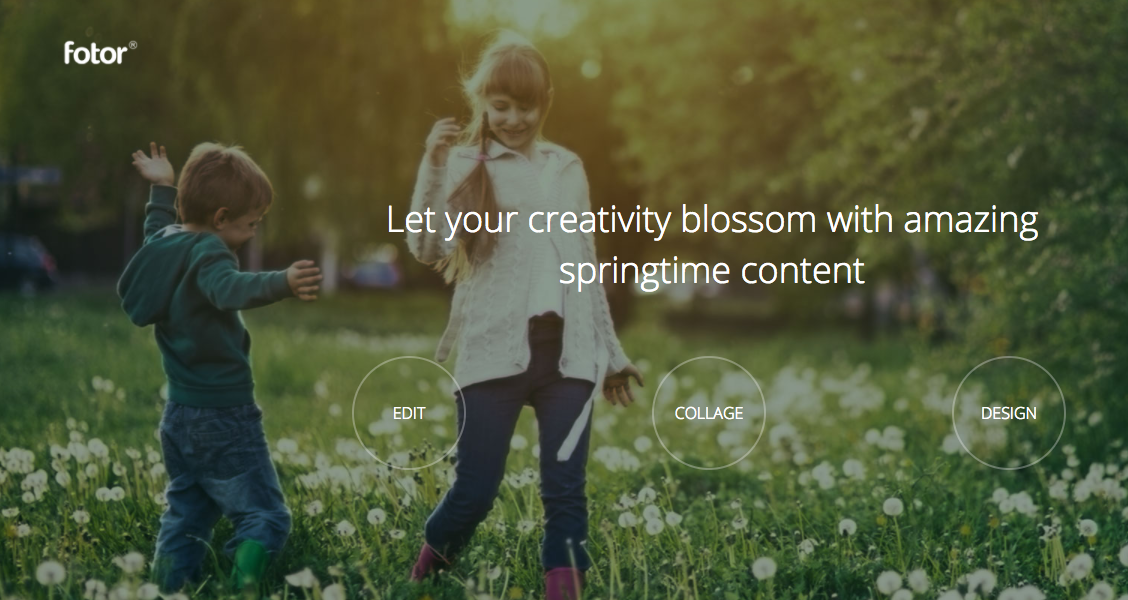 Fotor is another nice online photo editing and enhancement tool. It comes with an easy-to-use interface and offers nice features. You get options to create collages, greeting cards, and more. You can apply various filters such as Lens Flare, B + W, Color Splash, and Tilt-Shift.
Not just filters, there are several options including frames, clip art, text, and more. The tool is ad-supported and you will always see a module at the bottom of the window.
8. PicMonkey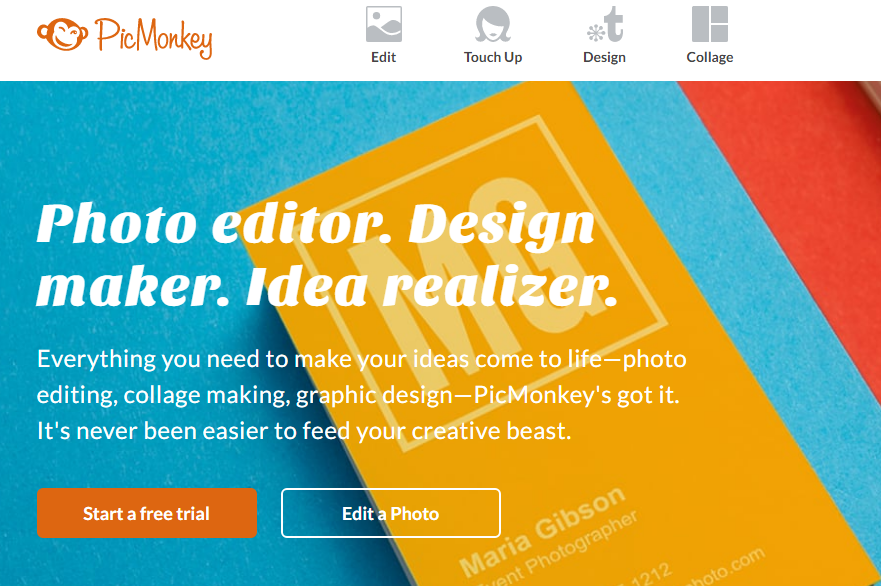 PicMonkey is a cloud-based photo editing tool founded in April 2012. It allows users to upload photos from their computer and services like Facebook, Flickr, and Dropbox to edit with PicMonkey. This picture editor can also share the edited pic directly to any social networking like Facebook, Twitter, Pinterest, Tumblr, Flickr, etc.
PicMonkey also has an open API for all developers that give them rights to integrate directly into a website. While most of the features are free, there is also a premium version with high-end editing features.
Also Read: 3 Best Photo Scanner Apps To Scan Old Photographs
9. BeFunky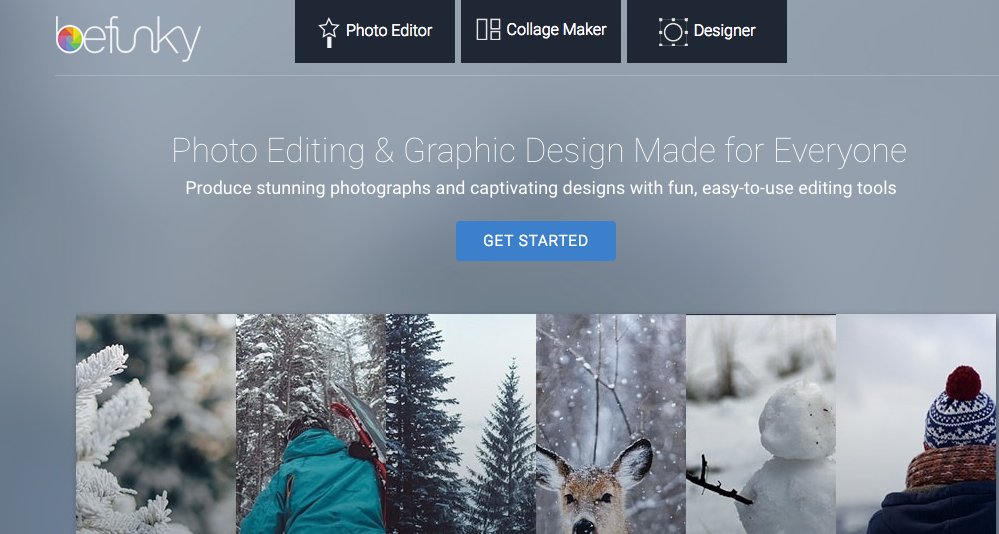 BeFunky is also worth trying as an online photo editing tool. It aims to give you easy to use photo editing experience. You can do lots of editing work on this online image editor. It has so many sophisticated elements, a huge collection of stickers, frames, backgrounds, and more to give you a good editing experience.
It also has a built-in collage maker that lets you upload photos and apply effects.
Also Read: Best Free Apps to Hide Photos and Videos on iPhone
10. Polarr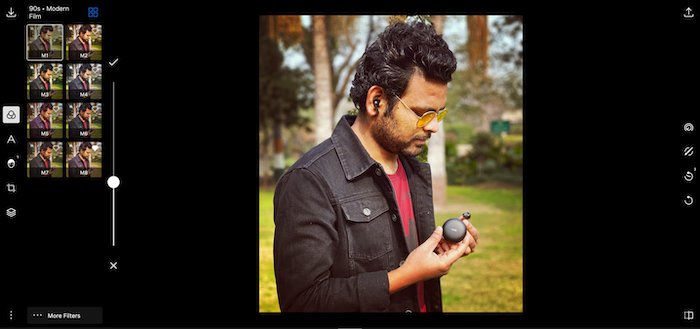 Polarr is also one of the best online photo editors that have easy-to-use filters. There are powerful adjustment tools to control the light and AI fetters that auto-detect face for offering to retouch. There are tools like Brush, Color, Radial, and Gradient that make editing a photograph very easy.
Polarr provides edit history to make changes in any change you did previously. It supports several image formats including RAW. The free version offers access to basic features and the premium subscriptions include a one-time fee and lifetime upgrades just for $20.
Read: Simple Mobile Photography Tips to Take Better Photographs
These are the best online photo editors that are the best alternative to Photoshop. If you know any other better than these, do tell us in comments or mail me at [email protected]