15 Best Free Live Wallpaper Apps for Android
Live wallpaper is another cool thing that we can use in Android phones to make it more attractive. The only issue with Live Wallpapers is that it consumes battery a lot. With time, Developers have improved their live wallpapers a lot. Now, the new live wallpapers are optimized to consume less battery and offer lots of customization options. So, you can make your home screen the way you want it to.  There are tons of live wallpapers and choosing the best can be tricky. So, we are putting the list of best live wallpapers for Android.
Also see: Best wallpaper apps for Android
Best Free Live Wallpaper Apps
Here is the list of best free live wallpaper apps to get attractive live wallpapers for your Android phone.
1. Forest Live Wallpaper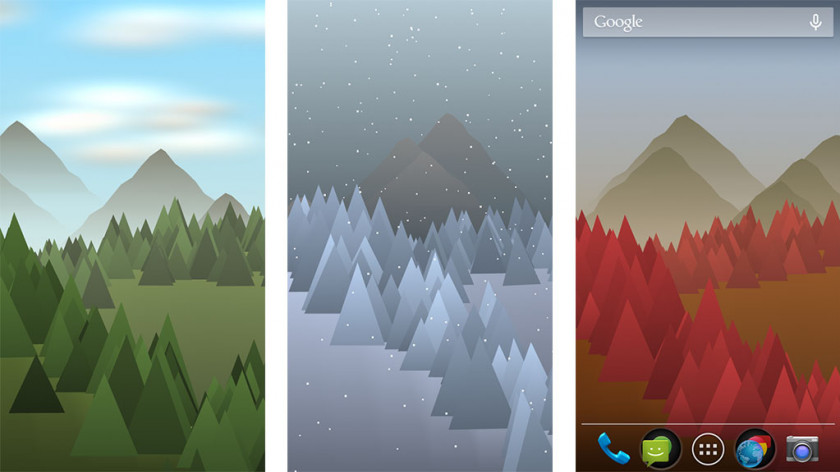 Forest Live Wallpaper is a beautiful live wallpaper for material design fans. It is a minimalistic live wallpaper showing the artwork of the forest. You can change its look based on weather and time of the day. There are various themes to choose from and you can customize the sunlight, color of the sky, mountains, and more depending on your choice.
2. Muzei Live Wallpaper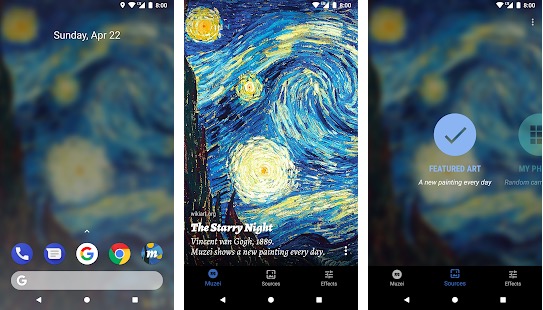 Muzei Live Wallpaper lets you choose your own images if you do not want to choose the artwork pictures. You can add more sources through plugins. The plugins for the wallpapers bring Bing images, Google doodles, NASA's daily space pictures, Tumblr, Flickr, Instagram, etc. You can also add fade & blur effects.
3. Aquarium Live Wallpaper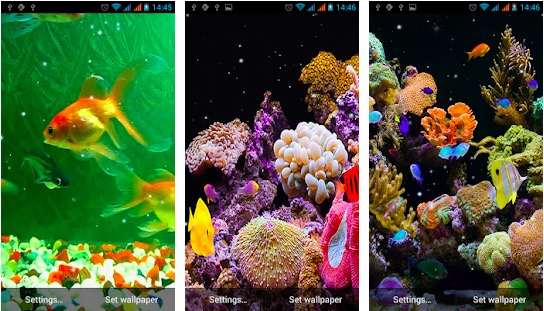 If you like fishes, this one is for you. It brings a beautiful aquarium as wallpaper where you see clear water, sea animals, and exotic fish. You get 10 different Aquarium wallpapers HD to choose from and three types of animations. This wallpaper supports both portrait and landscape mode.
4. Waterfall live wallpaper
This live wallpaper brings a waterfall on your home screen. It brings different animated wallpapers that look relaxing. These wallpapers are compatible with 99% of Android devices. It also supports sleep mode and has been optimized for consuming less battery.
5. Minima Live Wallpaper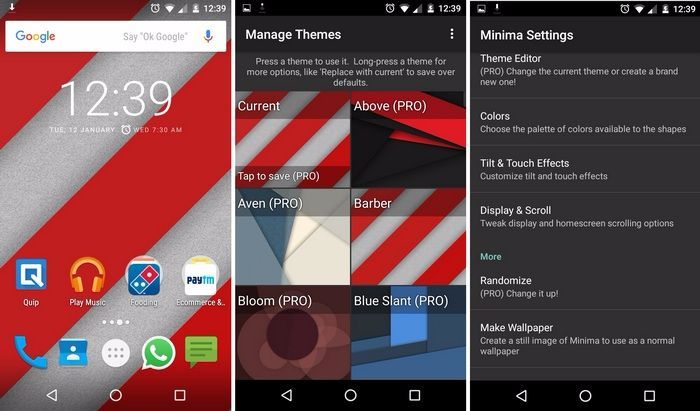 Minima brings simple shapes and colors as a Live Wallpaper. It comes with a number of themes with different artworks to use as wallpaper. It also offers touch & tilt effects to make things lively. As you swipe on your phone, shapes twist and tilt in a 3D fashion. You can change the colors, brightness, and saturation of an image. There is also a pro version of the app that lets you edit any theme or create your own.
6. Raindrops Live Wallpaper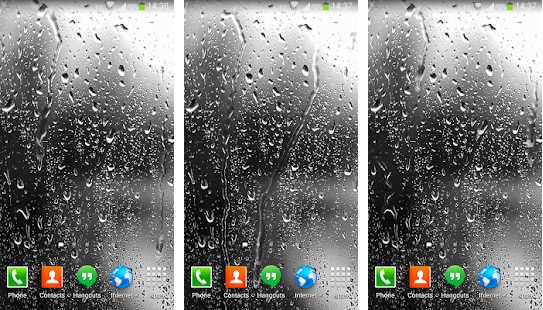 This live wallpaper brings great raindrops falling down on your screen. It really looks amazing. If you love rain and raindrops, you can download this HD live wallpaper. Everything has been filled in HD, so it works fine on all kinds of displays. As compared to other Live wallpapers, it consumes less battery.
7. Material Islands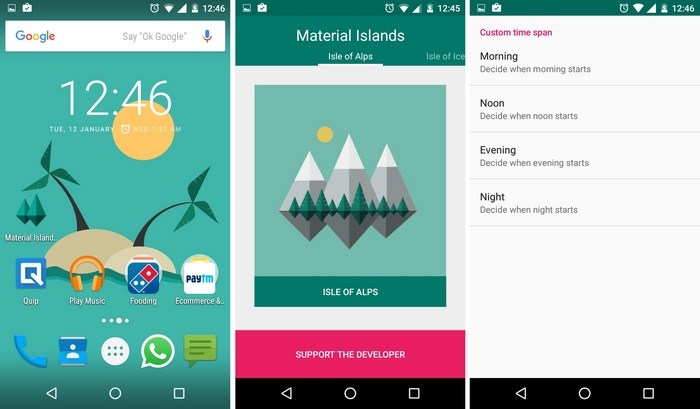 Material Islands is another good Material design wallpaper. This is a simple wallpaper that features various islands comprised of simple shapes and forms. Each island animates itself based on the time of the day. It works fine on all Android devices running Android 5.0 Lollipop and above.
Also see: iPhone Launchers for Android
8. Water Garden Live Wallpaper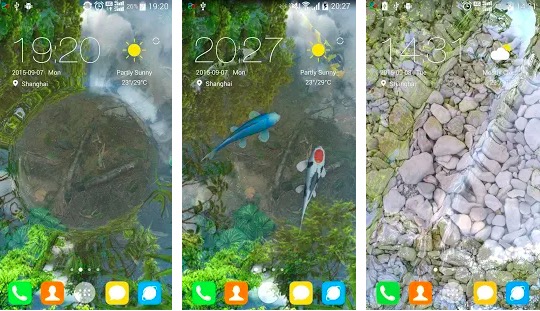 This wallpaper instantly reshapes your mobile screen into an incredibly beautiful water pond full of fish. You can use finger gestures to create stunning, velvet smooth water ripples or water waves. It is really beautiful. You can choose among a set of fantastic natural scenes.
9. Paperland Live Wallpaper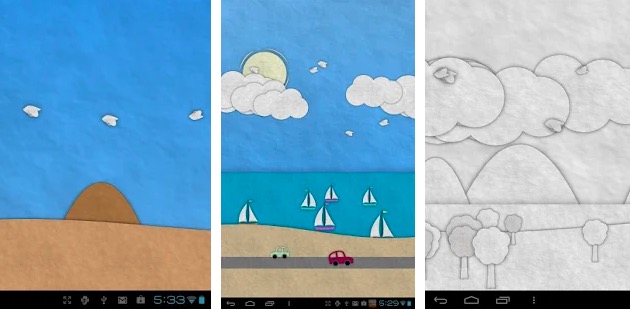 It brings some cool wallpapers that will remind you of paper cut-out scrolls. It comes with various themes for various occasions like Christmas, Thanksgiving, Easter, and others. It also brings seasonal themes like a rainy day, autumn, winter drive and more. It works fine on both portrait and landscape mode.
Also see: Fake GPS Apps for Android
10. Hex Shaders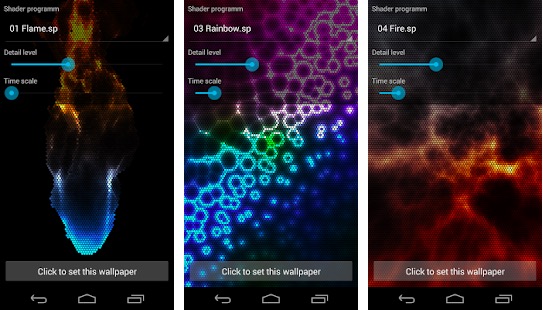 Hex Shaders is a unique kind of Live wallpaper app that shows animated hexagonal pixels with a shader program. There are over 15 various shader programs to choose from. You also have an option to customize different things like detail level, timescale, and more
11. Earth & Moon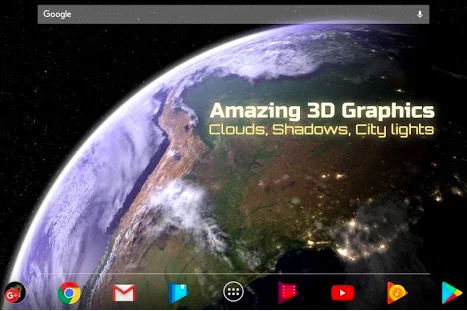 This is a space-themed live wallpaper that brings the 3D representation of earth, moon, and space to your phone. It uses your phone's gyroscope to offer incredible 3D parallax effects. You get options to adjust parallax effect, animation, camera angle, and more.
12. Particle Live Wallpaper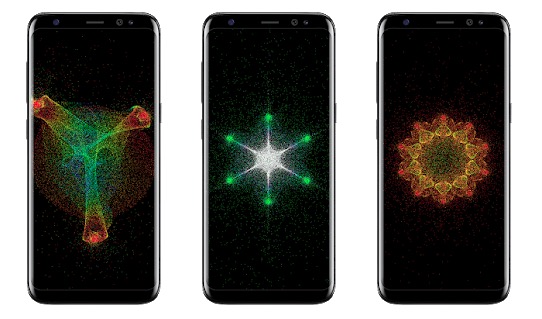 Particle Live Wallpaper is another good Live wallpaper you should try on your phone. It is for those who love magical fluid, gravity art, new aesthetic. In this walloper, you get a big swirling mass of particles that behaves in a unique way you interact with your phone's display.
13. Rain Live Wallpaper
This cool live wallpaper brings nature to your phone. It shows raindrops falling over your screen. There are 20 HD backgrounds, animated raindrops on the window, and many settings to offer you control over customization. The live walloper supports horizontal orientation and looks great even on a tablet.
14. 3D Parallax Live Wallpaper
3D Parallax Live Wallpaper app brings numerous 4D and 3D themes and parallax moving backgrounds for adding to your phone's home screen. The collection of backgrounds includes planets, nature, landscapes, superheroes, and more. There are also some really dark backgrounds for AMOLED displays. The app uses gyroscope and accelerometer sensors to offer a depth feel with each movement.
15. 3D Electric Live Wallpaper
3D Electric Live Wallpaper is another cool free live wallpaper apps of Android. It comes with several live wallpapers, 3D effects, and different styles. The app also promises to be battery-friendly. The app works well. That's the reason it still has a 4.6 user rating even after 100k reviews on the play store.
Final Words
Even if these wallpapers have been optimized for consuming less battery, they will. The more animation, the more battery consumption. So, you should always choose a live wallpaper with minimal animation. You can go with any of these minimal live wallpapers. Try these and let us know what live wallpaper you like the most.