Nowadays Smartphone comes with a powerful camera with many cool camera features. For a good photo, the smartphone's camera software is equally important as the camera hardware. This is the reason two smartphones with the same camera hardware mostly differ in camera performance. To use the camera on the smartphone or tablet, our device comes with a default camera app. Now the processing of photos by the camera app decides the end result. For example, Google's Gcam app can offer a much better camera experience in a phone than its default camera app. It means you can improve the camera experience by downloading powerful camera apps and get a better photo experience.
In this post, we are listing the best camera apps for Android smartphones and tablets. These camera apps for android have some amazing features. Some of them can give a DSLR-like experience in mobile. You can download any of them as per your requirement.
Top Camera Apps for Android
This is the list of best and free Camera Apps for Android. If you are looking for the best photo editors, Click Here.
1. Camera FV-5 Lite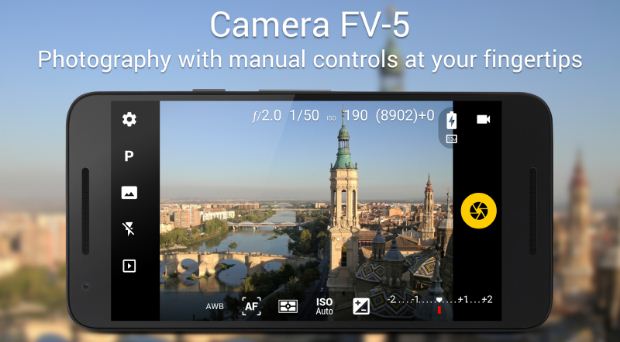 Camera FV-5 is a professional camera app for Android mobile devices. It works similarly as DSLR. You can manually control exposure compensation, ISO, light metering mode, focus mode, white balance, and program mode at your fingertips. It has a built-in intervalometer which makes stunning time-lapse and time-controlled picture series. You can even click photos in RAW form with this camera app. This camera app also has dual camera support.
2. Camera MX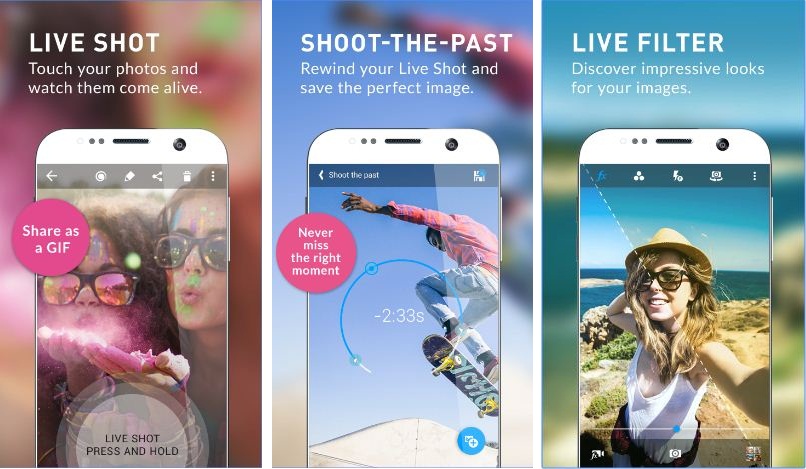 This camera app supports all resolutions and ratios that your camera allows. It has auto-optimization and HDR for high-quality photos even in low-light situations. You can pause your video recordings at any time and apply video cuts in real-time shooting. It also has grid lines for better photo compositions.
This Camera MX has many camera filters and effects like Kaleidoscope camera effect, Mirror camera effects, Pencil and sketch drawing effects, Color Splash effect, and more. You can crop your photos, change brightness, contrast, saturation, and color temperature for your photos and videos.
Also Read: 5 Tips to Get Most of Your Smartphone Camera
3. Wondershare PowerCam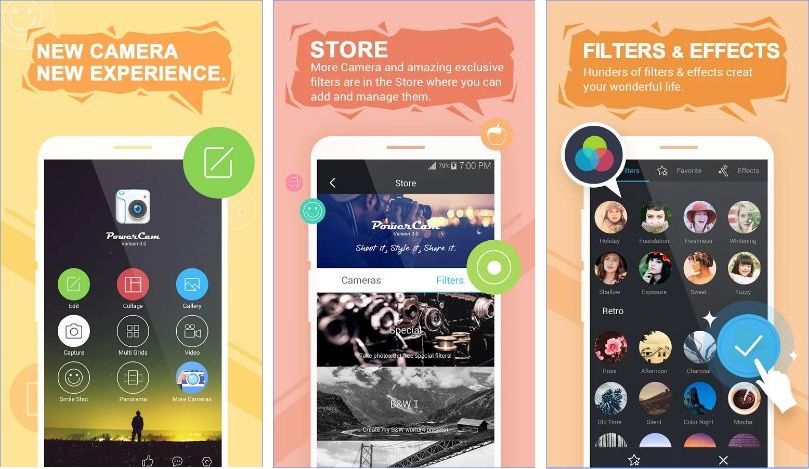 Wondershare Powercam is the first Android camera app that supports recording video with real-time effects. There are 36 effects like Old Photo, Lomo Cyan, Color Splash, Tilt-Shift, and more for fun photography. It has an Anti-Shaking property that helps in taking photos in a shaky environment. You can also create awesome collages with the help of this camera app for android.
4. Open Camera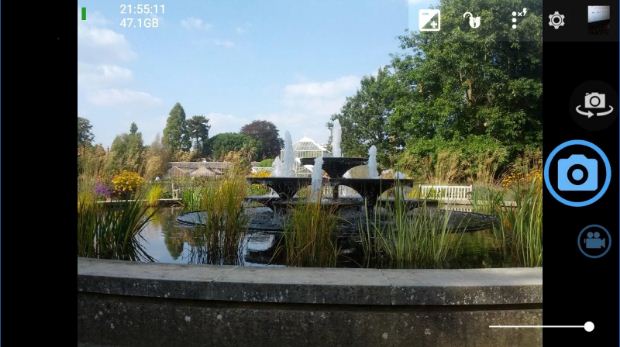 Open Camera is a completely free Camera app for Android phones and tablets that gives you almost all the features of the camera. It supports focus modes, scene modes, color effects, white balance, ISO, exposure compensation/lock, face detection, and torch.
5. Candy Camera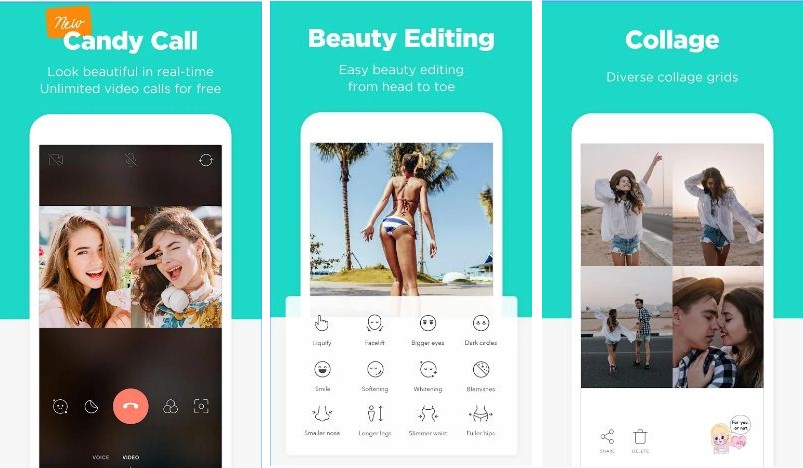 Candy camera is a selfie, beauty camera, and photo editor. It has real-time beautify mode so that you can click beautiful photos. It's editing tools has features like slimming, whitening, concealer, lipstick, blush, eyeliner, mascara. The new feature of this app is Candy Cam that makes you look beautiful in real-time video calls.
6. Camera Zoom FX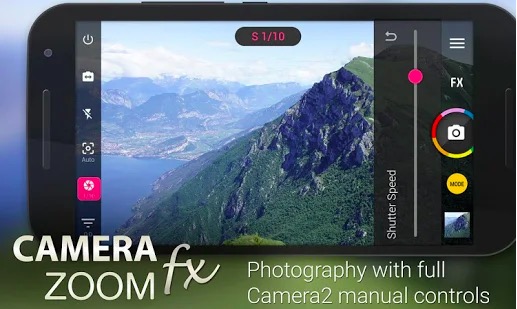 Camera Zoom FX is also a feature-rich camera app for Android. The app comes with lots of features like action shots, stable shots, photo filters, photo composition, and more. It offers full manual DSLR controls including ISO, focus distance, shutter speed, and RAW capture. It also lets you combine shooting modes like timer + hdr and stable + timelapse.
There are powerful camera features like burst shorts, timer, voice-activated shots, 360 Horizon level, live camera effects, HDR mode, selfie flash, and many more.
7. Google Camera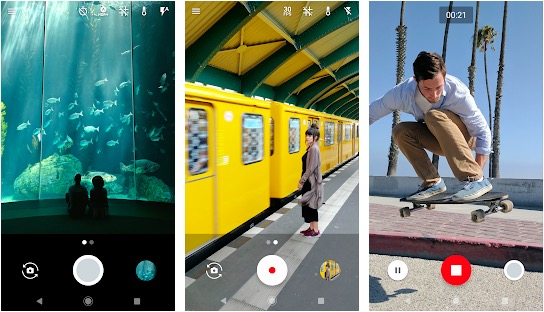 Google camera is Google's proprietary camera app that comes pre-installed on all the Google Pixel devices. The app has brilliant photo processing capabilities that offer excellent shots even in low light. The Android Community has managed to develop Google Camera ports to use the app on any Android device. So, you can also use the Google camera app and users its features including the recent Night sight feature of Google Pixel devices to any other Android device.
Google camera available on Play store is not compatible with all Android devices, so you need to download the port APK from the XDA Developers.
8. DSLR Camera Pro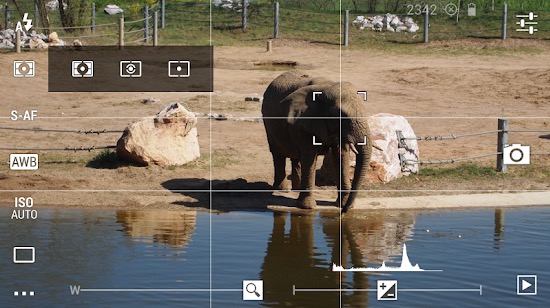 DSLR Camera Pro is a paid camera app that brings manual controls for the camera on your phone. The app offers manual controls for white balance, ISO, exposure, and RGB histogram support. It has a moveable viewfinder to set focus on area anywhere. It also offers geotagging, exposure compensation, light metering mode, scene detection anymore. You can also use volume keys as shutter buttons.
9. ProShot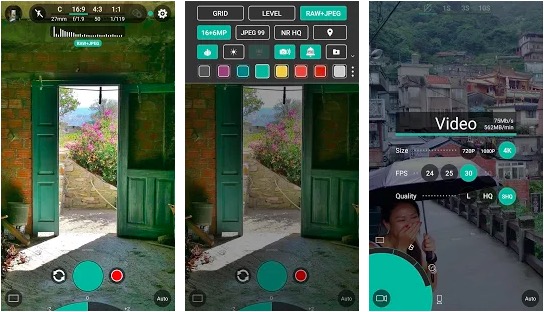 ProShot is also an excellent camera app that offers auto, semi-manual, and manual camera modes. So, you can have better control over the camera and get options to control things like focus, ISO, shutter speed, torch, and white balance. You can shoot in JPEG or in RAW. It offers shooting in 16:9, 4:3, and 1:1. The app has several modes like HDR, Night, and Action scene mode. It also has Live histogram, Grid overlay, Adjust JPEG quality, Noise Reduction quality, and photo location. You can also record videos in up to 4K resolution with the option for manual control on videos.
10. A Better Camera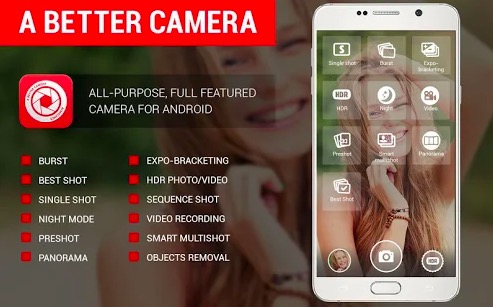 A Better Camera is also a good camera app for Android that lets you capture high-quality photos for your camera. The app has features like HDR, HD panorama, multishot, and night camera. It also features a Best Shot mode where it automatically identifies the best shot photo after taking a series of pictures. You can also capture photos in RAW. It also offers manual control on the camera.
11. Manual Camera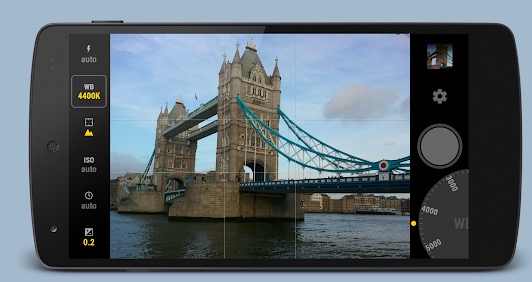 Manual Camera is an excellent camera app that takes full advantage of Lollipop's Camera2 API and requires it to be properly implemented before you use it. The app offers full manual control on shutter speed, focus, ISO, white balance and exposure. It has a full auto mode. You can capture photos in RAW. Other options include geo-tagging, timer and more.
Final Words
Here is the list of more than 10 camera apps for Android. Few apps are paid but most camera apps listed here are free with a paid version. You can use any of these camera apps to enjoy a better camera experience on your phone. If you think that the default camera app of your phone sucks, it is time to try a better camera app. Download any of these apps from the Play Store and enjoy better photography.