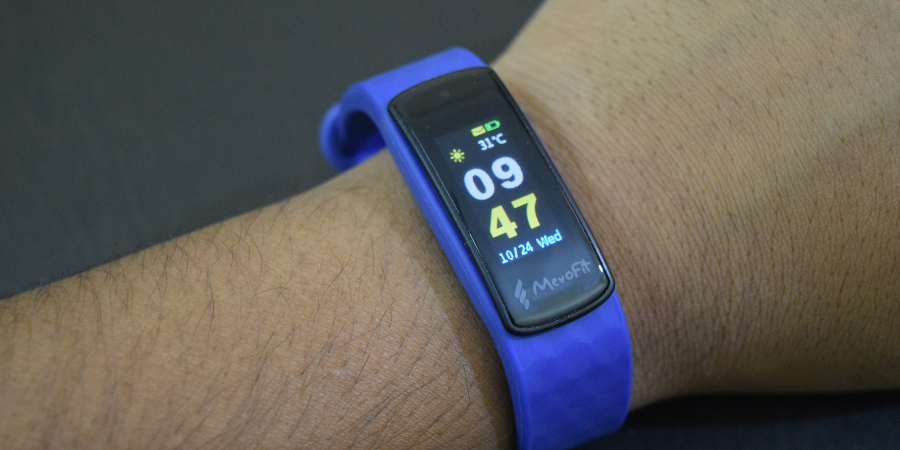 Earlier this month Mefovit launched its new fitness tracker Mevofit Bold HR in the Indian market. It comes for Rs. 3990 and has lots of features to make it interesting. Recently, I started using it to achieve my daily fitness goals and here is my review of Mevofit Bold HR after using it for over a week.
Buy Here for Rs. 3490
Rs. 1800 off on boAt Rockerz 255 Bluetooth Wireless Earphone (1099 Rs. only)
Rs. 1800 off on boAt Rockerz 255 Bluetooth Wireless Earphone (1099 Rs. only)
Before I talk about the performance, let's have a look at the design and build. The build quality is good. It has a long display attached to a strap. It comes in three strap colors – black, blue and purple. I have the blue color variant that looks really good. This time, MevoFit is not including colorful straps.
You can easily remove the device from the straps. After removing it from straps, you see the USB dongle at the top side. You can plug it in any USB port to charge it. At the back side, it has a heart rate sensor that measures your pulse rate.
MevoFit Bold HR comes with a 0.96-inch display that supports gestures. It is a color screen that uses Smart Light Sensor Technology for optimal display. This display is clearly visible even in outdoors. It shows date, time, temperature, battery level, notifications of SMS, notifications of calls, social media notifications, calories burnt, steps taken and heart rate.
The band is IP68 rated. So, you can wear it throughout the day and even use it while swimming. I have used it for 10 days continuously. Several times, it faced water during washing face. It is still working fine.
The fitness band is comfortable to wear. So, you can keep on wearing it throughout the day and even while sleeping.
You will have to use the Mevofit fitness tracker app for checking the data collected by the fitness band. The band mainly collects steps data, calories burn and sleep. But there are also several features that make it a notable companion for your daily life,
The app shows you details of distance you have traveled in a day, steps taken and calories burnt. Steps count is close to accurate. I manually counted steps several times and the count on the band was close. It shows historical data in the app, So, you can easily measure your progress. It can also track 7 types of sports activities including Running, Cycling, Badminton, Basketball, Soccer, Table tennis, and Tennis.
The sleep tracker feature measures you sleep and records when you fell asleep, had deep or light sleep and when you awake. For a healthy life, you need 6-8 hours of good sleep. If you didn't see much deep sleep, you should try to relax and ignore unnecessary tensions.
The fitness band shows push notifications from different apps including calls, SMS, WhatsApp, Facebook, Gmail, Instagram and more. If you just want notifications from selected apps, go to the push notification settings in the Mevofit app and uncheck the apps that you do not want to send you to push notification in the band.
The best thing is that you can not just see notifications but can also read WhatsApp message on the display of the band. If you see any important message, you can take your phone to reply. If you do not want to pick the incoming call, you can long press on the display to avoid that call.
The band also comes with two different watch faces. You can use any that suits you. For changing the watch face, swipe down twice and then select Function. You will see a clock icon on the screen. Here, long press and you will get the option to change the watch face.
You can also use the app to set the reminders or set alarms. The band will start vibrating at the specified time.
If you forget to drink water for long, this app can help you in drinking proper water daily. You can make a daily goal and start recording each time you drink water. You can also turn on the reminder, so it will keep in reminding you to drink water in regular interval. I personally found this useful, because I sit for a long time for writing blog posts and reading interesting tech stories. Mostly, I miss drinking water. So, the band keeps reminding me about drinking water.
It also features sedentary alerts. This is also a notable feature for people like me who sits for long. It will remind you to walk a bit and move your body.
You can also track Green tea and Coffee consumed in a day and set a reminder for that. I don't think this one is useful for all, but surely for many who want to get reminded for these things.
The app also has a forum where people ask questions and you can also participate in discussions. By using the app daily, you get credits. You can use these credits to join challenges and win more credits.
It packs a rechargeable battery. You can plug it in the USB port of your laptop to charge it. The battery backup depends on the kind of reminders you have added for yourself. In normal usage, the band can easily last for around 10 days in one full charge.
Final Words
Fitness bands aim to measure your fitness data and motivate you to work for your health. This band does the same and help you in burning calories, measuring your sleep and heart rate. It also reminds to walk or drink water. You also get a notification, so you do not need to unlock the phone for unnecessary notifications. Step count also works fine. And it also works as a proper watch on your hand.
If you are looking for a good fitness band in low price, Mevofit Bold HR is the recommended one from my side.
Mevofit Bold HR
"Mevofit Bold HR is a budget fitness tracker that performs well, offers good features and battery life is good."
The Good
Good Build
Good Batter Life
Breakdown
Design and Build 80%

Performance 70%

Features 70%

Battery 80%

Value for money 70%