Hackers breach Mailchimp to target crypto users
Popular email marketing service Mailchimp was hacked to steal the data of more than 100 Trezor users. Then these users were targeted by sophisticated phishing emails.
When several users tweeted about receiving phishing emails, Trezor started investigating the incident. In the meantime, Mailchimp confirmed that its internal tools were breached and the hacker successfully exported the data of 102 users.
Mailchimp's analysis confirmed that hackers managed to obtain email, contact details, and the type of crypto hardware and software they are using.
Affected users received fake data breach emails asking them to visit a phishing site and download the new version of the Trezor Suite desktop application. The fake tool was designed to steal the seed phrase.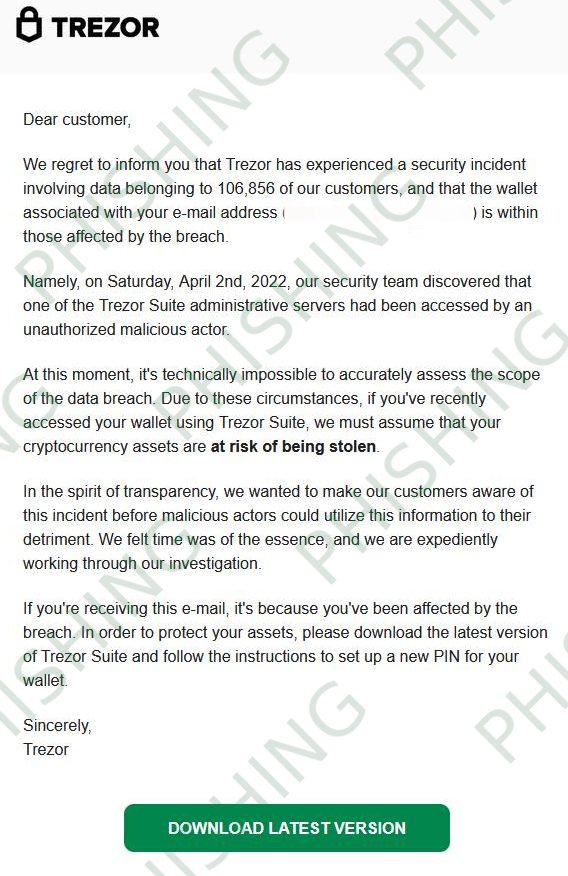 At the moment, it is not clear if hackers managed to steal funds.
If you are a Trezor user but have not received this phishing email, you should be careful and make sure not to act on any such emails received in the future.
Users who downloaded the fake Trezor suit and entered the seed are advised to use the new seed. You can continue to use the same device by wiping it and creating a new seed.
Trezor has advised users not to enter their seed anywhere unless the Trezor device instructs with a message on the device. If you receive any email with links to Trezor, make sure you land on suite.trezor.io or trezor.io.
Users who receive this kind of email are advised to report directly to [email protected] Mailchimp has already reported the incident to all compromised accounts.