Cleanup.pictures lets you remove unwanted objects from photos for free
When Google launched the Pixel 6 series, the most notable feature of this phone was the Magic Eraser tool. This tool can remove annoying elements from the photos to make a perfect shot. We all face this problem when something unwanted comes into a shot we capture. People who are experts in photo editing use photo editing software to remove the object. Some people even pay experts for this task. But there are a few online tools that let you remove unwanted objects from photos free easily. One of those tools is Cleanup.pictures. As the name suggests, this online tool lets you clean your photos by removing unwanted objects from them.
Also see: Remove BG: Remove background from any photo quickly
Cleanup.pictures is an easy-to-use and simple online tool. There are not many features. You just need to drop a photo and use the brush to remove the object from the photo.
Cleanup.pictures (also called Cleanup Pictures) is an open-source tool and it uses LaMa (Large Mask), an open-source model from Samsung's AI Lab. LaMa can automatically identify objects and redraw the areas you select after removing the object. LaMA has an efficient algorithm to effectively clear pixels with objects and restores pixels.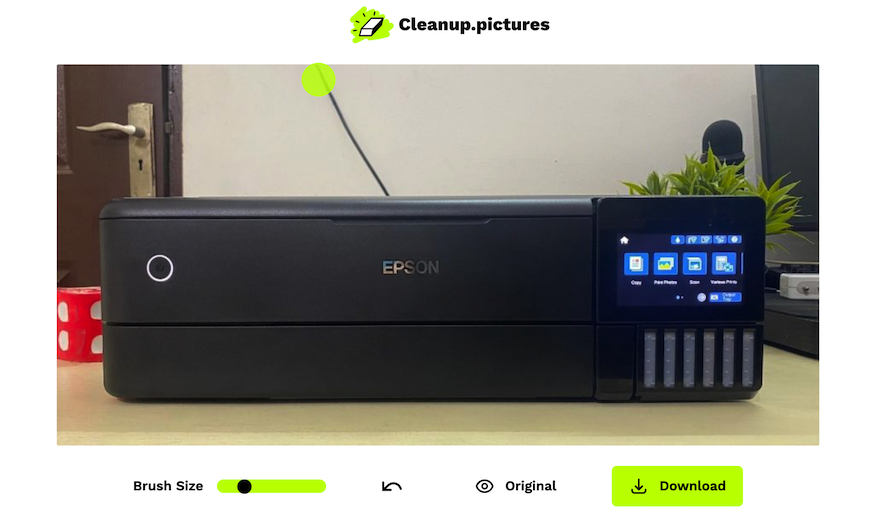 The tool also lets you select the brush size. When you want fine work at edges, use the smaller brush size and use the bigger brush size for big objects.
There is also an icon to look at the original photo. You can also undo each step whenever you want. Once you are done, you can download the final photo.
See the two photos added below. In the first photo, there's a wire on the wall that I removed using Cleanup.pictures. It really did a good job.
It is worth noting that cleanup.pictures is a completely free tool and the codebase is open source. So, you can use this tool for unlimited projects and there is no restriction on photo resolution. If you are a developer, you can go ahead and contribute to the code for making it even better.
This tool is completely web-based and requires no downloads. Just visit the cleanup.pictures website and start using it.
Cleanup.pictures is a free service where you can use it on unlimited images but downloading has a limit of 720p resolution. If you want higher quality download, you can subscribe to the premium subscription priced at $5 per month. For developers, there is also an API, and pricing is based on your usage and API calls.
There is also an iOS app for cleanup.pictures but Android users still need to visit the URL in a browser.
For people who care for their privacy, the company has made it clear that all the images are deleted immediately. The company claims that they don't store any data on its server after processing is done.