JioFiber launching on September 5; Plans start at Rs. 700 for 100 Mbps
At its 42nd annual general meeting (AGM) in Mumbai, Reliance Jio announced that JioFiber will finally be available commercially starting from September 5th, 2019. This service was already available in select areas as trial since August 15th last year.
JioFiber plans start from Rs. 700 for 100Mbps plan and go up to Rs. 10,000 for 1 Gbps plans. Breakdown of different plans will be revealed at the time of launch on September 5. It is worth to note that Spectra and ACT Fibernet are already offering 1Gbps download speeds but in select cities. ACT Fibernet's Giga plan costs Rs. 5,999 with a data limit of 2,500 GB and Spectra charges Rs. 13,999 with no data limit.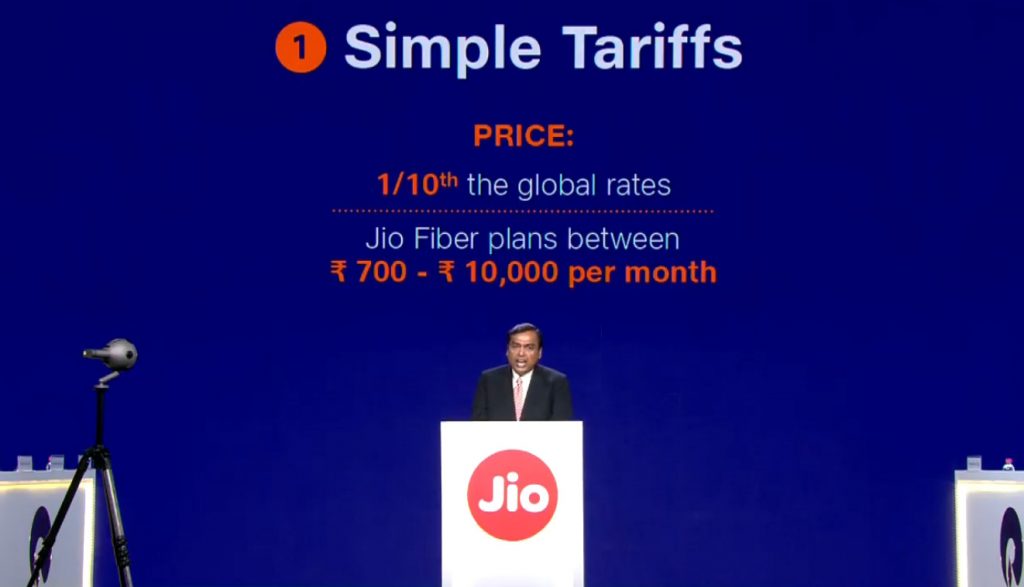 JioFiber customers will also get a free landline for making voice calls across India absolutely free forever. There will also be international calling plans. the US and Canada Pack at Rs. 500 per month will offer unlimited calling.
Jio Fiber will also come bundled with subscriptions to most of the OTT applications Mukesh Ambani also unveiled Jio Forever Plans under which customers will get an HD or 4k LED television and 4k set-top box for free.
There's one more interesting announcement people are curious to know more about. The company announced that premium JioFiber customers will be able to watch movies at home the same day they are released in theaters. The service is called Jio First-Day-First-Show. It will be available sometime in the middle of 2020.
Ambani also announced Edge computing and virtual/ mixed reality content plans. The company will also invest in edge computing and CDN with tens of thousands of nodes that will be used to deliver content for entertainment, shopping, gaming, and education. The company has also partnered with Microsoft for cloud infrastructure.