Micromax Beats Samsung to become Top mobile phone vendor in India in Q2 2014
According to report from CounterPoint Research, Indian mobile phone brand Micromax has finally overtaken Samsung to become leading mobile phone vendor in India. Report also claims that Indian mobile phone market grew 2% annually while smartphone market grew 68% annually.
Earlier today, we reported that Motorola finally overtook Nokia to become fourth largest smartphone vendor in India in Q1 2014. Samsung tops and Micromax is second. CounterPoint Research report also confirmed the same for smartphone segment. But Micromax managed to beat all other rivals in featured phone. Karbonn also managed to get third position in both smartphone and feature phone segment. But in combined handset shipment, it is ranked at fourth.
In this quarter, Indian market has seen various low cost Kitkat smartphones. So, demand of feature phone fell 16% annually. Indian brands captured around two third of the feature phone market and more than half of smartphone segment.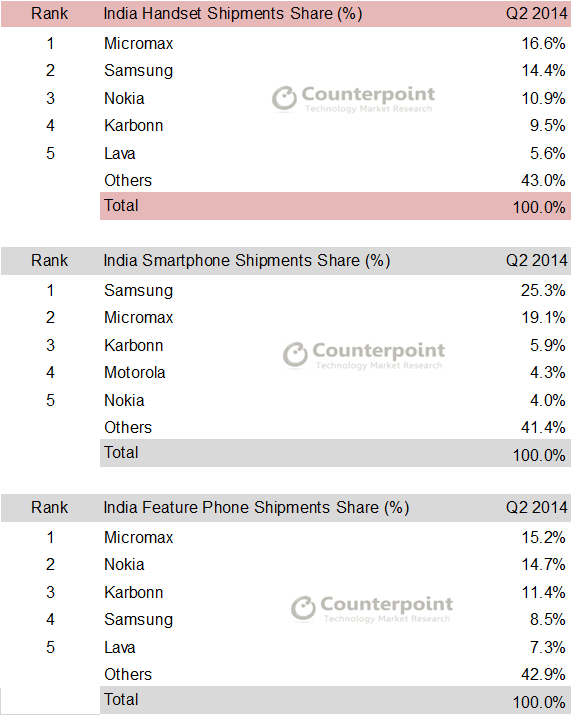 Motorola has given surprising performance by beating Nokia in smartphone segment. Now Chinese vendors including Xiaomi, Gionee, Huawei and Asus are now in Indian market. So, we will see big fight in the current quarter report. These vendors are selling premium features at aggressive price.
Indian market has becoming more competitive day by day. The reason is the huge population. But the increasing competition is good for the consumers. They now have better options at affordable price.
Micromax has also become the 10th largest handset brand in the world in terms of mobile phone shipment.