Now days Smartphone comes with powerful camera with many cool camera features. Recently Samsung launched Galaxy K Zoom camera phone with few nice camera features. To use the camera of the smartphone or tablet, our device comes with default camera app. But you can improve the camera experience by downloading powerful camera apps to get better photo experience. In this post, we are listing 5 best camera apps for Android smartphone and tablets.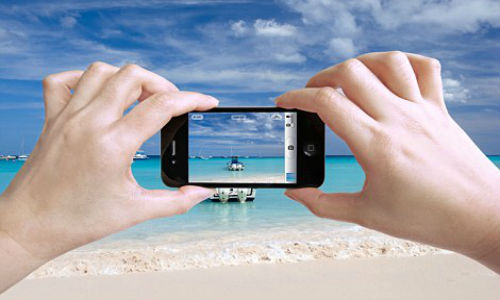 LG G6 - Flat Rs.21,010 Off
LG G6 - Rs.33,990 (Flat Rs.21,010 Off + 10% cashback)
Also Read: 5 Tips to Get Most of Your Smartphone Camera
Top 5 Camera Apps for Android Smartphones and Tablets
1. Google Camera
Google Camera app was launched few months back to give better photo experience to Android users. It comes with few nice features like Photo Sphere, Lens Blur and Panorama. Photo Sphere feature is for immersive 360º views. Lens Blur lets you take SLR like photos. The only thing which disappoints most of the Android users is that it works on Android devices running on Android 4.4 or higher. All the key features requires at least 1 GB RAM. If you are using Moto G, you cannot use Photo Sphere because it require a gyro sensor.
If we look closely, this app is not for most of the Android users. But users who can use all the features of the app are very happy with the performance. Users have rated it 4 on Google Play Store.
Download Google Camera from Google Play
2. HD Camera Ultra
HD Camera Ultra is also a nice camera app whc=ich lets you take excellent photos very fast. It comes with various cool features like Optical/digital zoom, focus mode, exposure, photo effects and few others.
Download HD Camera Ultra from Google Play
3. Wondershare Panorama
Taking Panorama photos is pain sometimes. Wondershare Panorama camera app simplifies the panorama capturing. Just tap the camera button and move your photo slowly and steadily from left to right. And it will automatically create cool panorama automatically. It also comes with few effects for your panorama photos.
Download Wondershare Ponorama app from Google Play
4. AfterFocus
AfterFocus is a nice app that lets you create DSLR styled background blurred photos by selecting the docus area. There are various filters for adding effects in your creation to make it natural and real. Autofocus automatically recognizes the focus area to give better photos.
Download AfterFocus from Google Play
5. FxCamera
FxCamera is a free camera app with more than 30 cool photo filters. This app comes with photo capturing and photo editing capabilities. You can directly share he aptured photo with friends on various social networks.
Download FxCamera from Google Play
There are many other camera apps for Android available in Google Play. Few premium Camera apps for Android give awesome camera experience. You can buy and enjoy.
---
Advertisement
---