How To Turn Your iPhone or Android Into a Walkie Talkie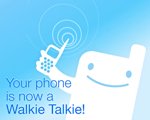 Have you ever seen a Walkie Talkie? i am sure your answer will be "yes". But not all people used it. Here i am going to tell you how you can use Walkie Talkie on your smartphone. You can turn your iPhone or Android Into a Walkie Talkie just with a simple app.
Voxor is a cool app which turns your smartphone into Walkie Talkie. This app was launched for iPhones but now it is also available for Android phones.
After installation of this app, you need to create an account. You can also connect with your facebook account. With this app you can invite your friends to join and you can also invite your facebook friends on walkie talkie.
While using this app, you have to push Hold and talk button for speaking. But this has an extra feature which walkie talkie do not have. In this your voice messages will not lost. It stays there as a message for them, and when they return to their phone, they can hear what you said.
You can also send text messages and send photos to your friends. you can mix and match between sending photos, speaking, and texting, all within the same conversation.
This app also stores logs of your conversation and it also trace the location via GPS.