5 Best Smart Alarm Clocks 2020
The alarm clock is really important to most of us. While several people now use the smartphone for alarm, many people still prefer having a dedicated alarm clock. Thanks to technology, alarm clocks have also received a notable upgrade. Now there are several smart alarm clocks that work more than just being an alarm clock. Some let you watch videos, a few come with a powerful speaker and several offer wireless charging. I have checked all available options and made a list of the best smart alarm clocks you can buy in India.
Best Smart Alarm Clocks
Here is the list of the best smart alarm clocks available in the Indian market. You can check their details, price, and links to buy.
1. Google Nest Hub
Google Nest Hub is a voice-controlled smart display powered by Google smart voice assistant Google Assistant. It has a 7-inch Touch Screen Display that can play YouTube videos, Netflix, stream music on your favorite music app, show weather notifications, traffic information, and more. You can use the voice assistant to ask for information, set alarms, and set reminders. It can also be used to control other smart home devices such as smart lights, smart TVs, and more. The display can also act as a digital photo frame.
Google also lets you create different profiles, so up to 6 different users can use it with personalized settings.
Buy Here: Flipkart
2. Echo Show 5
Echo Show 5 is Amazon's competitor to Google Nest Hub. It is a similar device but is powered by Amazon's voice assistant Alexa. The device has a 5.5-inch display and speaker to offer good sound. Just ask the Alexa and it performs as per your command. You can watch your favorite TV shows on Amazon Prime Video or from other apps. It can also stream music from your favorite music streaming apps. Alexa can manage your alarm, reminders, timers, and daily schedule.
It also has a selfie camera so you can use it for video calls. There is a dedicated button to turn the camera shutter on or off. You can also turn off the mic when you want Alexa to listen to you. This device can also act as a hub for your smart home. So, Echo Show 5 can control your smart bulbs and other smart devices.
Buy Here: Amazon
3. Soundcore Wakey
Soundcore Wakey is also an impressive alarm clock you can consider. This alarm clock has a 10 W Bluetooth Speaker and a built-in wireless charging pad. So, you can use it as a Bluetooth speaker and also charge your Qi-compatible devices. Soundcore Wakey also supports up to 15 different alarms and you can select from about 10 custom tunes from the Wakey app. Another good thing is that you can choose from 10 sleep-inducing ambient sounds or compose your one using the sound core app.
If you want a feel like having a traditional digital alarm clock, this one is recommended. Stereo speakers and built-in wireless charging make it a smart alarm clock to own.
Buy Here: Amazon
4. Lenovo Smart Clock
Lenovo Smart Clock comes is also a good smart product that comes with a touchscreen display. It can display photos from your Google Photos. There are also many other clock faces. You can use it to keep track of your appointments, events, travel routes, and more. It also has Google Assistant., So, you can say 'Okay Google' and then ask it to play your favorite music, set reminders, set alarms, display weather updates, current news, and more It can stream music from Saavn, Wynk, Spotify, and Google Music.
Buy Here: Flipkart
5. iBall Musi Home Pro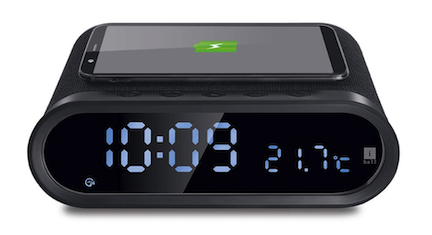 iBall Musi Home Pro is also a good smart alarm clock. It is also a digital clock with a Bluetooth speaker, FM, Temperature Display, and wireless charging. It has an LED display that keeps showing time and temperature. You use it as a Bluetooth speaker. It also has a Micro SD card slot, AUX port, and USB port. So, you can also stream music by using these input options. It also has a built-in FM radio. It also has a wireless charging mat at the top. So, this is a multipurpose smart alarm clock that serves multiple purposes.
The product has good build quality but battery backup isn't good. If you use it just as an Alarm clock, the battery lasts for around 30 hours. As a Bluetooth speaker, it offers 2.5-3 hours of battery backup. The wireless charging works well.
Buy Here: Amazon