7 Best Realme X Cases and Covers You Should Buy
Readme X is the latest phone by the company that comes with beautiful design and pop-up selfie camera. The gradient back is too beautiful to hide, but plastic cover is prone to scratches. You should also not forget to take care of its display because the display costs too much to replace. That's why I recommend the use of a good case to protect the phone.
In this article, I am listing the best cases and covers you can buy for your Realme X if you have bought the phone or planning to buy one.
Also read: Realme X Impressions
Best Realme X Cases and Covers
1. Tarkan Shockproof Protective Soft Case
I am putting this case at the top because it is a transparent cover and won't hide the beauty of the phone. It claims the 360 Degree Military Grade Guarding of the phone. The raised corners of the case can bear the shock to prevent any damage to the phone. It also has proper cuts to make ports accessible. It is thin and won't make the phone bulky,
Price: Rs. 149
Buy Here: Amazon
2. WOW Imagine Double Dip Case
WOW Imagine Double Dip Case is also a protective case that will keep your phone safe. It covers the sides and its raised edges keep the display safe. It also has cuts along the bottom for giving you access to charging port and headphone jack. It also doesn't block the notification light. This case comes in three different color options including Venom Black, Black with Red and Black with Blue.
Price: Rs. 399
Buy Here: Amazon
3. Armor Defender Full Body Protective Case for Realme X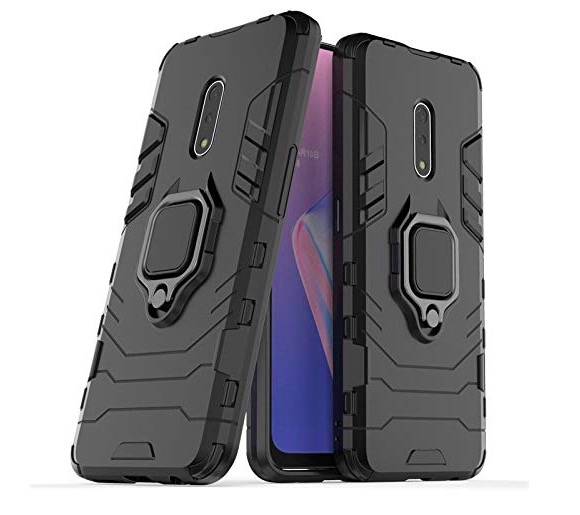 This case for Realme X is bulky but offers full protection from accidental falls, scratches, and dumps. It is made of superior quality material with an excellent finish to look good. This case provides 360 Degree protection. It can also be attached to an AutoFocus TPU car mount holder easily. It comes in 20 different color options.
Price: Rs. 399
Buy Here: Amazon
4. Flip Cover Case for Realme X
If you are looking for a Flip cover, this one should be your choice. This is Jotech Back Case Crafted from fake leather that looks good, fits properly and offers good protection from all angles. It also doesn't block microphone, speaker, camera and buttons. This case also has shock-absorption protection from drops. You also get a built-in wallet to keep your cards and case.
Price: Rs. 295
Buy Here: Amazon
5. Golden Sand Slim Case
Golden Sand Slim Case is also a good case for Realme X to buy. It has fiber-accentuated back to offer a good grip. It also looks good. The case also has raised lips along there ear camera and display to protect camera glass and display. It is easy to remove and install. It is also anti-fingerprint, anti-scratch, washable case. It offers better Heat Dissipation. It also comes in 7 different color options. The company also offers 6 Month Limited Warranty.
Price: Rs. 295
Buy Here: Amazon
6. Knotyy Printed Back Cover for Realme X
If you want a fancy or colorful case for your Readme X, this one should be your choice. There are more than 30 patterns to choose from and all are really attractive. These cases come with a slim fit and are easy to put on. The case is made of polycarbonate with a MATTE finish.
Price: Rs. 199
Buy Here: Amazon
7. Toughened Glass back cover for Realme X
This case is made of a Toughened Glass and looks really good. It is also thin but the only drawback is that there are a chances of cracin the case in case of accidental drop. Don't worry, your phone will be safe it it ensures all runs protection. The case offers proper Cutouts which provide seamless and easy access to all Buttons, Ports, Camera, and Speakers. This Realme case is also available in multiple color options.
Price: Rs. 299
Buy Here: Amazon