5 Best Lightning Cables for iPhone or iPad
Apple's lightning cable is not durable and it hardly lasts for over a year. If you go and buy a new one from Apple itself, the new cable will also see the same problem and you will need a new one in a few months again. So, you need to take a look at alternative Lightning Cables for iPhone that offer better quality at less price.
There are several known brands offering good-quality Lightning Cables. These cables are durable and put less load on the pocket. In this article, I am listing the best Lightning Cables for iPhone or iPad. You can buy any of these in place of Apple's original Lightning Cable.
In this list, I am only adding MFi-licensed lightning cables. MFi-licensed cables are approved by Apple for quality. So, it is safe to use with iPhone.
Best Lightning Cables or iPhone charging cables
| | | |
| --- | --- | --- |
| Best Lightning Cables for iPhone | Price | Retailer |
| Belkin Apple MFi Certified Lightning to USB | Rs. 1199 | Amazon |
| Anker PowerLine III Lightning Cable for iPhone | Rs. 1,199 | Amazon |
| Amazonbasics apple certified lightning to USB cable | Rs. 549 | Amazon |
| Boat LTG 500-2Mtr Data Cable | Rs. 799 | Amazon |
| Wayona Lightning Cable | Rs. 719 | Amazon |
This is the list of the best iPhone charging cables that you can use to charge your iPhone or iPad. This list includes lightning cables from all price ranges. Choose the best one that suited your need and budget.
1. Belkin Apple MFi Certified Lightning to USB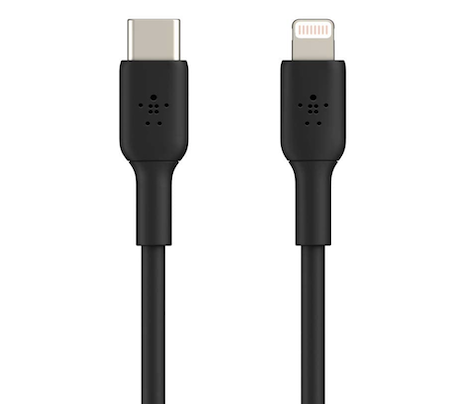 Belkin is a known brand for Apple products' accessories. Belkin offers high-quality and durable Lightning cables for iPhone and iPad. This one is MFI-Certified. So, it is safe to use with iPhone. It is compact and the length is also 1 meter. It is also available in several colors. I personally use Belkin cable for my iPhone. My cable is working fine for over 2 years without any issues.
Price: Rs. 1199
Buy Here: Amazon
Also Read, Best Wallpaper Apps for iPhone
2. Anker PowerLine III Lightning Cable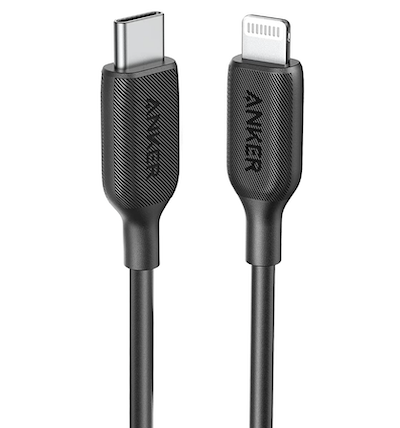 This is another good lightning cable for iPhones and iPad. It claims a 6000+ bend lifespan making it the most durable among in the list. It has a double-braided nylon exterior and toughened aramid fiber core. This is 3 ft in length. The company itself offers a 3-Years warranty. So, you need not think about any other lightning cable for the next 3 years. This one also charges your iPhone faster than Apple's standard lightning cable.
Price: Rs. 1499
Buy Here: Amazon
3. AmazonBasics Apple Certified Lightning to USB Cable
Most people who need a Lightning cable with USB A port trust this cable. It is also Apple MFi certified, so safe to use with any supporting Apple product. It is compact and durable. It comes with 1-year limits warranty but also works fine even longer. It has an additional layer of protection added for durability. It has been tested to bend 95 degrees, over 4,000 times.
Price: Rs. 549
Buy Here: Amazon
Ther is also a USB-C version of the cable which has a Lighting connector on one side and a USB-C connector on another side.
Buy Here: Amazon (Rs. 899)
4. Boat LTG 500-2Mtr Data Cable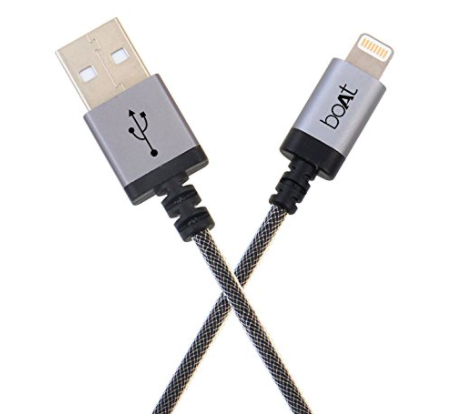 This is also an Apple-certified lightning charging cable for iPhone, iPad and iPod touch. It is 2 meters In length and has an aluminum cable casing to ensure long-lasting durability and reliable charging. It is stress and stretch resistant. It comes with 2 Years Manufacturer's warranty.
Price: Rs. 799
Buy Here: Amazon
5. Wayona Type C to Lightning MFI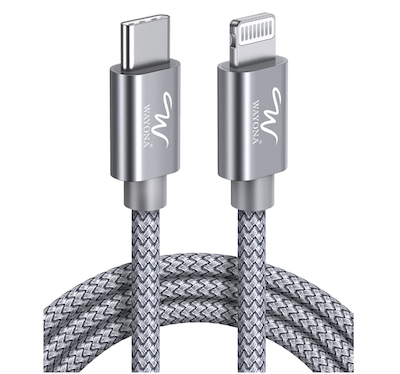 It is also a good MFI-certified Lightning to USB cable compatible with every iPhone, iPad, and iPod touch supporting charging via lightning cable. It is capable of withstanding nearly 15000+ bends in its lifespan. The cable is 1 meter long and comes with 1 year of warranty. It also supports fast charging. The cable uses the newest MFI Certified C94 Chip designed for fast charging. It also boasts a 480Mbps data speed.
Price: Rs. 1967
Buy Here: Amazon
Read more: Best Selfie Sticks for your iPhone
Final Words
I prefer Belkin's lightning cable as it is budget-friendly and offers good quality. AmazonBasics and Anker cables are also good. You can go with any of these Lightning Cables for iPhone added to this list. You will surely get better quality than Apple's original lighting cable offers.
There are several factors you need to consider while buying a good lighting cable for your iPhone or iPad. Here is a list of factors:
Compatibility: You need to ensure that the cable is compatible with your iPhone model. iPhones from the 5th generation onwards use lightning cables. You also check if your adapter has a USB-C port or a USB-A port.
Length: Consider the length of the cable that you need. Do you need a short cable for use at your desk or a longer one for use in bed or on the couch?
Durability: Check the quality of the cable's construction. A high-quality cable will be made of durable materials and withstand wear and tear.
Charging speed: Look for cables that offer fast charging speeds. Some cables can provide quick charging for your iPhone, which can be useful if you need to charge your phone quickly.
Brand: Consider purchasing a cable from a reputable brand that is known for producing high-quality cables.
Price: Lastly, consider the price of the cable. While it may be tempting to go for the cheapest option, keep in mind that a high-quality cable will last longer and be a better investment in the long run.