7 Best Home Theater Systems in India | October 2018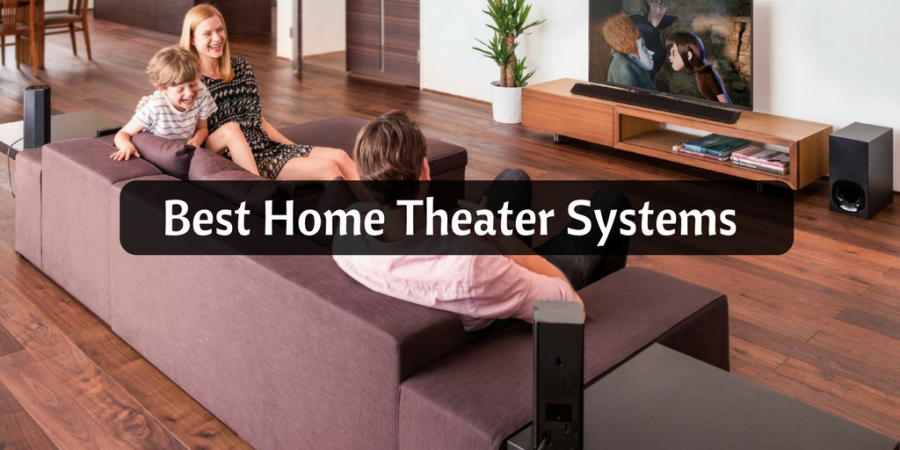 Who doesn't enjoy music and movies in this world? And if the music or movie is running on the best audio devices that would be like icing on the cake. The best Home theater systems are designed only for the music lover and movies lover. They give crisp and clear sound, great bass and a theater-like experience in the home. And in my opinion, one should never compromise on the quality when it comes to home entertainment systems.
For buying a home theater you have to check for every feature from audio techniques to connectivities, from the number of speakers to the power supply and more. Sometimes it hard to choose the best one that suits your home. Your money is important and it should be used on the right gadget. Without a doubt, Sony is one of the most trusted brands in electronics but its home theaters are a little expensive. There are also many other brands also which have good and affordable home theaters.
Up to 50% on Certified Refurbished
Up to 50% on Certified Refurbished
We have done researches and keep in mind about every user's experiences before making this list of best Home theater systems to buy in the year 2018. You can buy any of them with complete trust. But keep in mind that the current trend is the 5.1 home theater system. This home sound system has 3 sound bars, 2 surround channels, and a subwoofer. So, if you have a good budget for buying a home theater, do buy 5.1 home theater system.
Best Home Theater Systems to Buy
This is the list of 5 best Home Theater systems in the Indian market. You can buy any of the best home theater as per your need from this list.
Note: Price listed here may vary from online retailers, as they change every day.
1. 
Sony BDV-N9200W 3D Blu-Ray Home Cinema System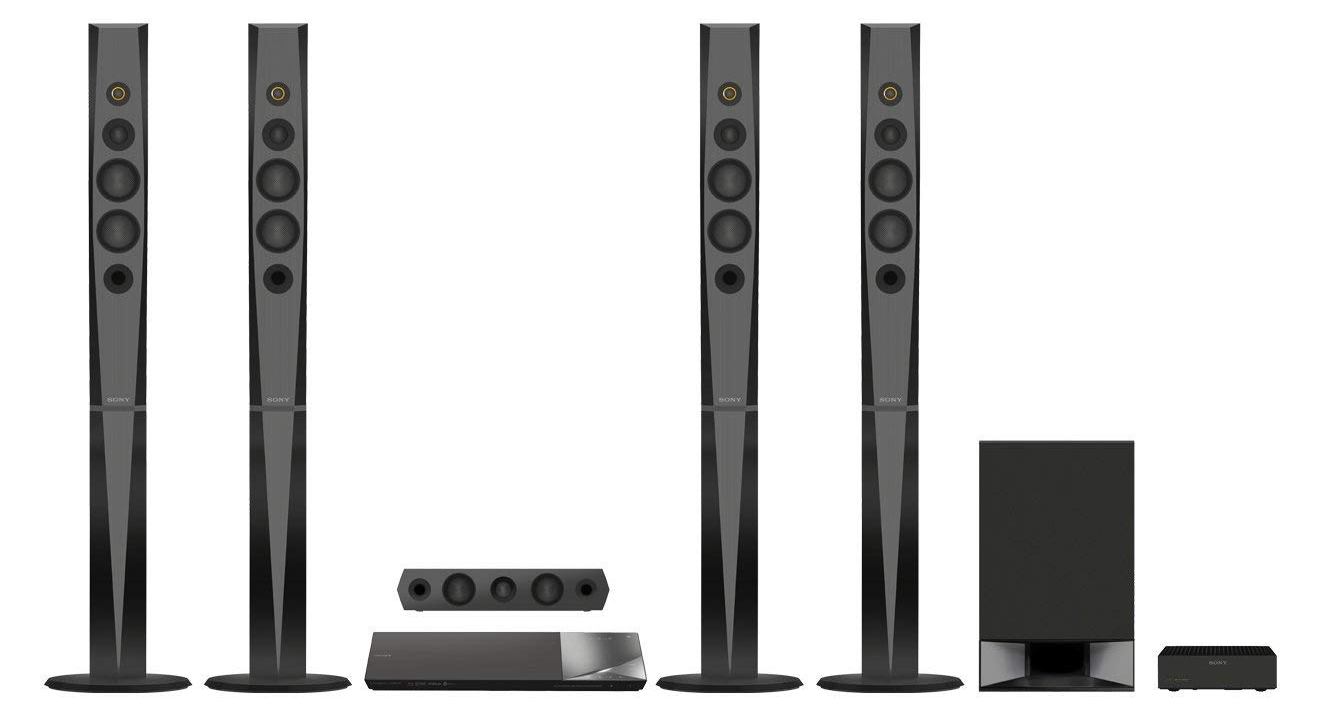 Sony BDV-N9200W is a Premium Home Cinema System with NFC/Bluetooth & Wi-Fi connectivity options. It is a Blu-Ray Home Theatre System with lighting effect which supports multiple file formats and gives a theatre like an experience. The audio output is 5.1 surround sound at 1200W which produces high-resolution audio.
If you can pay more than Rs. 50k for home theater, I will say go for this Sony BDV-N9200W home theatre HT-RT5 5.1. It is one of the best wireless home theater system in the Indian market.
Key Specifications:
Power Output: 1200W
Number Of Channel: 9.1

Surround Sound Systems with lighting effect

High-resolution Audio Capability

Digital Music Arena Mode

Virtual Football Mode

Bluetooth + NFC + USB (multi-format playability) +3D Blu-ray playback

NFC One-Touch Mirroring and One Touch Listening

Control your music with SongPal Mobile App
Price: 57,700
Buy Now: Amazon | Paytm Mall
2. Yamaha Yht-2910 – 5.1 Hd Channel Home Theatre System:
Yamaha Yht-2910 – 5.1 Hd Channel Home Theatre System has stylish and curvy speaker design which looks good in any interior. Its ECO mode operation helps in saving about 20% less power consumption. It delivers powerful surround sound with dynamic bass.
Key Specifications:
Self Reflective System
Inbuilt Digital Amplifier

HD Audio decoding with CINEMA DSP (17 DSP programmes)

4K Ultra HD pass-through for super high-resolution images and 20% less power consumption

YPAO sound optimization for automatic speaker setup

5 Speakers and 1 Subwoofers
Extra Bass
Price: Rs. 38,550
3. Sony BDV-E4100 Home Theater System
Sony BDV-E4100 Home Theater System gives loud audio experience with its two tall speakers and 1000W output. It has a Football mode which recreates the stadium like experience at home. With connectivity options like NFC, Bluetooth, Wi-Fi, you can easily connect this home theater with your smartphone, laptop, tablet, or connect directly to the Internet.
Key Specifications:
Power Output:1000W

Number of Chanels: 5.1

Wireless music streaming with Bluetooth

One-touch listening to play instant music

Audio with oomph

One-touch listening with NFC
Built-in Wi-Fi to easily connect to the internet
Football mode to recreate the stadium experience
Price: Rs. 32,700
Buy Now: Amazon | Paytm Mall
4. Samsung HT-J5100K/XL 5.1 Channel Home Theatre System
Samsung HT-J5100K/XL 5.1 Channel is the Blu-ray Home Entertainment System that designed to deliver deeper and richer bass. It has unique patented Crystal Amp Pro technology which enhances sound quality through its multi-variable feedback of sound signals. It has user equalizer settings that can be accessed on your main TV display. You can personalize your audio and adjust the levels of each frequency band with the help of this.
Key Specifications:
Powerful bass with a big sound boost

Transcendent sound with Crystal Amp Pro

Balance your sound your way

Watch TV in surround sound instantly

Features: Karaoke scoring, fanfare, key control, microphone with music USB record, CD ripping, TV sound, USB recording (Data disc to USB), quick start mode

Connectivity: Anynet+, ARC

FM tuner

Total Power: 1000W
Price: 16,990
Buy Now: Amazon
5. Sony DAV-DZ350 5.1 Micro Satellite

Sony DAV-DZ350 5.1 Micro Satellite with 5.1 channel sound system, adds deeper bass and richer treble to your music or videos. This home theater is fitted with HDMI port that allows you to connect your home theater to your TV or monitor and enjoy your favorite movies in the theater like sound environment. With the BRAVIA Sync, you can connect it to your smartphone; no need to struggle with different remote controls for your TV and home theater.
It has No wifi, No Internet and No aux and RCA. It has wired speakers and optical IN.
Key Specifications: 
Stylish Quartz Monolithic designed 5.1 Channel System

Monolithic-Design 5.1-ch System with DVD Player

Micro Satellite (Fixed / Punched Metal) System
5 Speakers
1 Subwoofers
Digital FM Radio, Sleep Timer

USB Movie Playback (Xvid Home and MPEG-4 Simple Profile)

Connectivity: Bluetooth connectivity, supports only MP3, 

HDMI Output (Upscale 1080p for DVD)

Stylish Quartz design

BRAVIA Sync
Price: 20,990
Looking for a Smart TV with home theatre system? Check this: 6 Best Affordable Smart TVs to Buy in The year 2018
Also, have a look at this list of Best Video Doorbell to keep your home safe from intruders.
6. Philips HTB5580/94 1000W 5.1CH 3D Blu-ray Home Theatre System
Philips HTB5580/94 1000W 5.1CH 3D Blu-ray has Powerful speakers with double bass pipes for great sound. Dolby TrueHD and DTS-HD Master Audio Essential deliver the finest and clearest sound from your Blu-ray Discs.  It has Crystal Clear Sound technique for super clarity and realism. Audio in allows you to connect and play your music directly on your iPod/iPhone/iPad, MP3 player, or laptop via a simple connection to your home cinema.
With Built-in WiFi and Bluetooth, you can connect wirelessly to TV and enjoy movies and music. It has one-touch NFC (Near Field Communications) technology which allows you to connect your home theater any NFC enabled device.
Key Specifications:
Double Bass Sound

Full HD 3D Blu-ray for 3D movie experience

Smart TV to enjoy online services & access multimedia on TV

Connectivity: Built-in WiFi to enjoy your connected media wirelessly, 

Bluetooth and NFC

Dolby TrueHD and DTS-HD for high fidelity surround sound

Unleash your Miracast- certified device content on your TV

Wireless rear speakers for fewer wires across your room

1000W RMS power delivers great sound for movies and music

Karaoke for endless singing entertainment at home
Price: 31,990
Buy Now: Amazon
7. LG BH6340H 5.1 Channel 3D Blu-Ray Home Theatre System

LG BH6340H 5.1 Channel 3D Blu-Ray Home Theatre System is made of Aramid Fiber material which is highly resistant to the external stimulus. It is applied to the unit to minimize sound distortion and deliver clear and precise sound. It has features like smartphone remote app, sound privacy, SIMPLINK, Mute, A/V sync delay (Audio delay), Dimmer, Sleep, Volume on TV, USB direct recording, External HDD playback, TV sound (direct key), Dynamic range control and more.
This home theater can play Video playback formats likes MPEG2, MPEG4 AVC, SMPTE VC1, Divx, Divx HD, MKV, AVCHD, M4V, WMV, FLV, 3GP, MPEG-1, MP4, MOV, VOB and Audio playback formats like LPCM, Dolby Digital, Dolby Digital Plus, Dolby TrueHD, DTS, DTS-HD, DTS-HD Master Audio, MPEG 1/2 L2, MP3, WMA
Key Specifications:
3D compatibility

Connectivity: Wired (Ethernet), DLNA(Smart Share)

LG Smart TV: Premium contents, LG apps

Interface: Audio Input (Optical), HDMI (out), Radio (FM), Ethernet, USB

Bluetooth

disc playability support

Aramid fiber speakers

Private Sound Mode
External HDD Playback
USB Direct Recording
Price: 31,990
Buy Now: Amazon
Worrying about the air pollution?? These best air purifiers help you in keeping your home safe from pollution and germs.
These are the 5 best home theater systems to buy in the year 2018. We hope that your search will end here and in a few days, your home will become the perfect home theater for you. If you know about any other best home theater system that by mistake we missed in this list, do tell us. We will do research and upgrade this list with credit.