10 Best Gaming Mouse Pads
Even if you have a good gaming mouse, it cannot help much until you are not using it on the right surface. This is the reason, I recommend the use of good gaming mouse pads. I wrote an article explaining why you need a good gaming mousepad. In that article, I explained why you need a mousepad and reasons to go with a good one. Mousepads come in a wide range but you should use one suitable for gaming. The best mouse mat for the gamer is one with high sensitivity, Dots per Inch (DPI), and a good palm grid. In competitive gaming, accuracy and reaction matter a lot. A single missed shot could cost the whole match. So, you should prefer having a high-quality mouse surface for consistent cursor movement and accurate tracking. In this article, I am listing the best gaming mouse pads that you need to use a good gaming mouse. In combination, the mouse and mouse pad setup offers an amazing gaming experience.
Also See
Best Gaming Mouse Pads
Find the best gaming mouse pad for yourself here. We made this list of best gaming mouse pads for you.
1. QcK Prism Mouse Pad
QcK Prism Mouse Pad is costly but worth its price. It is attractive and good. Its surface illuminates full range RGB across 12 independent zones that look good. It is a dual-surface textured mouse pad that lets you choose between a premium Hard polymer surface or a micro-textured cloth surface. You can choose any depending on your need for the game. The cable is also positioned on the mousepad's side. So, it doesn't interfere with gameplay.
Price: Rs. 4,499
Buy Here: Amazon
2. Corsair Gaming MM600
Corsair Gaming MM600 is a low cost but good gaming mouse pad. It is Rigid, lightweight, and durable for consistent glide. It also has. The mousepad has two unique surfaces. One is Low-friction and another is high-control to match any gaming style. It has Zero-slip rubberized corners. It measures in at 352 mm x 272 mm and offers a nice tactile feel on the mouse.
Price: Rs. 2,,786
Buy Here: Amazon
3. Razer Firefly Mouse Pad
Razer Firefly Mouse Pad is also a good gaming mouse that looks good and offers a nice experience. It has a solid rubber base and a micro-textured surface. It is suitable for all types of mouse sensors and sensitivity settings. So, all kinds of gamers will find it a good one. It measures 355mm by 255 mm. It also comes with Chroma lighting with 16.8 million customizable color options. These light sync up with your other Razer Chroma enabled devices.
Price: Rs. 4,047
Buy Here: Amazon
4. Corsair MM300 Gaming Mouse Pad
This is the extra-large mousepad to keep your keyboard dead mouse both. It looks really good and comes with a Textile-weave surface to offer pixel-precise targeting. This mousepad is optimized for gaming The stitched edges guard the surface peeling. It also has an Anti-skid rubber base to keep it on the place while you move your mouse on it.
Price: Rs. 2199
Buy Here: Amazon
5. HyperX Fury S Pro
HyperX Fury S Pro is also one of the best gaming mousepads you can buy. It is good for both starters and pros. This mousepad doesn't come with a fancy design, but worth. It has anti-fray stitched edges and Natural rubber textured underside to keep it stable. You get this one in four different sizes including Small, Medium, Large, and Extra large. Select one depending on your choice. This mousepad provides a uniform surface for fluid movement across the pad. It has a soft cloth surface for wrist comfort. Overall a good mousepad.
Price: Rs. 1599
Buy Here: Amazon
6. ASUS ROG GM50 Plus
This is another excellent mousepad made for offering a good gaming experience with comfort. It has ideal dimensions with 3.5mm thickness. The mousepad has special premium cloth offering low-friction and a non-slip rubber base to secure the surface it has been put on. It also features ROG colors and a unique sewn polygonal corner design. The mousepad also features a cable loop to ensure the mouse cable doesn't get tangled. It also has an anti-bacterial coat that promises to eliminate up to 99.9 percent of bacteria.
Price: Rs. 2199
Buy Here: Amazon
7. Logitech G240
Logitech G240 is a soft gaming mousepad offering moderate surface friction for low-DPI gaming. You get improved mouse control. The soft surface also offers wrist comfort. It has a rubber base that keeps the pad on the place while you are using a mouse over it. The mouse pad is durable and can last for 2-3 years easily.
Price: Rs. 1995
Buy Here: Amazon
8. Amazon Basics Gaming Mousepad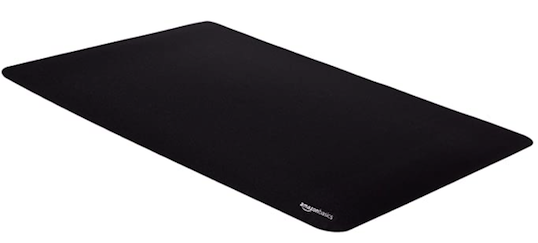 Amazon has also launched a good gaming mousepad under the Amazon Basics brand. If you do not want to spend much and don't need a fancy mousepad, go with this one. Amazon Basics Gaming Mousepad looks like a SteelSeries QcK line of mousepads. It is machine washable and durable.
Price: Rs. 799
Buy Here: Amazon
9. SteelSeries QcK
SteelSeries QcK is also a cheap but good gaming mousepad for those who do not want to spend much. This mousepad has been designed for considering gamers' needs. It comes in multiple sizes and thicknesses. So get one based on your preferences. The mousepad has a high-quality cloth with an optimized surface for precise and consistent glide. The rubber base prevents the pad from sliding.
Price: Rs. 899
Buy Here: Amazon
10. ROCCAT TAITO Control Mouse Pad
This is the cheapest on this list. If you do not have much budget, you can go with this. It offers steady and smooth mouse actions. It offers a comfortable gaming experience. It measures 400 x 320mm with a thickness of 3.5mm. It has a Rubberized backing that provides excellent grip and no-slip security Long life material rugged, stress-resistant build.
Price: Rs. 1,485
Buy Here: Amazon
Final Words
Mouse Pad plays an important role in gaming. This is the reason, you should think about saving money by dropping it. In this article, I have listed the best gaming mouse pads. The cheapest in the list costs Rs. 700 and the costliest costs Rs. 4500. The cheaper one from Amazon is good if you do not want to invest mich. You can select one that suits your budget. In the coming days, I will try to make a list of budget gaming mouse pads. So, do not forget to subscribe to Techlomedia for awesome tech dost.