5 Best Fitness Bands Under 2000 INR | 2019
In this fast-moving life, we are earning money but losing fitness. Due to less time for personal things, most of the people avoid their fitness while they shouldn't. This is the reason, fitness trackers exist. These smart devices make it easier to measure fitness data so that you can work on to improve your fitness. If you are looking for entry-level fitness bands, this post is for you. In this article, I am listing the best fitness bands under Rs. 2000 INR. While these fitness bands are not much feature-rich, they do a decent job.
There are many options in the market, so we have made this list with care. So, you get the best value for your money. Have a look at our list of best fitness bands under Rs. 2000.
Also see: Best Bluetooth Speakers Under Rs. 3000
Fitness bands under Rs. 2000
1. Xiaomi Mi Band 3
Xiaomi Mi Band 3 is the best among all affordable fitness bands available in the Indian market. It comes with a sleek design. The fitness band is 5ATM waterproof, so you can also use it while swimming. There is a 0.78-inch OLED Touch Screen for checking time, steps, calories, heart rate and notifications. It tracks activities including Running, Walking, Cycling, etc. It also features Sleep Tracking & Analysis to tell you the quality of sleep you take.
Mi band 3 features an automatic heart rate sensor, that keeps on checking your heart rate at regular interval. This fitness band shows Call and app notifications. So, you won't miss any important notifications. It also offers sedentary alerts and reminds you to get up and walk.
This fitness band can be paired with Mi-Fit App for setting daily goals, selecting exercise mode and checking the fitness data.
It offers up to 20 days of battery life in one charge.
Price: Rs. 1999
2. Honor Band 3
Honor Band 3 is another god fitness tracker you can buy in less than Rs. 2000. This fitness tracker comes with a sleek and solid build quality. It is also water resistant up to 50 meters that make it swim proof.
This fitness band features a PMOLED Display for displaying time, notifications, and activity data. It tracks your running and gives you information like real-time heart rate, the distance covered, and your pace. You can also link the band to your phone's GPS by downloading the Huawei Wear application.
It also shows smartphones notifications including Call, SMS, Email and Whatsapp notification. So, you are always up to date with notifications. You can reject the calls directly from the band.
It also features an optical continuous Heart-rate monitoring that keeps on checking your heart rate and notifies you if it finds something abnormal. This fitness band also checks your sleep and gives you an idea of light sleep, deep sleep, and REM sleep.
The fitness band offers up to 30 days of battery life.
Price: Rs. 1799
3. Lenovo Cardio 2
Lenovo Cardio 2 is a recently launched fitness band with impressive features. This fitness band features a 0.87-inch OLED display to display date, time and other fitness related data it records. The fitness band is 5 ATM water resistant. So you can use it during swimming, raining, and shower.
It features Detachable strap and straps are easy to remove. You can remove the strap and then plug-in to USB port for charging it.
This fitness band comes with Multi Sports Mode. You can set different sports goal for different sports using the app. It also shows notifications and alerts of calls, SMS and other apps. It can track your sleep and gives you an idea of sleep quality. It also offers a Sedentary Reminder.
It packs 100 mAh battery the promises to give 20 days of battery life.
Price: Rs. 1799
Buy Here: Amazon
4. MevoFit Drive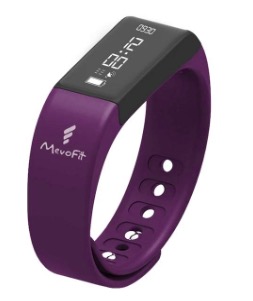 MevoFit Drive is another affordable but feature-rich fitness band you can buy in a budget of Rs. 2000. It is Waterproof and features an OLED display. It can track your steps, Distance, Running, Calories Burned & Active Minutes. It also offers Sedentary Alert and reminders. It has a multi-sports mode, so it can track different kinds of sports automatically.
This fitness band also shows smartphone notifications and you can use it as a remote shutter for your phone's camera. It comes with a good build quality and is IP67 rated for being daily waterproof. You can use it throughout the day.
I published a review of MevoFit Drive in the past. You can read the review to know more about this fitness band.
Price: Rs. 1699
Buy Here: Amazon
5. GOQii Fitness Tracker
GOQii Fitness Tracker isn't just a fitness tracker but a fitness tracker with personal coaching. So the pricing of this fitness band is not the price of this fitness tracker but the subscription of 3 months. You have the option to purchase a subscription for 3 months, 6 months or 12 months.
GOQii Fitness Tracker features an OLED display that shows time, fitness data and notifications. You get notifications of WhatsApp, SMS, email, and call.
GOQii service offers personal fitness coach who keeps tracking your data and gives you advice. There's a GOQii Health Services marketplace that offers curated health related products and services. For this, the company has partnered with different companies. The app provides unlimited cloud storage and keeps health records and test results that can be accessed at any time in the future.
It offers up to 7 days of battery life. This fitness band is compatible with both Android and iOS via GOQii app.
Price: Rs. 1699 for 3 months subscription
Buy Here: Amazon
Recommended Videos