7 Best Fitness Bands Under 2000 INR | 2020
In this fast-moving life, we are earning money but losing fitness. Due to less time for personal things, most of the people avoid their fitness while they shouldn't. This is the reason, fitness trackers exist. These smart devices make it easier to measure fitness data so that you can work on to improve your fitness. If you are looking for entry-level fitness bands, this post is for you. In this article, I am listing the best fitness bands under Rs. 2000 INR. While these fitness bands are not much feature-rich, they do a decent job.
There are many options in the market, so we have made this list with care. So, you get the best value for your money. Have a look at our list of best fitness bands under Rs. 2000.
Also see: Best Bluetooth Speakers Under Rs. 3000
Fitness bands under Rs. 2000
The top two fitness bands are not exactly priced less than 2000 but you get the latest features by paying only Rs.200-300. Obviously, it is worth paying extra. You can also get the card discount most of the time on different retailers. Now have a look at the best fitness bands under Rs. 2000 in India.
1. Honor Band 5
Honor Band 5 is the latest fitness band from Honor and comes with good features. It isn't exactly priced less than Rs. 2000 but you can easily get card discounts. It is priced at Rs. 2199. Honor Band 5 features an AMOLED color display. You can download watch faces from the Watch Face Store. It features SpO2 Monitoring to track blood oxygen saturation levels. It also has TruSeen 3.0 Heart Rate Monitor, TruSleep Technology, and Swim Stroke Recognition. That means it keeps monitoring your heart rate, your sleep, and can recognize four types of swim strokes. It also has 10 fitness modes.
You can pair it with your phone to access notifications from different apps. You can also confirm the music of your phone using the band.
Even after having all these features, it promises up to 14 days of battery life on a single charge.
Price: Rs. 2199
Buy Here: Flipkart
2. Mi Band 4
Mi Band 5 is now available in India but Mi Band 4 is still good enough to buy. This one costs Rs. 2199 but you can easily get a discount to get it in less than Rs. 2000. Mi Band 4 comes with an AMOLED color full-touch display with adjustable brightness. It is 5ATM waterproof, sou can use it throughout the day. The watch has 24/7 automatic heart rating monitoring and sleep tracking. It can also detect your swim style and captures 12 detailed data points. It also tracks calories, steps, sleep, and more fitness data. You can also pick from unlimited watch faces or can add your photo as the watch face. It shows notifications for calls and apps. You can also reject calls directly from the band.
The Mi Band 4 promises up to 20 days of battery life.
Price: Rs. 2199
Buy Here: Amazon
3. Huawei Band 4
Huawei Band 4 is also a good one to consider. This fitness band comes with a 2.5D colorful touchscreen showing you the data it collects along with notifications. You have the option to choose from different watch faces. It has an in-built USB port to plug and charge. Huawei claims up to 9 days of battery backup on a single charge. If I talk about features, this fitness band can track steps, calories burnt, heart rate, blood oxygen saturation, sleep, and workout. You can also use the band to find your phone, control music and as a remote shutter for the phone's camera.
Price: Rs. 1699
Buy Here: Flipkart
4. Realme Band
Realme Band is a good fitness band to consider in the budget of Rs. 2000. Realme Band comes with a 0.96-inch color screen display. You have the option to choose from five dial faces. More can be selected using realme Link app. It features 9 Sports Modes that can track fitness actives such as walking, running, yoga, and more. The band is IP68 Water-resistant.
The band has a 3-axis accelerometer and Bluetooth 4.2 LE. You get Call and Message notifications. It has a built-in PPG optical heart rate sensor to monitor your heart rate. The band can also monitor sleep, calories burnt and steps walked. The built-in 90mAh battery promises 7 to 10 days of battery life.
Price: Rs. 1599
Buy Here: Flipkart
5. Noise Colorfit 2
Noise Colorfit 2 is also a worth noting fitness band you can get in less than Rs. 2000. This fitness band has a display to show you fitness data and time. It fealties a heart rate monotony, sleep monitoring, and notifications. The IP68 body makes it suitable for daily usage. It comes with up to 14 different sports modes and promises up to 7 days of battery life.
Price: Rs. 1599
Buy Here: Flipkart
6. MevoFit Drive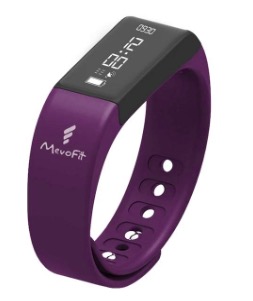 MevoFit Drive is another affordable but feature-rich fitness band you can buy on a budget of Rs. 2000. It is Waterproof and features an OLED display. It can track your steps, Distance, Running, Calories Burned & Active Minutes. It also offers a Sedentary Alert and reminders. It has a multi-sports mode, so it can track different kinds of sports automatically.
This fitness band also shows smartphone notifications and you can use it as a remote shutter for your phone's camera. It comes with a good build quality and is IP67 rated for being daily waterproof. You can use it throughout the day.
I published a review of MevoFit Drive in the past. You can read the review to know more about this fitness band.
Price: Rs. 1699
Buy Here: Amazon
7. Xiaomi Mi Band 3
Xiaomi Mi Band 3 is the best among all affordable fitness bands available in the Indian market. It comes with a sleek design. The fitness band is 5ATM waterproof, so you can also use it while swimming. There is a 0.78-inch OLED Touch Screen for checking time, steps, calories, heart rate, and notifications. It tracks activities including Running, Walking, Cycling, etc. It also features Sleep Tracking & Analysis to tell you the quality of sleep you take.
Mi band 3 features an automatic heart rate sensor, that keeps on checking your heart rate at regular intervals. This fitness band shows Call and app notifications. So, you won't miss any important notifications. It also offers sedentary alerts and reminds you to get up and walk.
This fitness band can be paired with Mi-Fit App for setting daily goals, selecting exercise mode, and checking the fitness data.
It offers up to 20 days of battery life in one charge.
Price: Rs. 1299