7 Best Coffee Machines for Home to Make Perfect Coffee
Is coffee the first thing that you need in the morning to start your day? If yes, then investing in the best coffee machine for home is the right decision. The aroma of freshly brewed coffee in your home has the power to fill your mood with positivity and energy.
Having a home coffee machine is like a blessing for coffee lovers. They can brew their own coffee, on their own coffee maker machine. They can adjust the strength of coffee, flavor, amount of milk, cream, and sweetness according to their taste preference.
Before purchasing a coffee machine, you need to consider a few points:
Types of coffee machine
The capacity of the coffee maker
Power
Durability
Whether you want a grinder in it or not
Type of Coffee Machine:
Drip Coffee Makers: Ease of use, affordability, durability, and the ability to quickly produce coffee 
Thermal Coffee Makers: Same as drip coffee makers but with an insulated thermal carafe
Percolators:  Produces a consistently good and flavorful pot of coffee. Easy to clean than other drip brewers.
Espresso Coffee machines: Best for die-hard espresso lovers. It can aerate (froth) milk.
Siphon Coffee Makers: Also known as vacuum pot coffee makers. Very delicate and time taking in brewing each pot of coffee but produces great-tasting coffee.
French Press Coffee Machines or Press Pot: No electricity required. Easy to use, easy to clean, and travel-friendly. It uses a mesh metal filter that allows all the coffee's flavor oils trapped into the cup.
AeroPress coffee maker: No electricity required. Makes smooth espresso-like coffees. Simple to use, easy to clean, and travel-friendly.
Cold Brew Coffee Makers: No electricity required. Produces a brewed coffee that is smooth and low in acidity. It can be used poured over ice or heated like a regular coffee.
Moka Pot Coffee Makers or Camping Coffee Maker: It is used over the stove or fire. Produces a thick, rich, and flavorful brew.
Vietnamese coffee maker: Produces sweet and cold coffee over ice. It is a small steel filter. Place coffee grinds and pour hot water over them. Collect filtered coffee from the bottom and milk, sugar, and ice as per your taste.
So, these are the types of home coffee machines. Now, it will be easy for you to choose the type that you need. I am making the list of Best coffee machines for home with their types. All of these are best in their types in India. I am including coffee machines from every price segments. These are best in their price range. You can go with the one that suits your coffee type and your budget.
Best Coffee Maker in India
| | | | |
| --- | --- | --- | --- |
| Name | Type | Price | Buy Here |
| DeLonghi EC685.M | All in 1 Espresso Machine | Rs. 23,011 | Buy Now |
| Coffeeza Lattisso | All in 1 Espresso Machine | Rs. 16499 | Buy Here |
| Keurig B44 | All in 1 Coffee Machine | Rs. 11109 | Buy Here |
| Tecnora New Classico TCM 107 | Espresso & Cappuccino coffee maker | Rs. 8495 | Buy Here |
| Morphy Richards New Europa | Drip Coffee Maker | Rs. 4196 | Buy Here |
| Philips HD7431/20 | Drip Coffee Maker | Rs. 3449 | Buy Here |
| InstaCuppa French Press | French Press or pot Press | Rs. 1599 | Buy Here |
List of Best coffee machines for home. This list will make your search easy as the coffee makers in India listed here are listed with their types. So, it will be easy to search for home coffee machines as per your taste buds.
1. DeLonghi EC685.M
The DeLonghi EC685.M is our best pick in this list of best home coffee makers. This coffee machine can make espresso, Cappucino and dispense hot water. It has an advanced in-built cappuccino system that mixes air, milk, and steam and delivers a creamy and frothy cappuccino. It has authentic 15 bar pressure for the perfect Italian espresso that you will definitely love it. The coffee machine comes with a 3 in 1 filter to provide every serving of espresso pods for single shot and double shots.
This machine has No Grinder. So, you have to put grounded coffee in the aluminum filter holder. It can give 1 or 2 shots of espresso.
Key Specs:    
Can make espresso, cappucino and dispense hot water
Capacity: 2 cups
Thermo block technology
Water level indicator
Power: 1350-Watt
On /off button with automatic stand by
Removable water tank and drip tray
Price: Rs. 23,011
2. Coffeeza Lattisso Coffee Making Machine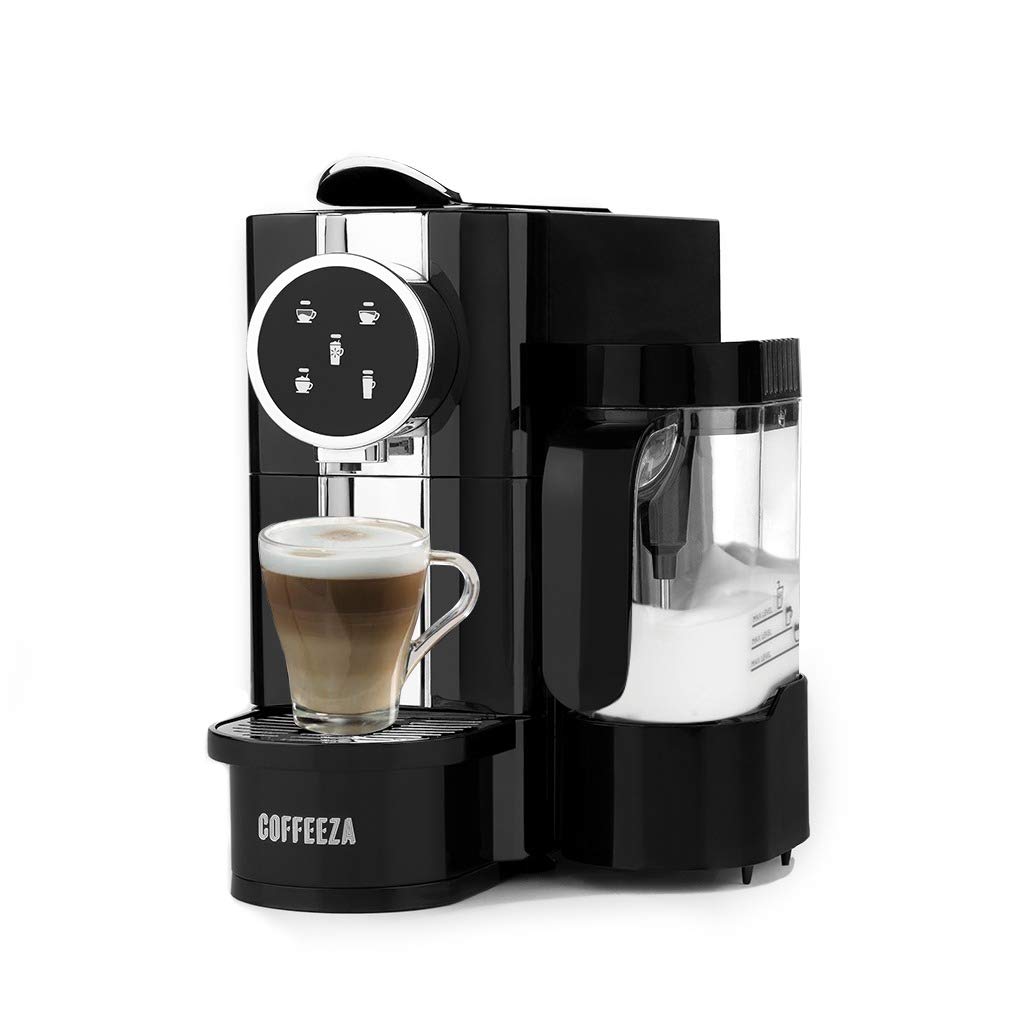 The Coffeeza Lattisso Coffee Making Machine brews the perfect crema and flavor of the coffee in just 30 sec so that you can enjoy barista-style coffee in-home at any time. The machine dispenses coffee at min 70 degrees Celsius of temperature.
If we talk about the design of this coffee machine, it has an elegant and modern design that looks attractive in the kitchen. It includes milk frother.
Key Specs:
Compatible with Coffeeza and Nespresso Original coffee capsules pods

Can make Italian Espresso, Cappuccino, Latte, Ristretto, Lungo, Cold Coffee beverages

19-bar Italian pressure

Milk Frother Included
Price: Rs. 16499
3. Keurig K-Cup Home Brewer
The Keurig B44 Single Cup Brewer or Keurig K-Cup Home Brewer is the home brewing system that offers a blend of styling and convenient features.  It can make coffee, tea, iced beverages and more. The machine is easy to brew a cup of coffee every time with the K-Cup Brewers.
This coffee maker takes max a minute to brew a cup of coffee. It has a 48-oz. removable water reservoir which can hold up to eight cups before refilling. The removable drip tray makes it easy to clean. The Keurig coffee maker is easy for everyone to brew a perfect cup of any beverage.
Key Specs:
Single-cup brewing system

Choice of 2 cup sizes: 5.25oz and 7.25 oz

Can make: coffee, tea, iced beverages and more

Uses patented K-Cups

no messy grinding or clean up

brews in 1 minute

Removable 48-ounce water reservoir

removable drip tray

Power output: 2000 watts
Price: Rs. 11,109
NOTE: The above three are expensive coffee makers but the best in the market. They are good at making any kind of coffee. If you want to choose a specific type of coffee maker or cheap coffee maker then choose from the list below.
4. Tecnora New Classico TCM 107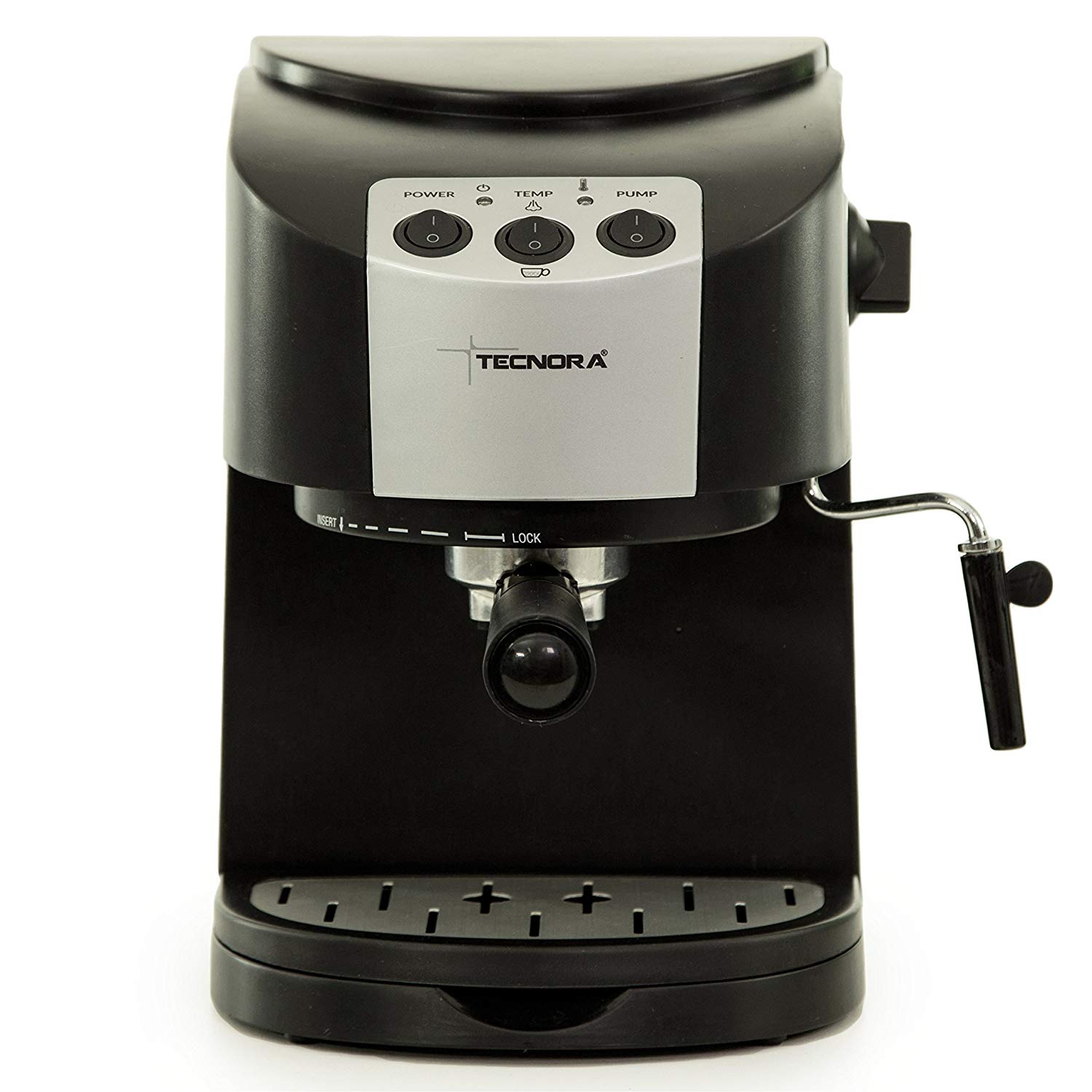 The Classico 107M is the advanced version of the model – the Classico 106M. It has a sleek, compact, and lightweight plastic body. It can make Cappuccino, Latte and Espresso Coffee.
This entry-level espresso maker comes with 1050 watts of power. The 1500 watt power boosts the boiler efficiency and also provides a greater consistency of steam to froth milk for that creamy latte and cappuccino.
It has a single boiler thermoblock which ensures the correct temperature setting that will not overheat or burn your coffee. It switches between two temperature modes temperatures for brewing coffee (87 – 91 degrees) and preparing steam (95 degrees).
It has a smart auto switch-off feature that prevents overheating and turns the machine off automatically in 25 minutes.
Key Specs:
Can Make:   Cappuccino, Latte, and Espresso
15-bar Electromagnetic Solenoid pump
Smart auto switch-off feature
Power:  1050 watts
Built-In Steamer
Price: Rs. 8495
5.
Morphy Richards New Europa 
The Morphy Richards New Europa is an 800-Watt coffee maker which can make Espresso and Cappuccino. It is equipped with a steam-control knob and coffee-strength selector. It has an overheat protection system for safety that automatically protects the machine in the event of overheating. The removable drip tray in it is for easy cleaning.
Key Specs:
Makes espresso, cappuccino, and latte coffee

Capacity: 4 cups of coffee

Steam and coffee strength selector.

Overheat protection

Removable drip tray

Power: 800 watt
Price: Rs. 4,196
6.
Philips HD7431/20
The Philips HD7431/20 is a 760W coffee brewing machine that is specially designed for brewing 2 up to 7 cups of coffee (maximum 0,6 liter) at home. The aroma twister circulates the coffee inside the glass jug for an optimal taste.  This coffee maker can brew black coffee. You can add milk after if you don't want to drink strong coffee.
There is no grinder, no frother, and no milk storage in this Phillips coffee maker.
Key Specs:
Can brew expresso. You can add milk after brewing

Capacity: 0.6 liters (

2-7 cups)

Brewing Time: 10 minutes

Drip stop 

Ease of cleaning

dishwasher-safe parts

Non-slip fee and illuminated power switch

Detachable filter holder and drip-stop

Power: 700 watts
Price: Rs. 3440
7. InstaCuppa French Press Coffee Maker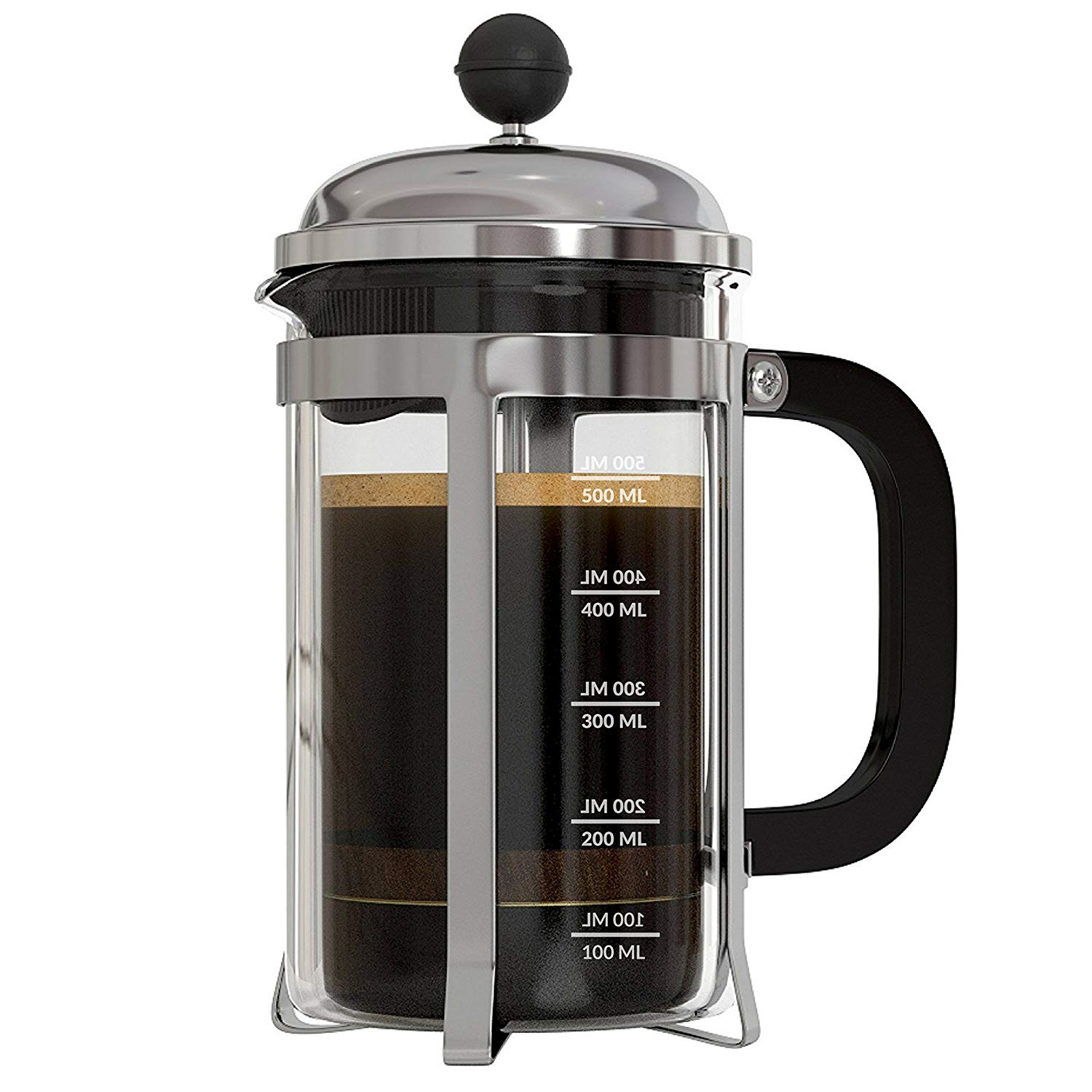 The InstaCuppa Coffee Maker is a French Press or press pot small coffee maker that doesn't require electricity to make coffee. Therefore, you can carry this coffee pot during travel. It has a measurement in the pot that helps in measuring the water level. With this press pot, you can brew your coffee to perfection in less than 4 minutes.
Key Specs:
Can make: french coffee

Measurement markings

4 part superior filtration system

Made from premium grade 18/8 stainless steel and borosilicate glass carafe

Travel-friendly
Price: Rs. 1599
If you want a smart, app-enabled hot and cold coffee maker then you can buy NESCAFÉ É Smart Coffee Maker/Machine. It Also work as a travel mug. You can enjoy your coffee on the go as it is 100% leak & spill proof mug
Read More, List of Kitchen Gadgets That can Make Your Task Easy
These are the best coffee makers that you can buy for your home. If you are a coffee lover then you can buy any of these coffee machines for home and enjoy coffee at home. This can save a lot of money that you spend in CCD or any other coffee house. You can choose any type of coffee machine that suits your taste.