10 Best Music Streaming Apps for iPhone
Choosing the best music apps that suits your choice is really a stressful task, that too when you know that you have to pay for its subscription. Although there are some music apps that are available free of cost but for a better experience, one has to subscribe to some related services.  Now we have 4G data access and high-speed broadband option. So, streaming services are popular. Most of the popular apps allow users to download songs for offline access. SO, you can enjoy music even if you are not in range of active data connection. There are lots of music streaming services offering a big portfolio of songs. If you are not sure what to try, here is the list.
This article will help you in picking the music streaming service that depends on your taste. Here is the list of best streaming music apps for iPhone. You can download any of these apps to enjoy music on the go.
Best Music apps for iPhone
1. Apple Music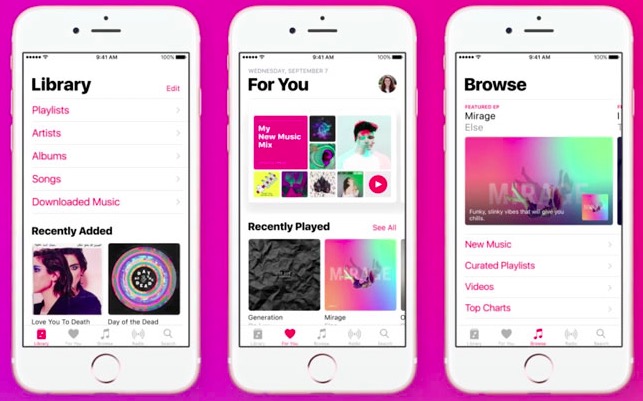 Apple Music is Apple's first music streaming service the offers you complete access to Apple's large Music library. Now it is the primary service among Apple users. The app is available for Android as well and offers over 45 million songs. It also includes custom playlists and radio shows. Apple even offers personalized music experience to the users by asking genre and favorite artist. It also keeps track of your listing habit to give you suggestions on what you will like. Subscription starts at $10 a month for individuals, 5 for a Student sub and a $15 for Family. You can also upload 100,000 songs to Apple's servers for listening.

2. Google Play Music
The Google Play music not only offers more than 30 million songs but it also lets you add around 50,000 of your own songs to its service. You can also build your own playlist in it. It has one more interesting feature that is to download songs in your device for listening offline.
It has 30 days trial period to test the service and after that, for subscribing this music app you have to pay $9.99 per month.
Download Google Play Music iPhone app
3. Gaana Music
Gaana Music is one of the popular music streaming apps in India. It is also available for iOS devices. You can enjoy a big portfolio of songs from different languages. It offers over 30 million songs, personalized playlists, support for 3D Touch and more. It also has a section for Non-stop Radio and 10 Radio Mirchi stations. It also has dedicated sections for Bollywood Songs, Ghazals, Romantic Songs, Bhajans, and Dance Songs.
4. Wynk Music
Wynk Music is another popular music streaming app offering songs for every mood. It has over 2.8 million songs spanning Indian and International music. You can even download songs from online. It offers several regional language songs as well. If you re Airtel user, you will get Wynk Music subscription for free with your plan. So, try for sure.
5. Amazon Music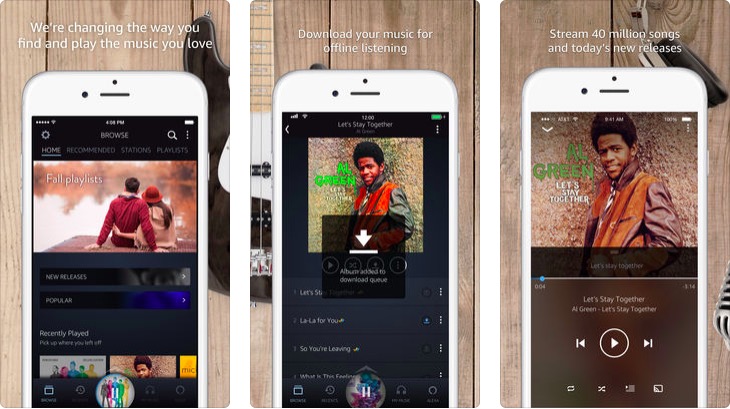 Amazon Music is Amazon's popular music streaming service that comes with a big portfolio of songs. It offers over 40 million songs, curated playlists and stations. You can also download songs to listen to offline. You can also use Alexa for hands-free experience. If you are a Prime member, you can enjoy unlimited access to Amazon Music.
6. Saavn Music & Radio
Saavn Music & Radio is also a popular app among users. It has 40 million Bollywood, English, Hindi, and Indian regional songs as over. This app also allows you to download songs and list to offline. You get high quality music streaming with no ads and no skip limits in premium subscription. But you can enjoy songs with ads even without pay.
7. Hungama Music
Hungama Music is also a similar kind of music streaming app service with over 10 million songs. You have songs from various genre and artists. You also get online read service. In premium service, you get ads free experience and HD streaming. You get songs from Indian & International artists. You can create playlists depending on your interest.
8. Spotify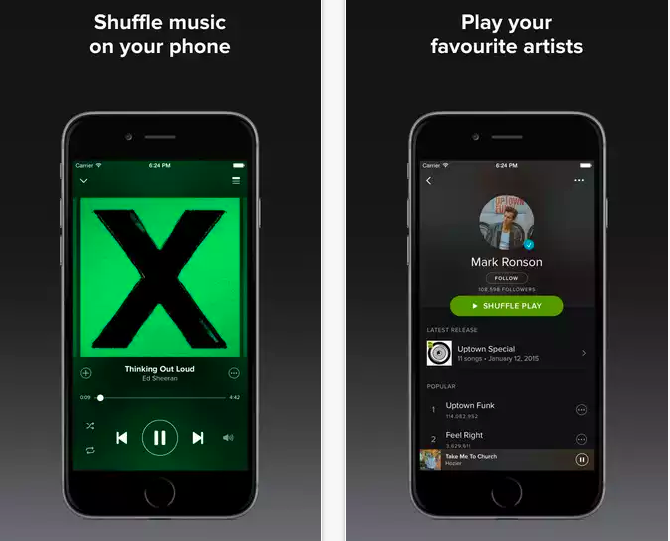 Spotify also offers over 30 million songs with offline music play option and have playlist in shuffle mode. It has a userfriendly interface with shuffling and browsing feature in a free version.
In its premium version that has the cost of $9.99 per month, you can play songs, any time on any device with no ads. You can listen offline music and have better sound quality.
9. Pandora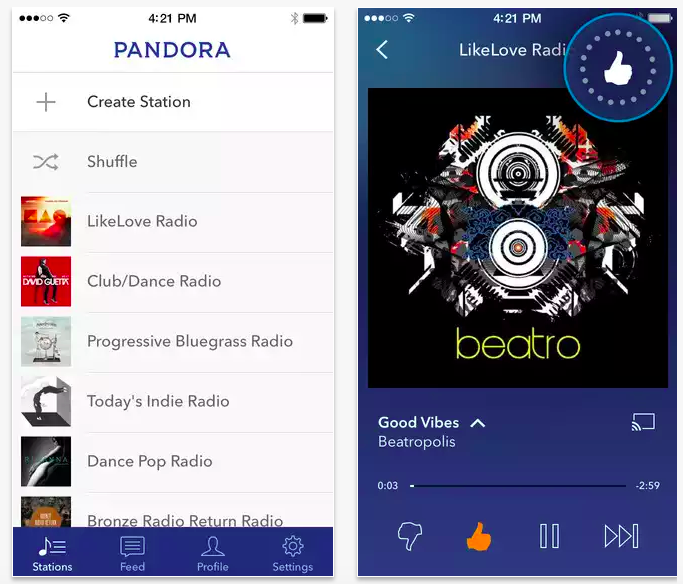 Pandora is serving iPhone users for almost a decade and still, it is one of the best music streaming apps. You can just enter the favorite music, artist, genres etc and rest work it will do.
In its updated version there are some unique features like a sleep timer and alarm function. It has 40 hours per month listening limit from the mobile app.
It gives effortless music that too in free of cost.
10. SoundCloud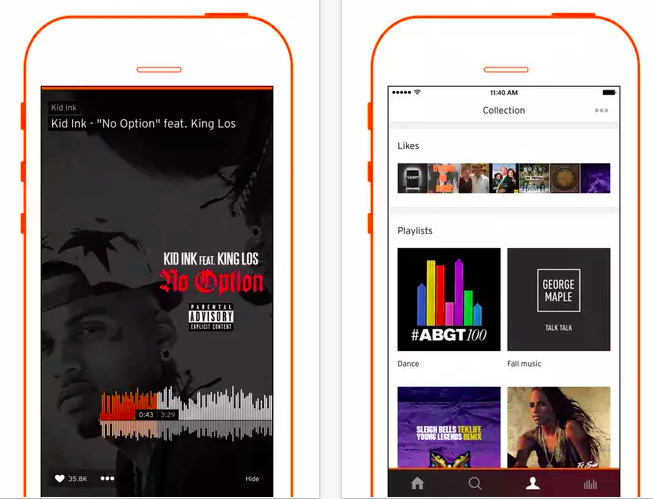 SoundCoud is one the completely free music streaming apps for iPhone. You can make your own remixes and can findout DJs and unheard tracks by popular artist.
It has more hip hop, rock, electronic, classical etc. categories of songs. You can play, pause and skip songs from the lock screen. You have to login and register with SoundCloud with Facebook and Google+.
The SoundCloud is available for free.
Download SoundCloud iPhone app
Final Words
I have included most of the popular music streaming services for iPhone. I included services that primarily works in India. Spotify is not yet available but that will soon be available as it has already announced its entry to India. Apple music is the default music service that comes with iPhone. You just need to purchase the subscription. If you do not want that, you can go with alternate options.
Hope you enjoyed this article on Best Music apps for iPhone. Do tell your favorite iPhone music screaming app in the comments.
Recommended Videos