Tech giants created many creative apps and software to bring painting from paper to digital platforms. Now, many artists use digital technologies to paint or draw on tablets, desktops, and smartphones and are knowns as Digital Artists.
Did you use MS paint for drawing in your childhood? If you enjoyed working in MS World, you were an artist from childhood. Whether you are a beginner or an experienced digital artist, illustration apps or drawing apps help you create your best artwork.
The best drawing app offers powerful drawing tools, millions of color options, special effects, the ability to create vector images or computer graphics, and 3D models. There are tons of apps for digital artists but choosing the right one based on your need and device is important. Therefore, we curated this list of the best illustration Apps for you.
Best Drawing and Painting Apps
These best drawing apps to turn your smartphone or tablet into an amazing digital art studio:
1. Affinity Designer (All Platform App)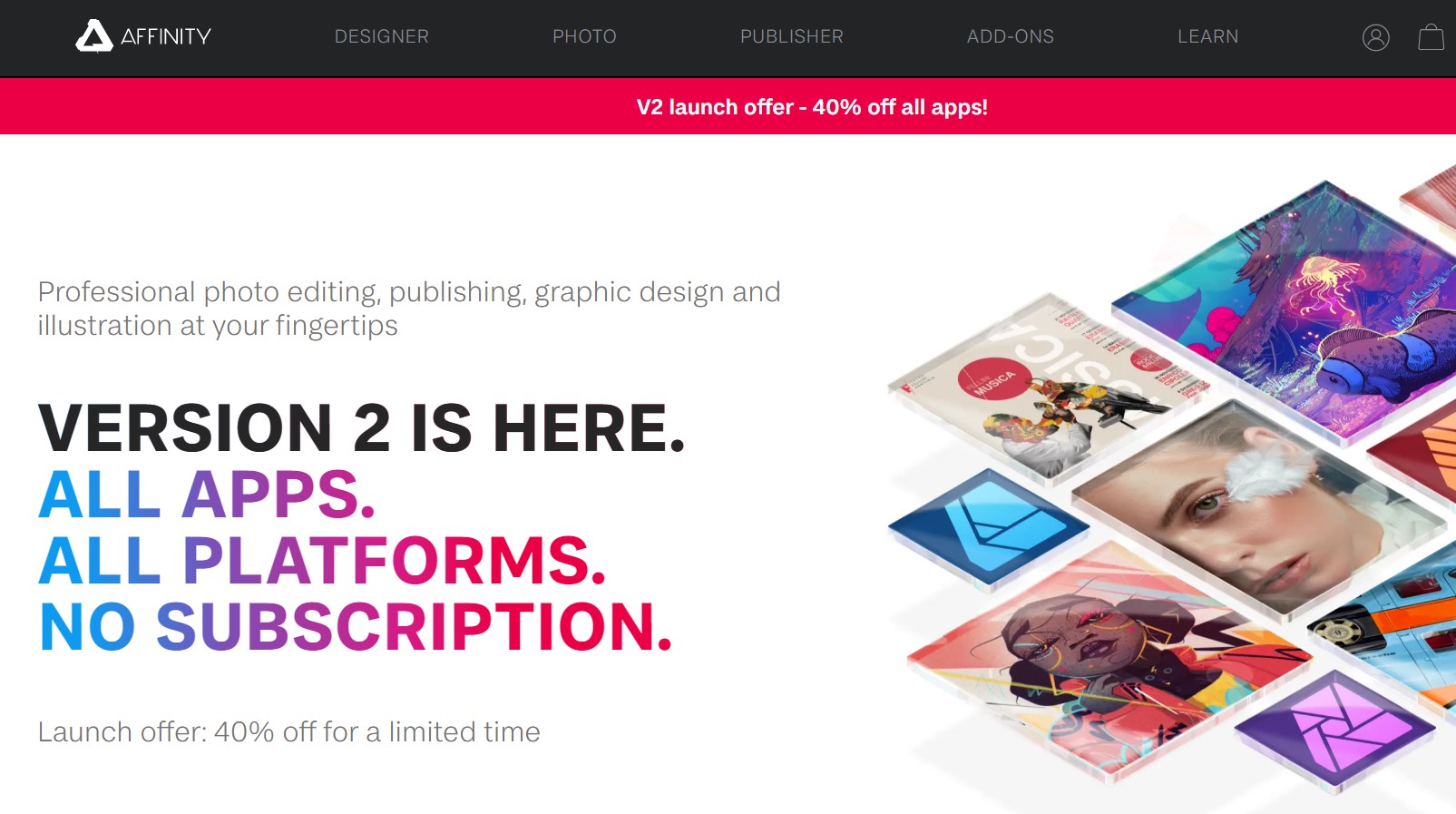 Affinity designer successfully made its way into illustrators' hearts and took a significant market share of Adobe. You need to buy a few items and tools from the aftermarket in Adobe but this app is fully-featured.
Affinity Designer is a vector graphics software specially designed for professional illustrators, digital artists, web designers, game developers, and other creatives. One can create high-quality concept art, paintings, print projects, logos, icons, UI designs, mock-ups, edit photos, and more with the help of this app.
It is a responsive and fast app for digital artists that can easily handle a number of objects without any lags.
The Company recently launched Affinity Designer Version 2 which is for all platforms with no subscription model. It is available for Windows, macOS, and iPad. You can create unlimited unique designs, from concept art to logos and web mock-ups with just a one-time payment for a lifetime.
Download: Affinity Designer
2. Procreate (iPad)
The Procreate gives digital artists a platform to create expressive sketches, beautiful paintings, attractive illustrations, and appealing animations. For just $9.99, you can get a complete art studio that has amazing features and tools.
This app has ultra-high def 4K canvases, up to 128 layers, more than a hundred customizable brushes, 250 levels of undo and redo, and many more. You can also add a personal touch to your artwork in this app. Now, Procreate is updating the app and releasing Procreate 5.3 version with Apple Pencil hover feature on the all-new iPads.
Download: Procreate
3. Adobe Fresco (Windows, iOS)
Adobe Fresco is a drawing and painting app for artists, illustrators, animators, and sketchers that gives a completely natural painting and drawing experience. You can draw with both vector and raster brushes, can work with watercolors and oils, and even build up paint thickness for a 3D effect with the help of this app.
The app has features like motion tools, liquifying effects, text layer support, magic wand color tools, and many more.
The cloud documents features give you the freedom to switch your devices and your work will automatically sync. Your work will be auto-saved in the cloud when you're online.
If you are using this tool on an iPad then you can use Adobe Fresco and Photoshop together to create beautiful artwork by combining images, retouching artwork, adding text, and creating with layers.
Download: Adobe Fresco
4. Sketchbook (Android, iOS, macOS, Windows)
Sketchbook is a sketching, painting, and drawing app that can help you make quick sketches to fully finished artwork. It has a clean interface and smooth movement of brushes and pens. It feels like you are drawing on paper with pencils and sketches. This app becomes popular due to its professional-grade feature set and highly customizable tools.
This is a free app with an in-app Purchase feature. This means you don't need to purchase this app. You can practice on the free version and buy professional features when you need them.
Download: Sketchbook Android | Sketchbook iOS
5. Adobe Illustrator Draw (iOS, Android)
Adobe Illustrator Draw is a more comprehensive vector design app that helps you in creating logos, icons, illustrations, infographics, and graphics. The app has 3D effects feature to turn 2D art into 3D with effects, lighting, and textures. It is one of the best illustration Apps that you can use for drawing.
It has faster feedback and sharing features to review and share thoughts faster. The app has built-in tutorials, tool guides, and creative inspiration for growing skills.
6. Astropad Studio (iOS)
The Astropad Studio app is an app that turns the iPad into a video graphics tablet. It allows you to connect your desktop wirelessly to your iPad and make it a drawing tablet. This app works smoothly with no lag if you have plenty of memory and a clear system.
Download: iOS
7. ibis Paint X (Windows, iOS, Android)
ibis Paint X is a popular drawing app that has more than 15000 brushes, 1300+ fonts, 80 filters, 46 screen tones, more than 7600 materials, and 27 blending modes. It has features like stroke stabilization feature and various ruler features like radial line rulers or symmetry rulers, and clipping mask features. This app is basically for cartoon creation.
The app has OpenGL technology that helps in giving a smooth and comfortable drawing experience. You can also record your drawing process to make a video of it and share it with other users.
8. Pixelmator Pro (macOS)
Pixelmator Pro is an easy-to-use image editor which is specially designed for Mac. It has more than 59 image editing tools for editing photos, drawing illustrations, creating designs, and painting digital paintings.
The app has a collection of pro-grade color adjustments, machine learning-powered tools, a Repair tool, and an AI-powered Remove Background feature that makes it the best in the market. It has around 200 pre-created templates to easily create amazing designs.
Download: iOS
9. GIMP (Android, Windows, iOS)
The GIMP (GNU Image Manipulation Program) is a free cross-platform image editor software that is available for GNU/Linux, macOS, Windows, and more operating systems. This illustration App is for graphic designers, photographers, illustrators, scientists, and any digital artists who want to enhance their productivity.
Download: Android | Windows | iOS
10. Concepts
Concepts by TopHatch is the sketch app that gives you a space to plan and create perfect artwork. It has dozens of realistic pens, pencils, and brushes that work on pressure, tilt, and velocity to draw comfortably. It has features like a COPIC color wheel, editable vector-based sketching, unlimited layers with adjustable opacity, and many more.
The company claims that popular platforms like Disney, Playstation, Philips, HP, Apple, Google, Unity, and Illumination Entertainment use the concepts to make their ideas a reality.
11. Infinite Painter
The Infinite Painter is a painting, sketching, and drawing app designed for Android, iPad, and iPhone. It has an easy-to-use, user-friendly, and intuitive interface with Time-lapse recordings sharing feature.
The app has hundreds of built-in brushes, more than 100 customizable settings, real-time color adjustments, and assign finger functions. Users can also add multiple images for reference.
12. MediBang Paint
MediBand Paint is a painting software with an easy interface. It contains a number of brushes ranging from Pen to Watercolor, 1000 tones, textures, backgrounds, and comic book fonts for users to make their work easy.
Your work can be easily shared with others which allows you to work together. You can also upload your work to the MediBang art community and share it with others.
Read More, Best Drawing Apps for Android
These are the best illustration Apps for a digital artist to use to make digital art. You can try any of these based on your need and device availability. If you have any doubts please ask us in the comments section. We will be happy to help you.