Top 10 Download Manager Apps For Android
We daily download various kinds of files from the Internet. But Android only lets you download files. It does not have anything to manage your downloaded files, resume downloads, or any other feature. Android also doesn't let you download Music files on a browser and it also prevents downloading of YouTube videos. But there are various nice download manager apps for Android devices which let you manage your downloads on an Android smartphone or tablet. These download managers let you manage your download, pause/ resume downloads, and many other things. A good download manager also comes with lots of other features to improve your file downloading experience. In this post, we are listing the best download manager apps for Android devices.
Also see: Best Free Android File Manager Apps
Best File Download Manager Apps For Android
Here is the list of the best download manager apps for Android. You can download any of these to manage your downloads on your Android phone.
1. Advanced Download Manager
Advanced Download Manager is a powerful download manager Android app which helps you in managing downloads on your Android device. It can help you in boosting downloads by allowing up to 3 parallel downloads. It also uses multithreading with 9 parallel threads to improve download speed. It also supports resume for interrupted downloads. So, you can download large files without thinking twice.
It supports major browsers and even comes with a built-in browser called ADM. This browser supports multiple tabs and provides advanced media download capabilities. It has a clean interface and allows you to choose from several different download folders depending on the file type. It also supports larger files for download.
2. Download Manager for Android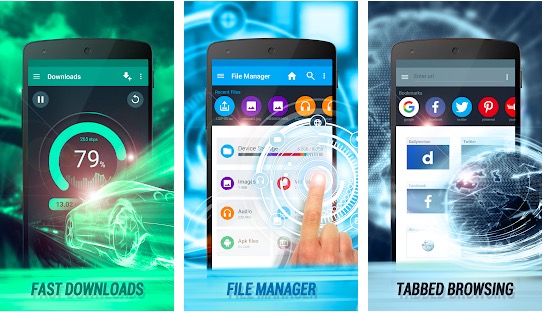 Download manager for Android is another nice download manager app for Android devices. It supports video download and other known filetypes. It can even download videos from Facebook and other websites. It also improves download speed up to 3 times. It also has the ability to spoof the browser's User-Agent string. It also supports HTTP authentication to download files behind the login.
It also works with all popular Android browsers. The app even allows you to pause or resume any download. It also shows a downloading progress bar with speed. You can set downloaded music as ringtone or downloaded image as wallpaper, lock screen, contact avatar, and WhatsApp avatar.
3. Turbo Download Manager
Turbo Download Manager is a reliable download manager app for Android. Even if you have low bandwidth, it works well. It works fine with most of the browsers available for Android. It can boost your download speed by using multiple connections. It can run up to 10 multiple threads for faster download.
You can pause or resume the download anytime depending on your choice. It also allows you to download files directly to your SD card. You can access up to three parallel downloads. It also uses MD5 hash validation to make sure your files are not corrupted.
4. Free Download Manager
Free Download Manager is also a good and popular download manager app for Android. The app lets you download large files, torrents, music, and videos. You can also organize downloads, adjust traffic usage, control torrent priorities, and more. It also supports resume for broken downloads. It supports various video formats, audio formats, file formats, and split downloads. You can also schedule file downloads at a specific time. It also supports auto-downloads when the phone is connected to a wifi network.
5. Download Accelerator Plus
Download Accelerator Plus is also a good download manager app for Android. It offers nice features like a built-in browser with multiple tabs, the auto-resume capability of interrupted downloads, download to the SD card, and more. It can auto-catch downloadable links wherever you copy them to the clipboard or open the download link.
Not just managing your downloads, it can also offer a download speed booster. It also allows you to keep a backup of your downloaded data if you want. The app is available in several languages as well.
6. Download All Files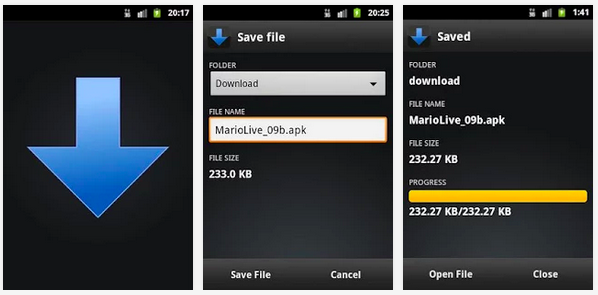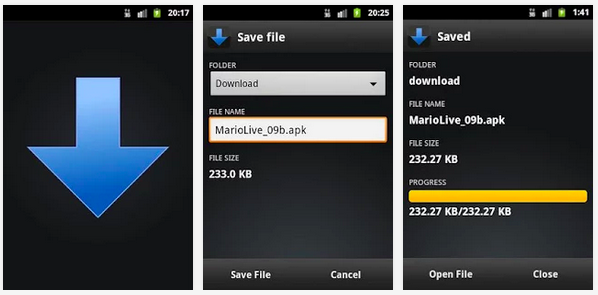 Download All Files Android app lets you download all kinds of files on your smartphone. You can also download files for which you receive the "Content not support" error message. The free app is ad-supported but you can buy the pro version to avoid ads. It allows you to Prioritize your downloads with a download queue, Increased download speed, Continue disconnected downloads, and Pause/resume your downloads. It also lets you save files to the SD card.
7. Loader Droid
Loader Droid download manager is another good download file manager app for Android. It also offers all those features which you wish to have in your download manager app. It supports resume, pause, and other features. It also faster downloading by splitting the download into parts. You can try this app. It intercepts links from your Android Browser and other applications. When the connection is lost, it automatically pauses the download and resumes it when the connection is back. It also offers download scheduling.
8. Fast Download Manager
Fast Download Manager is also an excellent download manager app for Android devices. You can use this app to download files in a better way. It automatically detects download links on web pages and you can also add download links manually. It supports the download of all kinds of files and it can even download multiple files at the same time. It keeps downloading files even when the app is running in the background.
Fast Download Manager for Android is free and lightweight. It is an ad-supported app and supports different languages.
9. 1DM
1DM is one of the most advanced and fastest download managers available for Android. The advantage of this download manager app is the torrent download support. It claims to offer up to 500% faster than normal download. You can always pause and resume the download. The app keeps running in the background to keep your downloads active. There is also a feature called Smart download. If you disable it, it will increase the battery life. It keeps Upto 5 simultaneous downloads and supports up to 32 parts to accelerate downloads.
You can use this download manager to download music streaming, videos, movies, torrents and more. It also supports the auto-download of music, video, and photos from different social media apps.
10. GetThemAll
GetThemAll is also a smart download manager app for Android. It comes with integration with the web browser. It also supports fast downloads and downloads in the background. You can also transfer downloaded files to Google Drive if you want. When you open the web page it shows a small arrow button in the lower right corner. Clicking on it will show you all available files ready to download.
This is a free app with no in-app purchases.
Final Words
This is the list of best download manager apps for Android. These Android download manager apps not just offer easy download file management, but you can also boost download speed and save your time. You can go with any of these given apps.
If you know any other good download manager app, you can always leave the link in the comments section below.