5 Best Call Recorder Apps For iPhone
One of the most obvious problems a new iPhone user face is in call recording. If you have been using Android for years and just switched to an iPhone, you will find it surprising that there's no automatic call recording option for iPhone. Neither in iOS nor there's an app that lets you record calls automatically. If you are looking for best call recorder apps for iPhone, you only have a handful of options and these apps also have their own limitations. So, there's nothing automatic.
Apple has never added the call recording option just to comply with local laws. In several regions, it is illegal to record calls until both parties give their consent. If you are thinking to record a call check your local laws to avoid being in trouble.
Now let's get into the call recording options for iPhone. There is no app for automatic call recording. The iOS platform also gives no way for apps to access calls and records them. So, apps rely on 3-way calling. You have to manually dial a call recording number, then keep it on hold to dial the caller whose call you want to record and finally merge both the calls. So you gave a conference call where the third member of call is actually a call recording server recording your calls. I already wrote a similar article with the title How to record calls on iPhone, but decided to write a variant of that for Techlomedia readers.
It is also worth to note that not all operators allow 3-way calls. So, check with your operator before download or purchase any of these apps.
Also read: Best Automatic Call Recorder Apps For Android
Best call recording apps for iPhone
Here is the list of best apps for recording calls on iOS.
1. Rev Call Recorder
Rev Call Recorder is the most popular and free call recording app for the iPhone. The app is free but charges if you want the transcription service. The transcription service claims to send you the transcription within 12 hours via email. The app also claims that they have over 100,000+ paid customers who use their transcription service.
All the call recordings are saved on the company's server and they promise to give your data full privacy. It seems they also have a secure infrastructure because we never heard of any security issue or data breach.
As I said, this app uses a three-way call for recording your calls. If you want to record an outgoing call, you have to open the app and tap the Start Recorded Call option. Then select Outgoing Call. It will also show you a brief tutorial if this is your first time. If you want to record an incoming call, accept the incline call, open the Rev Call Recorder app and follow the par Start Recorded Call > Incoming Call.
There is no limit on how long you record a call and how many recordings you make. You can share and export your recordings without restrictions.
The only drawback of this app is its limited region availability. The app is only available in the United States. If you are living in any other country, you have to check the other apps added here.
2. TapeACall Pro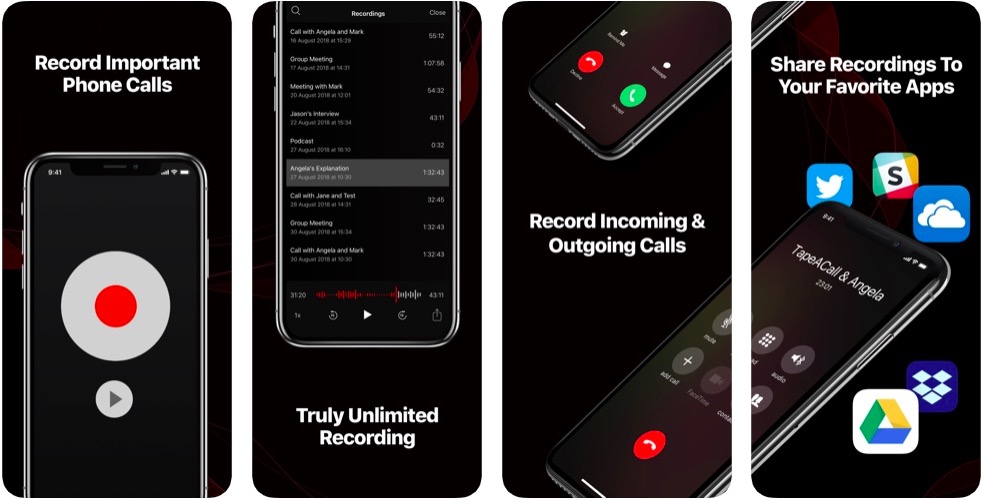 TapeACall Pro is another good app that also uses the same three-way conference call mechanism to record the calls. This app works well for both incoming and outgoing calls with proper voice clarity.
When you want to record a call open TapeACall and press the record button. It will put call on hold and dial the recording line. As soon as you get answers from the recording line, tap on the merge to come back on a call with recording on.
The app is free but only for 7 days trial period and puts restrictions on limited. If you want to use the app for long and record unlimited calls without a cap on the call duration, it charges $3.99/month or $19.99/year.
After the subscription, it lets you record your incoming or outgoing calls with no limit or no per-minute fees. You can transfer recordings to your device from the TapeACall Pro server or upload recordings to any of your cloud storage service.
3. Call Recorder – Int Call
This is also a similar call recording app with the ability to record calls. You need to use the app's built-in dial pad to dial the number. The app can record both incoming and outgoing calls. Recordings are saved on your phone, but you can transfer calls to any other device or cloud storage services if you want.
You can download the app for free and use it for 3 days but you will have to purchase a subscription if you want to use it for a long time. It uses the same conference call way to record calls, so your operator must support conference call or 3-way calling for the app to work.
Pricing varies from country to country. So, you need to check the pricing for your country before you purchase any subscription. Payment will be charged to your iTunes Account once you confirm your purchase.
4. Call Recorder for iPhone
Call Recorder for iPhone is also a similar app that works fine and lets you record both incoming and outgoing calls. Just like other apps, this app also uses the conference call feature to record conversations. It is easy to record calls and access your recordings. The app lets you share recordings on other apps or transfer it to any could storage.
The app has been recently updated to fully support the latest version of iOS. I also tested it also it worked fine.
The app is not free and you will have to purchase the subscription after getting the trial period. Subscription charges may vary depending on location. It gives 1 month, 3 month and 12 months subscription options. You can purchase any of these depending on your choice.
5. Call Recorder Lite for iPhone
Call Recorder Lite for iPhone is another app for recording calls on iPhone. Just like other apps, it also makes a 3-way call between your existing call and our recording line. You need to merge calls to start recording. It works fine with both incoming calls and outgoing calls. You can also download and share recordings via different social media platforms.
The free version of the app lets you record the full length of your calls but you can only listen to up to 60 seconds. For listing to past the first 60 seconds, you will have to upgrade to the pro version. It charges $7.99/month or $4.16/month for the pro subscription.
Final Words
These are the best apps to record calls on the iPhone. If you were looking for the best iPhone call recording apps, you can download any of these apps. All these apps make a conference call with recording lines to record calls. So, you also need to check if your operator supports it. The apps listed here work fine. So, you can download any of these call recording apps for iPhone to record incoming calls on iPhone or record outgoing calls on iPhone.