7 Best Audiobook Apps For Android and iOS
There are a lot of people who love reading books, but there are also many who don't get enough time to read books due to lack of time. This is the reason Audiobooks exist. Audiobooks are voice recordings of books so you can listen to rather than reading. Audiobooks are also available on smartphones using Audiobook apps. If you are not sure what audiobook app to try, check this list of best audiobook apps. In this article, I am listing the best audiobook apps for Android ad iOS. These audiobook books offer both free and paid audiobooks. You can listen to these audiobooks anytime you want.
Also see: Best PDF Reader Apps for Android and iOS
Best Audiobook Apps
This list includes the best audiobook apps for iPhone ad best audiobooks apps for Android. All these are good audiobook apps to try.
1. LibriVox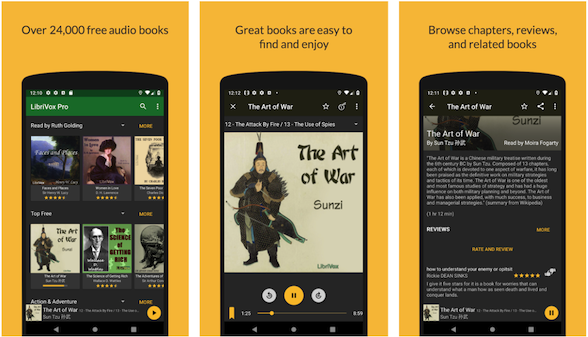 LibriVox is one of the best audiobook app available for both Android and iOS devices. The app comes with a user-friendly interface and a large number of audiobooks for listening to. You can use the search feature to find the book or browse by title, author, or genre. The app features a sleep timer and unlimited bookmarks. You can listen to or save as many audiobooks you want. It also supports Android Auto and Google Cast, so you can listing to audiobooks wherever you go.
LibriVox has over 24,000 free audiobooks and 75,000 premium audiobooks. There are hundreds of volunteers who record, edit, and distribute the audiobooks for you. New releases are prepared daily.
2. Audible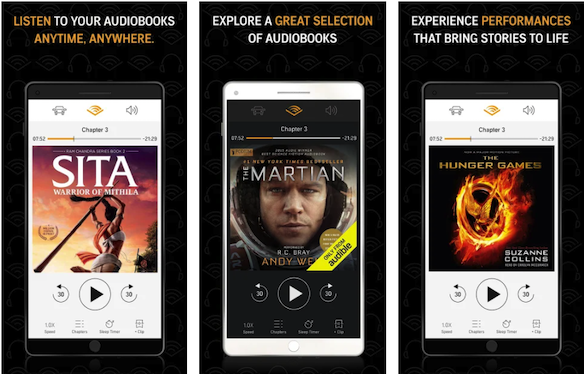 Audible is another popular audiobooks app that claims to host the world's largest selection of audiobooks. It is also worth noting that Audible is an Amazon company. The app is free to download but you need to join paid membership. You also get 30 days of free trial to stream your first audiobook free. Audible audiobooks app comes with a wide range of popular fiction and non-fiction books. There are also several spiritual and family-friendly kids' books.
The app lets you download audiobooks for offline listening. You can control narration speed. If you don't like an audiobook, you can exchange it for free. The app also features a sleep timer for up to an hour, or until the next chapter.
3. Scribd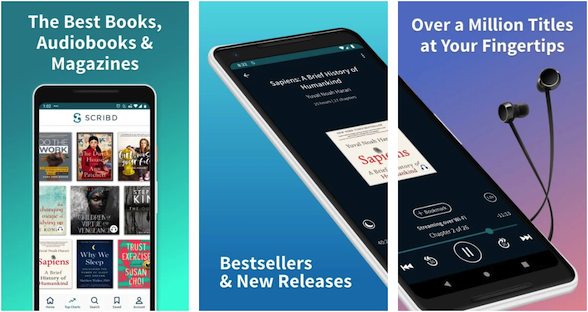 Scribd is a popular app that offers an unlimited number of audiobooks, books, magazine articles, sheet music, and more. You need to signup for membership but there's a free 30 days trial. After you have an account on Scribd, you can pick any audiobook from the available catalog and start listing to. The app is popular because it offers more than audiobooks. Like other audiobook apps, it also lets you set a sleep timer, customize the narration speed, and download audiobooks to listen offline.
4. Google Play Books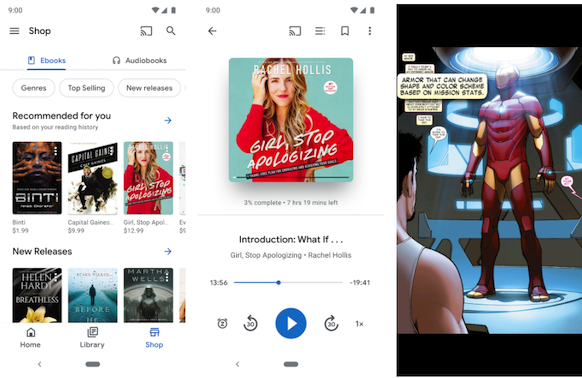 Google Play Books is also a popular app for reading Ebooks, Audiobooks, and Comics. So, it is also one of the best audiobooks apps for both Android and iOS. You can choose from millions of best selling ebooks and audiobooks. Search for Audiobooks and download for listening to. You can buy one or many audiobooks depending on your interests. There is no monthly subscription. It offers a free preview sample before you buy it. Paid audiobooks are available from $2.99 to $44.99. The only drawback is that the audiobook catalog on Google Play Books is not as big as in Audible or Amazon, but it is still worth trying. The app automatically syncs the data between iOS and Android devices. You can also continue on your laptop or phone depending on what device you have.
5. Storytel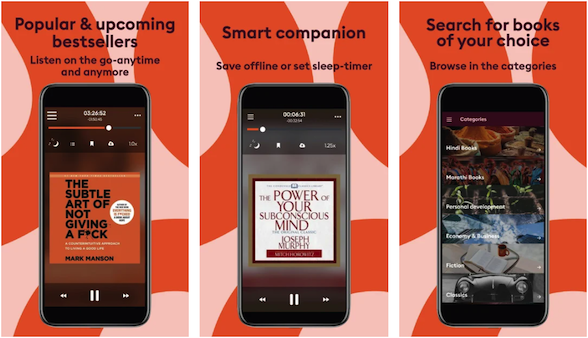 Storytel is also a popular app that gives you access to thousands of Audiobooks. The app lets you discover audiobooks and download for offline access. You can easily switch between listening and reading mode. The app also lets you adjust listening speed. It lets you set up sleep time and snooze. The app features a Kids Mode and also comes with a library of children's books. So the app is kids friendly. You get a 14-day free trial and then you have to signup for the membership.
6. Apple Books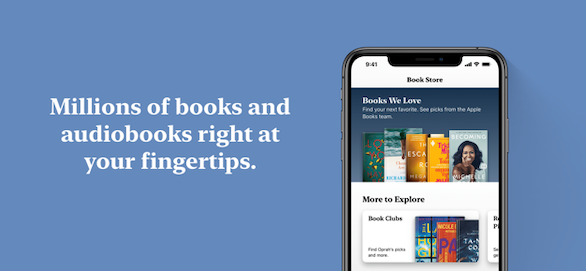 As the name suggests, Apple Books is by Apple to read audiobooks and audiobooks on the iPhone ad iPad. The app gives access to thousands of audiobooks from several categories. You can buy audiobooks directly from the app. Audiobooks app ads also available for Apple Watch, so your audiobooks will always be with you. The app also offers ebooks along with audiobooks. So, it has several PDF reader features like a bookmark, night mode, and fonts adjustment.
Apple Books doesn't offer the largest collection of audiobooks, but it is a good audiobook app for iOS.
Download: iOS
7. OverDrive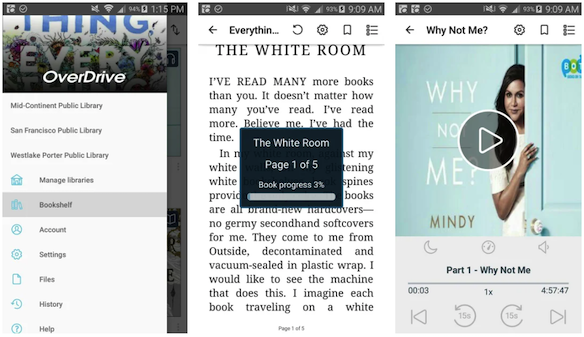 OverDrive is also a popular app to access eBooks & audiobooks. It has a collection of 40,000 libraries. You can borrow audiobooks, ebooks, and streaming videos from the library. Titles are automatically returned automatically. It sync libraries, bookmarks, and recent positions across mobile devices you use. The app requires a valid account with a participating library, school, or other institution to access the libraries.
Also see: Best Podcast Apps for Android and iOS
Wrap Up
It doesn't matter if you have an Android phone or an iOS. You can download any of the good Audiobook apps and start listening to audiobooks. All these audiobook apps come with good audio quality, sleep timer, bookmarking, trial, and offline download option. You can check what app suits you and download one.