Atlanta Healthcare AirVisual Node Review: A Device to Know Quality of Air Around You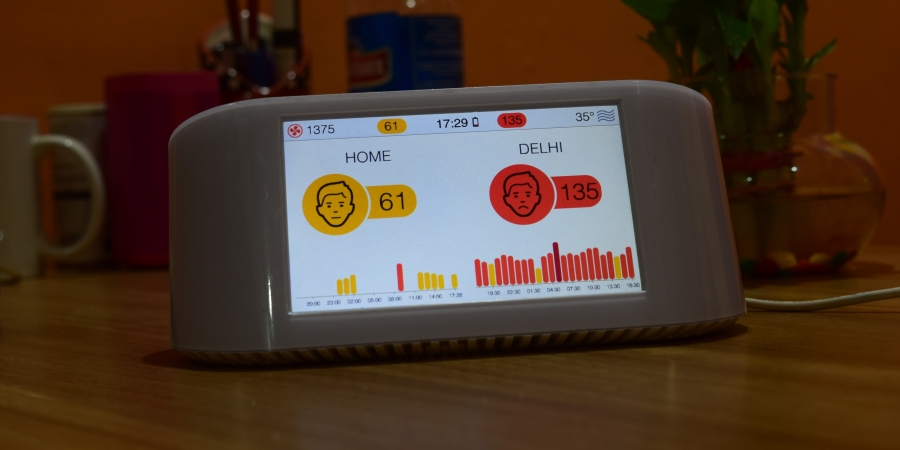 AirQuality has degraded a lot in past few years. This is the cost of development we are paying. So, the importance of Air Purifiers and Air Air Quality monitors have increased a lot. Atlanta Healthcare has few good products to solve this problem. They have few devices to measure Air Quality and also purify the Home air. Recently, I started using Atlanta Healthcare's AirVisual Node. This is a device that tells you the indoor and outdoor air quality. In this article, I am writing my review of AirVisual Node.
AirVisual Node comes with good features to make it an impressive device. It comes with good design and lots of sensors to effectively measure the air quality and other things.
Best deals on mobile phones
Thinking to buy a phone? do not miss these awesome deals
Once I read somewhere an important line. "If You Can't Measure It, You Can't Improve It."  It applies to everything. If you know the quality of the air you are breathing, you will surely try to take necessary steps. Poor air will not make you sick overnight, but it will surely show its impact in 2-3 years. So, you must try to keep your home free of pollutants.
AirVisual Node is not the only Air quality monitor in the market, but it impresses with the features it offers. Keep reading this article and you will know why I am saying this.
Design
When you just look at the product photo online, it seems to be bigger but actual product is not big. The design is also very attractive and it looks good on the desk. It has a flag ring shape that looks quite unique. It also has a tiny fan inside that pulls air through all of the tiny vents on the body
It has a large 5" LCD display on the front. This display shows the information about your current and historical air quality. It shows this data for both Home air quality and air outside.
Here it is important to note that the device only measures the Air quality of indoor. The data of outdoor air quality is pulled remotely from AirVisual's servers. For this, you need to connect this device to your Wifi.
At the top side, it has 4 different keys. These buttons are to turn it on/sleep, menu, up and down. These buttons allow you to scroll through the menus, configure this device and select the relevant information. Overall design of this device is good and it looks nice at working desk.
Performance
The display is bright enough to show you the data in indoor and even in outdoors. You can also adjust the brightness with given 5 different levels. There is also an energy saving mode that automatically turns the display off. You can also set a schedule when the display should be on or off based on your needs.
It has a quad-core chip and 3GB RAM to perform processing. You can configure this device with the controls provided. So, it is the configuration is time-consuming. you can use the AirVisual mobile app to configure that. Download the AirVisual app from Play Store or App Store. You will have access to the data collected by AirVisual Node and you can also see the Air Quality Index of any location.
When you first start using the device, you will see the AQI (Air Quality Index). AQI is calculated for major pollutants like particulate pollutants, Ozone, Carbon Monoxide and Sulphur Dioxide. The AQI should be between 0 to 50. If it is between 51 to 100, it is fine but AQI higher than 100 is not good for your health. If your indoor Air's AQI is usually higher than 100, you should think of buying an Air Purifier.
On the display, you will see two faces. The left face is for indoor and the right one is for outdoor. If you see a green smiling face, it indicates the good air quality. The red masked face indicates poor air quality. If you push one of the buttons on the top, it will show you the dial indicators to tell the exact levels of pollution in the air.
You can also see the historical chart. each bar represents an hour block of the time and height represents the number of particles detected in the air.
This device has Wi-Fi connectivity. So, connect it to WiFi and it will start pulling the data from the AirVisual server. It also syncs your data to the cloud and allows you to access the data anytime. It is worth to note that the device does not need the Internet connection to work. It functions without the Internet and can hold data of up to 5 years. With Internet connectivity, it syncs your data to AirVisual Cloud and fetches the Air Quality of the location yo set for outdoor.
You can also login to http://airvisual.com and use your device id to check the data from the desktop. If you have multiple devices, you can see all the devices data from a single place. It makes it easy for an organization to monitor Air Quality at different locations of a workplace.
The device uses SenseAir S8 Sensor for the CO2 measurements. It has AVPM25b for measuring PM2.5. It can detect particles from 0.3μm to 2.5μm. It has a small fan to draw the air inside and use the light scattering phenomenon to calculate the quantity concentration of particles. There are also Temperature and Humidity sensors.
It is packed with 1850mAh battery that lasts for around 4.5 hours. The battery is only for the case when you do not have the electricity supply. The company wants you to keep connected to power supply all the time.
Final Words
The primary purpose of this device to show you the quality of the air you are breathing. If know about it, you will try to fix this. And the monitoring level is good. You can compare the Air of indoor and outdoor. It also shows the forecast of next 3 days. People who have breathing disorders like asthma and lung cancer, they must have this device to measure Air Quality and avoid discomfort. Even if you are not at home, you can keep track of the AQI and receive alerts when AQI cross a certain level.
Even if this device is quite useful, the price of this makes it hard for consumers to get it. They can spend the same amount on a good Air Purifier because AirVisual just shows the issues, but does not fix. Considering the kind of features and hardware it gets, the price is not high. Enterprises and organizations can take benefit of this to take care of air quality at their workplaces.
AirVisual Node
"An outstanding product to keep you updated with Air Quality of your home or workplace. Not just measurement, it offers historical data that can be used for deeper analysis and decide the next step. "
The Good
Good storage for keeping data of up to 5 years
Accuracy level
Breakdown
Design 80%

Featrues 90%

Performacne 85%

Value for money 70%