If you plan a tour and before you step out of the door it starts raining heavily, then how would you feel? Very sad, isn't it? You can avoid such things by knowing the weather conditions beforehand. Yes, you can know how the weather is at a particular place before you step out of the door for a tour. Most of us are using smartphones and there are many weather apps for the iPhone to know the weather condition of a place. If you are not sure what weather apps to use on your iPhone, this article is for you. There are many weather apps in the app store and I listed out the 10 best iPhone weather apps that you can use without a second thought.
Also see: Best Weather Apps for Android
Best Weather Apps for iPhone
These are the best iOS weather apps to get updates about the weather:
1. RadarScope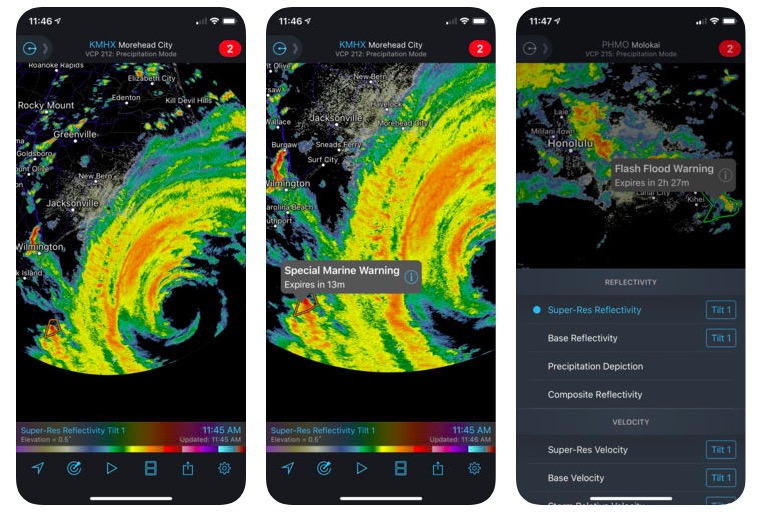 RadarScope is an excellent app that provides a number of features for weather enthusiasts. It allows you to view NEXRAD Level 3 and Super-Resolution radar data along with Tornado, Severe Thunderstorms, Flash Flood, and Special Marine Warnings. It also shows predicted storm tracks issued by the US National Weather Service along with real-time lightning alerts, extended loops, and more.
The app is not free and costs $9.99. If you know about NEXRAD radar and understand it, you know that the app is worth spending on it.
2. BeWeather 2
BeWeather 2 is good for those who want customizations with weather watching. The app brings data from a vast network of over 135,000+ worldwide weather stations and Forecast's hyper-precise minute-to-minute rain predictions. The app gives you access to weather maps with storm and hurricane trackers.
It comes with a fully customizable widget and a Watch app. You have 10 color themes, 150 different free weather icons, and many fonts to choose from.
This is also a paid app and costs $3.
3. Yahoo! Weather
Yahoo! Weather is the app that displays the weather conditions right on the screen of your smart mobile. Due to its accuracy, it is one of the best weather apps for the iPhone. Before stepping out of the door, just have a lot of this app and you will get to know whether the day is going to be rainy, cloudy, or sunny. Based, on that you can decide whether you want to carry an umbrella or not. It presents you with the weather models which are interactive, details regarding wind and pressure, and more information.
Apart from this, it allows you to add a number of cities to know the weather conditions of those cities. So, whenever you plan to go somewhere, add that to the city's list and you will know the weather conditions at that place. These features make this app, the best ios weather app.
4. What The Forecast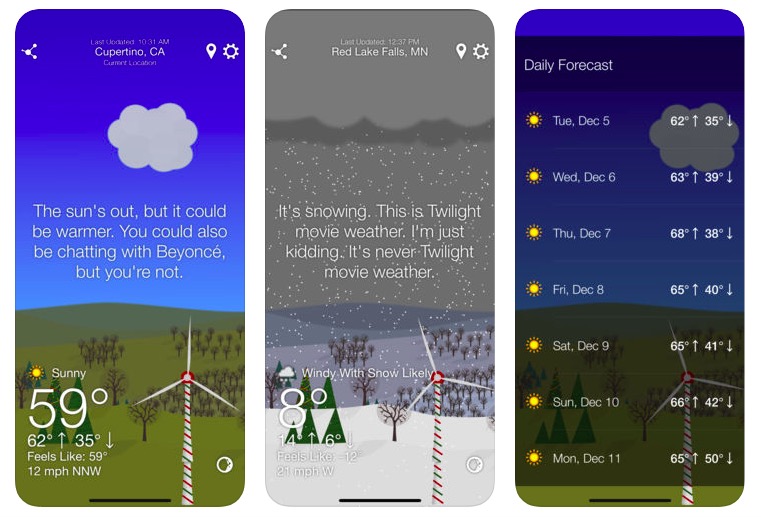 What The Forecast is also a good app that keeps you updated about weather conditions. It uses more than 8206 obnoxious phrases to describe the current weather conditions It also provides daily forecasts for 7 days. You can also listen to the latest meteorological conditions in different voices. It also brings weather alerts from NOAA.
5. Clime: NOAA Weather Radar Live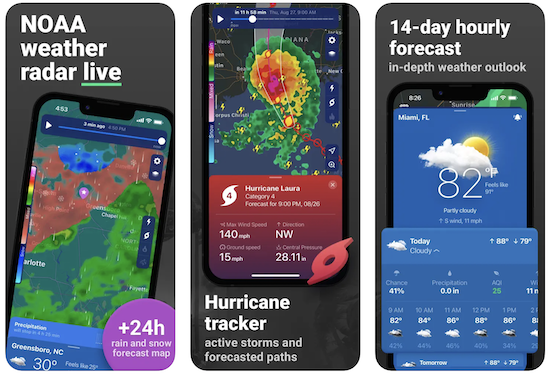 Clime was formerly known as NOAA Radar Pro but now it is called Clime: NOAA Weather Radar Live. This app is also one of the best for weather data. It is an all-in-one weather tracker app with real-time radar images, weather alerts, and weather forecasts. It shows the rain, snow & mixed precipitation on the map. The satellite map also illustrates the cloud cover. The weather details are shown for the 24-hour and 7-day forecasts. The app also tells you the minimum and maximum temperature of the day.
6. AccuWeather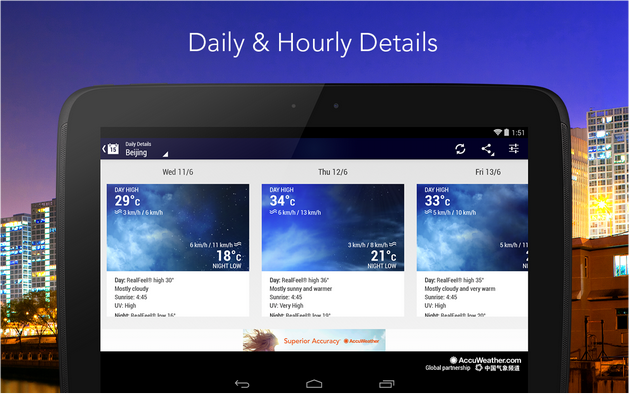 AccuWeather is the best-known weather app as it keeps updating itself every second. As and when the weather changes, it shows the latest weather conditions on the screen with the feature called MinuteCast and it is very professionally designed. You can add as many cities as you want. It includes Weather Widget, social sharing, and many more.
It shows how the weather is going to be for the next week and based on that you can plan your day. It allows users to view both landscape and portrait views and is said to be one of the best weather apps for Android and iPhone.
7. Carrot Weather
Carrot Weather was initially launched as an iOS-exclusive weather app but now it is also available for Android users. Carrot Weather is an impressive weather app that has some notable features like a weather widget, periodic updates, customization, and more. The widget also displays up to five forecasts for different locations. You can also get into a premium subscription for more data. This weather app for iOS pulls data from Dark Sky to provide weather information. You get current, hourly, and 7-day forecast data.
8. The Weather Channel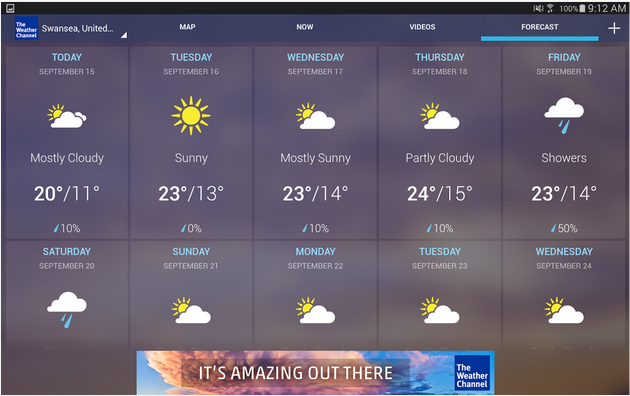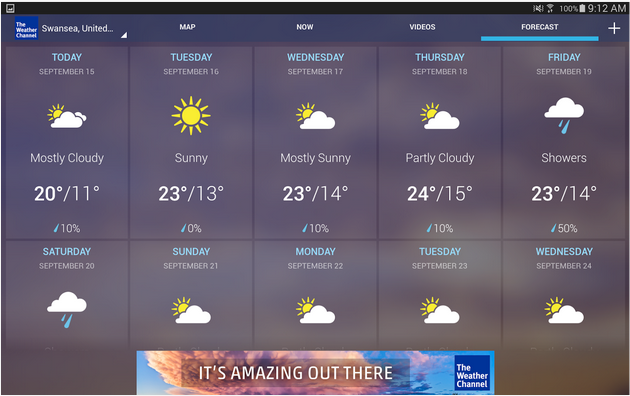 The Weather Channel weather app gives you something more than other weather apps. Apart from just displaying the weather information on the screen, it alerts you if there are any heavy rainfalls or tornados.
It also shows wind speed, snowfall, time of sunrise and sunset, and much more information. It is available free of cost for both Android and iPhone.
9. WeatherBug
WeatherBug weather app, apart from showing the weather information, it acts as a lightning detector. If you want to know if there is any lightning near your place, then it is advisable to use this Weather Bug weather app. It shows you the snaps from cameras of various cities, to know about the weather conditions in live.
It is one of the best weather apps for Android and iPhone and it is suggestible if you want to keep yourself updated with changing weather conditions.
Read more: Best Weather Apps for Android
10. Weather Underground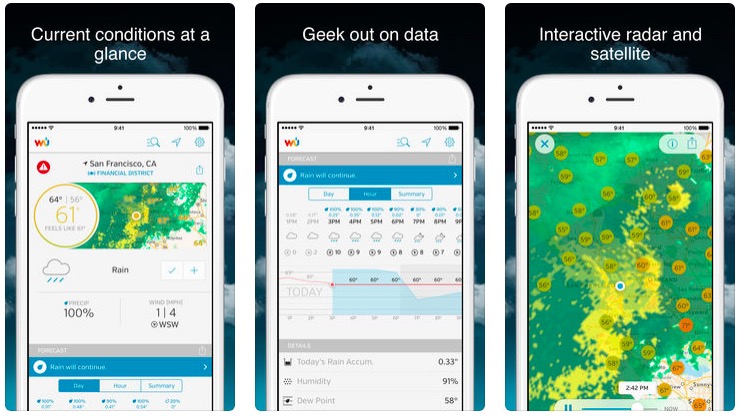 Weather Underground is another impressive weather app you can try on your iPhone. It has more than 200,000 personal weather stations and delivers accurate weather forecasts. It gives you current weather conditions in your local area. The data includes temperature, visibility, wind speed and direction, humidity, etc. It also lets you monitor air quality, UV risk, and even local flu outbreaks. It also shows sunrise and sunset time.
Conclusion
It is always good to know about the weather conditions before planning your day. From now on, before planning something, I advise you to have a look at these best iOS weather apps. If you have anything to add, please, do share it with us through comments.
Also, let us know what is your favorite weather app.