5 Best Android Apps to Lock Apps using Fingerprint Scanner
The fingerprint sensor is now a must-have feature in smartphones. Most smartphones that come with a fingerprint sensor, let people unlock their phones in fractions of a second.  A few phones also allow users to use this sensor to lock different apps. It is because some custom Android-based OS from some manufacturers offers this feature built-in. Some custom OS lets you hide apps to keep them away from everyone's eye. But not all phones come with this option.
If your phone has a fingerprint sensor but, does not allow you to lock individual apps with a fingerprint sensor, you do not need to worry. There are a few third-party apps that add this option to your phone. These fingerprint app locks are the best to secure your smartphone.
Also see: List of phones with a fingerprint sensor
In this post, we are listing the best android apps to lock apps in your smartphone with a fingerprint. Only you can unlock the app's lock by these fingerprint app locks.
Best Fingerprint App lock for Android
These are the best fingerprint app locks for Android which add an option to lock individual apps using the fingerprint sensor. All these apps are freely available on the Google Play store and are safe to use. You can try any of these apps depending on your personal choice and requirement.
1. LOCKit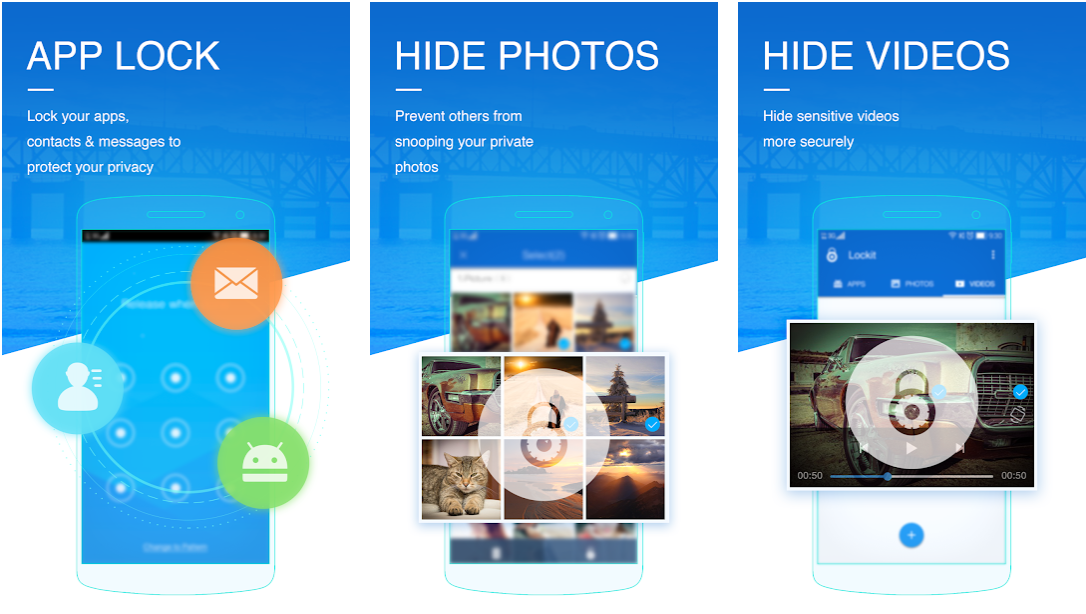 LOCKit is one of the best apps to keep your photos, videos, and apps safe from unauthorized access. It supports pin, pattern, and fingerprint locks. If your phone running on Android 6 and has a fingerprint sensor, you can use this app to lock your apps using a fingerprint. The app is great with no big issues. You can lock your WhatsApp, Facebook, Twitter, Gallery, and other apps using this app. This app can also be prevented from being uninstalled. So, no one can uninstall this app to remove the app lock.
Download: Android
2. AppLocker
AppLocker is also one of the most popular apps that let you protect your social media apps, gallery, and contacts from unauthorized access. You can lock apps with passwords, patterns, and fingerprint locks. The app comes with many color options to look cool. It not just protects apps but also prevents uninstalling apps. So, you can hide your photos and chats from other people. The app lets you lock Social Media apps, Messaging apps, Gallery, Contacts, or any other app you have installed on your phone. Not just apps, you can also lock system settings to prevent an unwanted change in settings by anyone.
Download: Android
3. App Locker: Fingerprint & Pin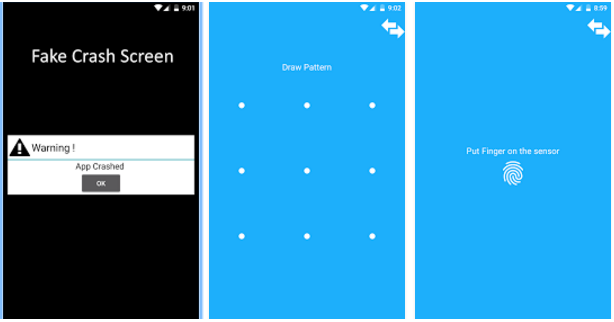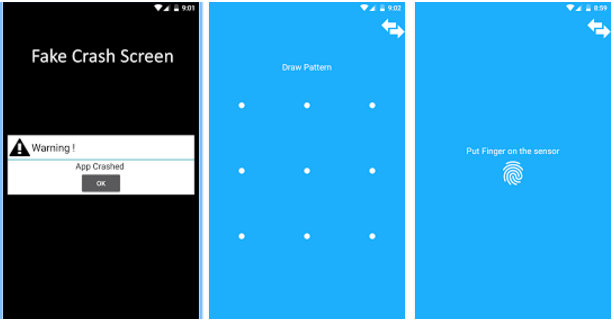 App Locker is a nice app to lock apps on your Android smartphone. It lets you lock apps by using a pin, pattern, or fingerprint sensor. You can set a different password for different apps. It also allows you to set the re-lock app timing to automatically lock apps after a specific time. The app also lets you set a crash screen. If anyone tries to open the app, he will think the is crashing and ultimately will give up the idea to check the app. This app supports Android devices with a fingerprint scanner and runs on Android 6.0 Marshmallow and above. If someone tries to unlock your app by guessing the wrong password, the app will also capture a photo of the intruder using the front camera. When you open the AppLock it will tell you tried to unlock your app.
Download: Android
4. FingerSecurity
FingerSecurity is another nice app that helps you in protecting your apps from unauthorized access. You can lock any app with your fingerprint if you have a fingerprint sensor on your phone. You can also set timeouts to allow a short switch between apps. You can also unlock multiple apps at once.
Not just app access, it also protects the notification of protected apps. This device also has limitations in compatibility. It supports Android devices with the fingerprint sensor, but not all.
It also allows you to set a backup password. When someone tries too many wrong attempts to unlock the app, it blocks the sensor. In this case, you can unblock it with this backup password. If you do not remember the backup password, the only solution is to perform a hard reset. So, be careful while using the app.
Download: Android
5. AppLock – Fingerprint
AppLock is also a good app that protects your Android apps with the fingerprint. But this app also has few restrictions and supports a few devices. It supports devices running on Android 6.0 and above. The company has also posted a list of supported devices on the play store listing.
The good feature of this app is that it also takes a photo of the person who tried to unlock your apps and emails it to you. It also gives you the option to set the automatic app lock after the device screen is off, minimize or screen off for 3 min. With these features, this app can help you in a better way.
Download from Android
Read: Best App Lock Apps for Android
These are a few fingerprint app locks that let you lock any app with a fingerprint if your phone comes with a fingerprint sensor. While a few devices come with this feature, few devices only allow phone locking. In this case, you can use these apps to lock your apps and prevent unauthorized access. All apps listed in this article are free to download.
Featured Image: unlocked phone fingerprint
Wrap Up
This was a list of the best fingerprint lock apps for Android. If you care for your privacy, you can download and install any of these fingerprint lock apps on your phone and lock your apps. These apps provide multiple login options such as Fingerprint, Pattern & Password. I have checked all these apps manually and verified their features. So, you can trust this list of best apps to lock Android apps using a fingerprint.
Q. What is the best app to lock an app using a fingerprint?
A. I personally recommend LOCKit. It is a good app to protect your apps, photos, and videos by adding a fingerprint lock.