PLAY is known for wearables and audio devices. The company sells a Bluetooth calling smartwatch PLAYFIT Strength that looks good and promises good features. It is priced at Rs. 3999. I recently started using it to check how this watch performs. After using it for more than 7 days, Now I am ready to talk about PLAYFIT Strength in detail. If you are thinking to buy PLAYFIT Strength, read the PLAYFIT Strength review to know everything about this smartwatch.
Buy Here: Amazon
PLAYFIT Strength features a solid build. It has a stainless steel round dial and a Polycarbonate body. It comes with 22mm interchangeable straps. It feels like sports watch and I really liked the design. The watch feels bulky but it is not. It weighs 57 grams with the strap. The smartwatch also has IP67 ratings for dust and water resistance. So, the smartwatch is good for daily usage.
The watch has a 1.3-inch touchscreen display. On the right, it has two side buttons. The top button is to turn the watch display on or off. It can also be used to return to the home screen. The button on the downside lets you scroll through different watch features. At the back, it has a sensor that measures heart rate and blood oxygen monitoring.
PLAYFIT Strength gas a 1.3-inch LCD touch screen display with 240×240 pixels resolution. The company didn't mention any scratch-resistant protection on the display. The touch panel is smooth and responsive. Swiping works well but I had issues with scrolling up and down. While scrolling, it mostly selects the option in place of scrolling. The screen brightness is fine and I could also read the display outdoors.
The watch lets you adjust the brightness from level 1 to 5, but there is no auto-brightness option. It features 4 integrated watch faces and over 99 cloud watch faces. You can use the companion app to select from available watch faces and set one for your watch.
There is a PLAYFIT companion app that can be paired with the smartwatch. PLAYFIT app is available for both Android and iOS. The app requires signup and asks for your information like date of birth, weight, and height. Then you can use the app to track the fitness data the watch collects. You can also use it to track your targets, sleep data, and heart rate data. The app also has options to configure different watch options and customize alert settings.
Like other smartwatches, PLAYFIT Strength also tracks steps and calories. I found steps tracking fine.
The watch has 7 workout modes including Walking, Running, Cycling, Skipping, Badminton, Basketball, and Football. Open any workout mode on the watch and start recording. So, the watch starts capturing the workout data.
The watch also has heart rate monitoring and it keeps historical data. When I check my heart rate data, it was suprised. Some records were too high for a person like me. So, I think the heart rate sensor isn't efficient. The historical data can be accessed using the PLAY FIT app. The watch also has SpO2 blood oxygen tracking. I tested it several times and the SpO2 reading was similar to what I found in the SpO2 monitoring device. It also offers sleep tracking and breaks the sleep data into Deep and Light Sleep. Sleep data also helps you understand your sleep pattern and the quality of sleep your take. Good sleep is necessary for a healthy body.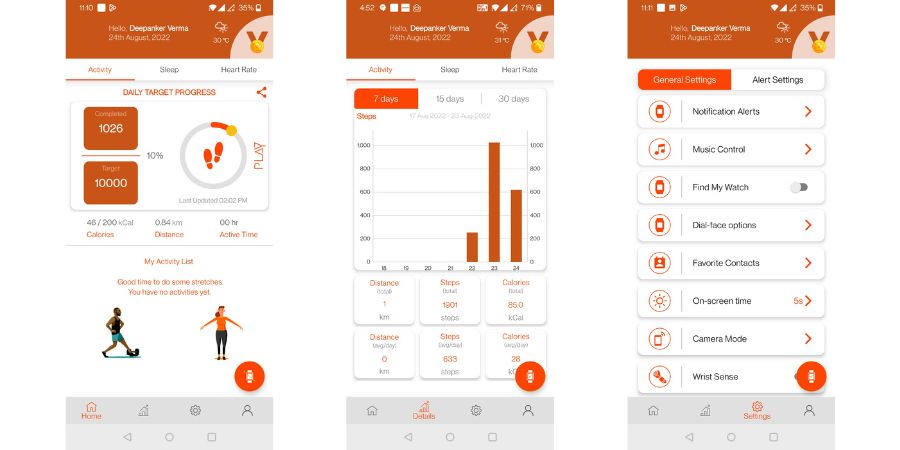 The most notable feature of the smartwatch is the built-in Bluetooth calling feature. The watch has a built-in microphone and speaker to receive or make calls. When your phone is connected to the smartwatch, you can make calls using the dial pad and see call logs. It also has an option to save 8 contacts, but you can save only up to 8 contacts. The calling experience is good indoors. The microphone picks up sound well and the speaker is also loud enough. For outdoors, it feels like the speaker could have been slightly louder. When you receive a call on your phone, you can accept or reject the call directly from the smartwatch. This works well. So, overall calling experience and call control using the watch are fine.
PLAYFIT Strength packs a 400mAh battery that easily lasts for more than 4 days. But the battery backup depends on the number of calls and notifications your phone gets. The company provides a charging cable that has pins to connect magnetically with the watch.
Final Words
There are several smartwatches with similar features in this price segment. PLAYFIT Strength doesn't offer any unique feature to stand out, but it is an impressive smartwatch to consider. It has a good and responsive display, nice features, Bluetooth calling, and a good battery backup. I believe its peak brightness could have been better to offer better sunlight legibility. But, overall I recommend PLAYFIT Strength to everyone who is considering this smartwatch.
Buy Here: Amazon
PLAYFIT Strength
"PLAYFIT Strength has a good and responsive display, nice features, Bluetooth calling, and a good battery backup."
The Good
Good design and build
Bluetooth Calling
Good battery backup
The Bad
Inconsistent Heart rate sensor
Breakdown
Design and Build 80%

Display 65%

Features 70%

Battery 75%

Value for money 75%