Cultsport Active T review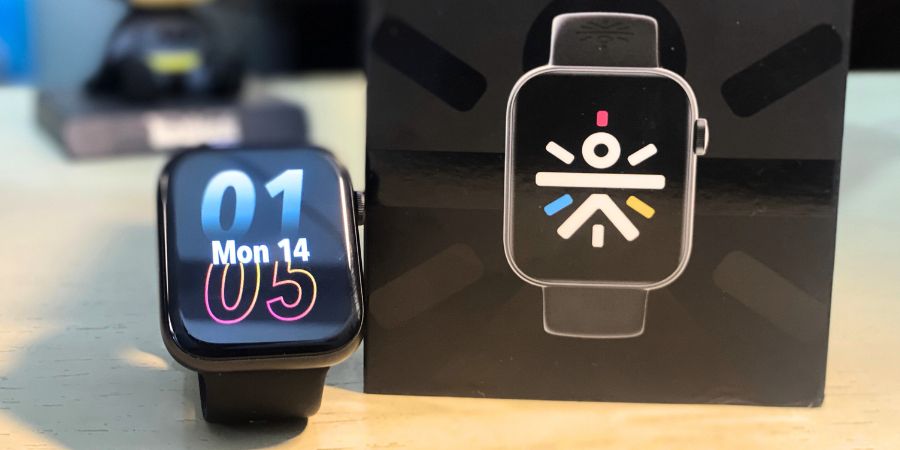 Last month, Cultsport launched its smartwatch Cultsport Active T. This smartwatch falls in the affordable segment but promises several nice features. The most notable thing about the watch is its big display and premium design. The watch also offers a Bluetooth calling feature, which is popular among users. I have been using Cultsport Active T for over 10 days to track my activities, check notifications, and attend calls. Based on my experience with the watch, here's a detailed review of the Cultsport Active T smartwatch.
Cultsport Active T features a large 2.01-inch HD display. Due to the large display, the smartwatch feels larger. People with thick hands may not be comfortable with such a large dial of the watch. It has a rectangular dial with rounded corners. The watch has a plastic build with a metallic finish. It feels really premium. There is a crown on the right side of the watch. The crown can be used to cycle through different functions on the watch. The smartwatch comes with a soft silicon strap that is comfortable. Active T smartwatch is also IP67 water resistant. So, it is good enough to keep using it throughout the day.
The display of the watch is really good. It has good color reproduction and is bright enough to provide good sunlight visibility. The touch response is also smooth.  The display also has a good viewing angle.
The watch comes with several watch faces preloaded. Use the crown to cycle through different watch faces. You can also access more watch faces from the Cultsport Watch app. There's a large collection of watch faces and the company also keeps pushing seasonal watch faces.
Just like other smartwatches, it also has several activity-tracking features. It keeps tracking the steps you take, the calories you burn, and the distance you cover. You can set your daily goal on the watch. I found steps and distance tracking accurate. The watch tracks heart rate, sleep, blood pressure, and blood oxygen level. It also keeps a historical record of these data that you can access using the app.
Cultsport Watch is a companion app that lets you access historical data, set goals, and change watch settings. When you first open the app, it asks you to create an account and enter some personal details like name, date of birth, height, and weight. Then you can start using the watch. I also recommend exploring the Settings section to change different settings as per your need. The watch shows historical data it tracks and a beautiful GUI. So, you can easily keep track of your fitness and health journey.
The watch app has no option to export data to Google Fit or Apple Health. If the company update the app to provide this option, it could be another reason to prefer the smartwatch.
The watch also displays notifications of phone, message, email, WhatsApp, Instagram, Facebook, Twitter, and other apps. By using the Cultsport watch app, you can enable or disable notifications. You can disable notifications from individual apps. For example, you can block Facebook from sending you notifications on your watch, but keep getting notifications from WhatsApp and Instagram. Notifications are also instant without any delay.
The smartwatch offers a Bluetooth calling function. So, you can make and receive calls directly from the smartwatch. There is a mic and speaker on the watch for taking calls. I am really impressed with its calling feature. Its speaker is loud enough to give you a good calling experience. The microphone works well and has good noise cancellation. So, it captures your voice properly. Another good thing is that you can also switch calls from watch to phone or phone to watch seamlessly on a single tap. This feature works well and also helps a lot.
Swiping from right to left opens options to access Recent Call, Dial Pad, and Contacts. By using the Dial Pad, you can quickly dial any phone number. By using the companion app, you can also add a few Favourite contacts. These Favourite contacts will be synced with the watch, so you can quickly make calls to them directly from the watch.
There's also a Music Player that lets you control the music that is being played on your phone. So, you don't need to pick up the phone to control the music. It also provides access to the phone's voice assistant. I pair the watch with my iPhone and could access the Siri directly from the watch.
You can also set an alarm and the watch will ring and vibrate to notify you. There's also a stopwatch in the watch to help you while you are working out. Cultsport Active T also includes a basic calculator to perform calculations. This could be a plus feature for many people. Cultsport Active T also comes with 4 games: 2048, Floppy, Hamster, and Battleship. 2048 is the game that I usually play on my phone. So, I also enjoyed the same game on this watch. Although you cannot play games on your wrist for a long time, it is a good addition.
Other notable features include a remote camera shutter, DND, and Find My Watch. By using the Find My Watch feature, you can locate your watch. DND disables notifications for a specific time period. You can also turn on or off the Raise to Wake feature. The app lets you schedule this feature. The good thing is that you can set the time for this feature to remain off. For example, raise to wake works only from 8 AM to 11 PM. So, the display doesn't disturb me while I am asleep.
The watch app has a dedicated fitness section where you can explore workout tutorials created by experts, You can explore by formats and types. These video tutorials help a lot in achieving fitness goals and understanding how to do exercises properly.
Cultsport Active T offers 4-6 days of battery life depending on your usage. If you heavily use the Bluetooth calling feature or play games, the battery will last for 2-3 days. Without Bluetooth calling, you can easily get a week of battery backup. There is also a battery-saver mode to extend the battery backup. It also takes around 1.5 hours in charging this watch. The company provides a proprietary charging cable to charge the watch.
Overall, Cultsport Active T is an impressive watch that provides the most features you expect in a smartwatch and all features work well. I enjoyed its software experience. The watch also looks good and feels premium. For the price of Rs. 2000, Cultsport Active T is an easy recommendation.
Cultsport Active T
"Cultsport Active T is an impressive watch that provides the most features you expect in a smartwatch and all features work well."
The Good
Good design
Accurate activity tracking
Voice calling works well
Good performance
Reasonably priced
The Bad
No option to export data to Google fit or Apple Health
Breakdown
Design and build 90%

Performance 80%

Features 90%

Value for money 90%